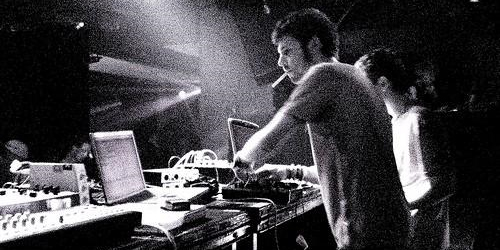 Your music is perfect for the virtual battlefield. I want to blast it in my giant mech suit while mowing down civilians. Can you see yourselves lending your cinematic riot sounds to film or game soundtracks?
Maybe, its been suggested to us enough times by various people. I think it would be fun thing to try but i wouldn't want it to compromise the amount of time we have to work on music too much. Don't want to compromise my dignity either- wouldn't want to sell my soul to the devil (hence- I would consider it for independent media.)
What goes through your minds when you make your music?
A lot of things go through my mind when I write music. I know I am completely engaged with a tune when If im working on a part that is built for a dance floor i might get an image of really large sound system, maybe at a Teknival or something. Once i get that image it helps me to be very objective about what needs to be done to the tune. If im writing something a little more cinematic, i'll get more epic landscape type images – be it a view over a smogged out city or view in the mountains. Every crowd reacts differently which is one of the best parts of performance – theres no set rules of what is going to go down and what is not. So i just play what i like!! haha
How do dance floors react?
We play at a lot of different kinds of nights with very different line ups some people get it and go nuts, and some people dont get it at all and stand there like a dog being shown a card trick. Over-all we generally get really good response from everywhere we play.
There is a re-tooling of Juno Reactor's track on here. Can you describe your relationship with Ben Watkins?
I've known Ben since i was 15 and when i first met him id never produced a track in my life, i was playing in bands at the time. He introduced me to some of the basics of producing and engineering. Tokyo Dub was a track we really enjoyed remixing on a personal level, it felt like we were giving something back to someone who has shown me so much.
What's your next tactical strike?
Got a new 12′ single Channel Zero out in feb on Prspct Recordings, thats a kind of half step/DnB banger with a Cooh Remix of Pyrotek on the flip. Been working on and off with MachineCode aka Current Value & Dean Rodell last few months – got some devastating stuff brewing up there!! Starting a collab with Dj Hidden next week, which is properly going to be going out on Ad Noiseam in the near future.
– – – – – – – – – – – – – – – – – – – – – – – – – – – – – – – – – – – – – – – – – – – – – – – – – –
Interview prepared by Autodestruct exclusively for Headphone Commute
See also review of Terminal Static