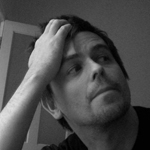 Simon Scott stops by to share his thoughts on music in 2009. It must be a great year for Simon. Late last year he launched his own label, Kesh Recordings, kicking off with a compilation 88 Tapes, featuring some of my favorite ambient and experimental artists. This year, Kesh released albums by Hannu, Saito Koji, Martin Herterich, and Autistici, while Simon himself released his solo debut, Navigare on Erik Skodvin's Miasmah Recordings. Here are Simon's reflections on the year in music, as well as his favorite releases of 2009.
Simon Scott [Kesh, Miasmah]
2009 has been an amazing year and definitely my favorite year of the whole decade which I feel started slow and gradually caught up with itself. We have been treated to so many fine albums it has been hard to compile a list of favorite releases. Personally it was great to release Hannu's second album "Hintergarten" on my Kesh label after working really closely on it for two years with the official Finnish "artist of the year" (he has won his awards not for music but for his visual work). My label of the year is of course Miasmah who I feel honored to have had my debut album "Navigare" released on (vinyl included of course) and they are a great as a record label but superb aesthetics due to Erik Skodvin's artwork designs.
"Wintermusic" by Nils Frahm was released on a Berlin based label called 'Sonic Pieces' who make limited edition homemade covers and create beautiful physical releases housing wonderful music inside. Seasons (pre-din) released a crackling electroacoustic album "Your Eyes the Stars and Your Hands the Sea" featuring location sounds on the wonderful Type label. Mr Seasons also runs his 'Thy' micro-label and it is also worth noting that every release (he has many limited edition gems in his back catalogue if you are lucky enough to grab them now) are skillfully created using scalpel and card. I also love the fact that vinyl is making a welcome return to people's music collections (see Leyland Kirby's triple vinyl debut) despite unhappy memories of moving heavy boxes of these physical delights during a recent house move.
I feel that the current climate of artists who create expressive and original musical art are part of a movement that will be looked back on as a golden period of growth for sonic art, electroacoustic and electronic experimental music. The packaging of the Raster-Noton has it's aesthetic together to such an inspiring level and labels such as 12k and Touch are also heavy weights of creative design, photography releasing consistently astonishing music. Many smaller labels are being inspired to find new ways to package and release great music such as Digitalis and Root Strata (USA), Under The Spire (UK) and Home Normal (UK), Flau and Spekk (JP) and Room40 (AU).
Other personal highlights include experiencing live audio and visual collaborations at Plateaux Festival in Poland together including Fennesz and Lillevan, digital artist Josh Ott with his home made SuperDraw software accompany Ezekiel Honig and Morgan Packard (check his SuperCollider software "Ripple") from the NY based Anticipate label and the stunning Deaf Center with Claudio Sinatti. I have been really lucky to have played live in numerous churches this year and a highlight was my debut gig in Manchester with Machinefabriek and Xela along with a performance at Sonar Festival in Barcelona where I sung and played guitar for The Sight Below.
My place of the year has been Cambridge, which I call home, but Berlin made the biggest impact on me as not only is it a great place with a lot of friendly faces but it has the best analogue studio called Dunton Studio owned by Nils Frahm featuring restored pre-war microphones, tape to tape machines and vintage synths.
New years resolution for 2010 is to begin a second album, stay off the nicotine and put out lots of vinyl on Kesh.
cheers!
simon scott.
Favorite Releases of 2009
1.Hannu- Hintergarten (kesh Recordings)
2.Nils Frahm-Wintermusik (Sonic pieces)
3.Alva Noto- Xerrox Vol.2 (raster noton)
4.Mark Templeton and Aa.Munson- Acre Loss (Anticipate)
5.Leyland Kirby- Sadly, the future is no longer what is was (History always favours the winners)
6.Concern- Truth & Distance (Digitalis)
7.Svarte Greiner- Kappe (Type)
8.Seasons (Pre-Din)- Your Eyes the Stars and Your Hands the Sea (Type)
9.Taylor Deupree- Sealast (12k)
10.Jasper TX- Singing stones (Fang Bomb)
11.Isnaj Dui- Unstable Equilibrium (Home Normal)
12. Machinefabriek + Gareth Davies- Soundlines (Studio Machinefabriek)
13.William Fowler Collins- Perdition Hill Radio (Type)
14.Lawrence English- A colour for Autumn (12k)
15.Peter Jorgensen-To (Low Point)