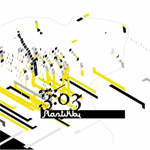 Plastik Joy is an intriguing duo, if only for the fact that one of them, Cristiano Nicolini, is from Italy and the other, Fannar Ásgrímsson, is Icelandic. You can't get any closer to "fire and ice" than that. The two met while studying audio engineering in Barcelona and began working together on a couple of songs at the end of 2007. Little did they know what a fortuitous decision it would be when they decided to establish a Myspace page shortly thereafter, in January 2008. First, Myspace led them to Swedish singer Sarah K. Hellström, who ended up writing the lyrics and melody and recording the vocals for their first tune, Hands. She didn't actually meet Cristiano and Fannar in person until months after the song was completed. But more amazingly, in June 2008, they received a message on Myspace from Mike Cadoo, owner of renowned electronic music label n5MD, who had heard their songs on the site and wanted to discuss a record deal! One short month later, Plastik Joy had signed with the label. And now, 3:03, the debut album from the Myspace poster boys is here for all to hear.
At first, if you're not in the right frame of mind, the dreamy, downtempo vibe of 3:03 may strike you as a bit too laid back – like the heat from the fire has melted the ice. But the simple, unassuming melodies grow on you. It's an album that rewards – in fact, demands – repeated listening and immersion. You'll come to love the undeniably warm, feel-good glow of Sleepy Quest for Coffee and Hands, the opening tracks of the album, which also happen to be the first two songs that the pair wrote together. From there, the rest of the album opens up like a budding flower.
The subtle electronics and acoustic instrumentation, with mellow guitar in a prominent role, make for an addictive concoction. Although Plastik Joy employ several singers on the album, it comes across very much as an instrumental album. Rather than leading the way, the vocals more often than not serve like any other instrument, adding one more color to the bittersweet vibe. On Hands, for example, Hellström's breathy vocals, which hint slightly at Nina Persson of The Cardigans, blend completely into the sonic landscape.
There are one or two brief moments on 3:03 where the surface calm is broken by an outburst of noise, like an involuntary release of pent up energy, but in general, subtlety is the name of the game. It takes a great deal of skill and sensitivity to sustain an atmosphere of such refined delicacy throughout a whole album but Fannar and Cristiano carry it off with aplomb. Considering that this is just their first album, it whets the appetite for what's to come.
3:03 gets its name from the time of morning at which recording sessions usually ended and n5MD touts the album's "nocturnal vibe". There's definitely something to that. 63 (she was trying to sleep, I was trying to breathe), for example, is a pure lullaby. But the first half of the album conjures up images of late afternoons lounging on the beach with a cool drink in hand. If you're looking for something to relax to poolside, it'll most certainly do the trick. Just watch out you don't fall asleep in the sun.
– – – – – – – – – – – – – – – – – – – – – – – – – – – – – – – – – – –
Original review posted by Tigon on Tigon World.
Republished with permission of the author.
myspace.com/plastikjoymusic | plastikjoy.com
myspace.com/n5mafia | n5md.com