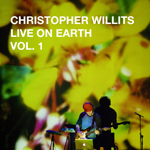 Fans of Christopher Willits rejoice! The San Francisco based musician has something special just for you! If you were one of the lucky 1111 fans to first join the Christopher Willits Fans page on Facebook, this special digital release of live performance recordings is yours! The seven tracks on this self released exclusive album, include live performances from venues around the world over the last few years. Here are some gems from Berlin, Philadelphia, Tokyo, Bangkok, Chicago, Kyoto and Foshan (China). And yes, this release is limited, exactly to the first 1111 people!
The album begins with an Improvisation piece, featuring lush layers of smooth ambient pads flowing from Willits' guitar into his custom-designed software. Soon, the waves begin to glitch, triggering themselves at various positions to create unique phrases and textures. On Passage, recorded live in Philadelphia, the patterns of effectuated harmony get backed by a pulsing bass that sends the main melody in a tremolo-like twitching. These are all trademark Willits techniques, which he explores throughout his works, and occasionally shares through his lessons on XLR8R TV, via his multi-part feature, What You Talkin' Bout, Willits?
For those not familiar with Christopher's unique sound, you have a whole journey ahead of you! With numerous albums and collaborations, his discography includes releases on Australian Room40 label, Japanese minimal Plop imprint, and Ghostly International. Fans no doubt treasure his collaboration with Taylor Deupree on Listening Garden (Line, 2007) as well as the critically acclaimed work with Ryuichi Sakamoto on Ocean Fire (12k, 2008).
I witnessed Christopher perform live this past Spring in Los Angeles. His shows add a whole other dimension to live electronic music. Especially if you think about ambient and experimental textures being performed in front of an audience. For most of the acts, I would close my eyes and absorb the frequency waves emanating from the surround sound system, occasionally waking up, in that red-eye-flight-trance, to see the artist's face illuminated by the laptop. But with Willits I kept my eyes open. After all, he had an instrument – a guitar – which he would play and feed back through DSP hardware. You see the hand strumming, your ear holds on to bits of familiar sounds, and then the rest is like a puzzle, struggling to come together in your mind.
This creative process is perfectly captured on the forty-five minutes of Live On Earth. It is especially evident on Orange Lit Space during which the sounds morph into a rhythmic structure, over which the guitar leaps into a soaring solo. This is a treasured acquisition for every Willits fan and a taste of things to come, if there will be more releases as the subtitle Volume 1 suggests. Recommended for fans of the above mentioned artists, as well as Fennesz, Tim Hecker, Stephan Mathieu, Philip Jeck and Christopher Bissonnette.
Also, read Conversations with Christopher Willits.
myspace.com/christopherwillits | christopherwillits.com
facebook.com/christopher.willits.fans