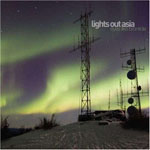 If it looks like I am desperately trying to catch up on some amazing albums, and tell you about them since they first came out,  it's because I am. There is just way too much music for me to go through these days. And let's face it, complaining about too much good music is a sin. Yet the fact that I have already listed Eyes Like Brontide on my Best of 2008 List last year should tell you something about my excitement for Lights Out Asia. Never mind the lack of time on my part to give it a thorough review. So I give you no apologies. But I give you these words.
The third full length album by the Wisconsin based band opens up with atmospheric swells and echoes of commentary on music, until the drum machine patterns merge into acoustic percussion along the shoegazing, reverb drenched guitars and then… and then we are in the familiar territory of Lights Out Asia's staple sound, with epic harmony and Chris Schafer's desperate vocals. What continues to impress me throughout the works by LOA is the group's ability to effortlessly maneuver their song structures and production between acoustic and electronic, no doubt only belonging to one of my favorite labels, n5MD.
I first came upon Lights Out Asia when they released their sophomore album, Tanks and Recognizers (n5MD, 2008). Since then I've been a follower and a fan. The formula behind their work seems simple, yet the emotion evoking execution is flawless. The sound of LOA falls between lush post-rock, organic ambient, crunchy IDM and ethereal cinematic soundscapes. If just that description gets you drooling, then of course, this album is for you, synthetic strings and all…
To hear where it all started, pick up the group's debut album, Garmonia (Sun Sea Sky Productions, 2003). Lights Out Asia even made it on Tympanik's compilation, Emerging Organisms Vol.2, as well as 残響record Compilation (Zankyo, 2008) [yes, those are Japanese characters in the album title you're seeing], where they shared the spot among Manual, 65daysofstatic, Bitcrush, Helios, I'm Not A Gun, Do Make Say Think, and many others.  This album is seriously  recommended for the above mentioned artist names, as well as Hammock, Port-Royal, July Skies, and Jatun. Pick up your copy directly from n5MD's mailorder.
myspace.com/lightsoutasia | lightsoutasia.com
myspace.com/n5mafia | n5md.com