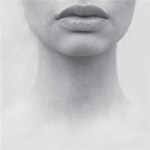 The gentle swells of lo-fi loops and and breathing atmospherics set the tone for Mokira's eighth full-length album. After previous releases on a roster of labels, a Stockholm-based Swedish sound sculptor, Andreas Tilliander returns to Type Records with Persona. Tilliander introduced us to his Mokira moniker with his debut, Cliphop, on Raster-Noton. His glitchy hip-hop sound has landed him on Mille Plateaux, where Tilliander continued to contribute towards the 'clicks & cuts' genre. But for Type, Tilliander has been stripping away the beats [but not the rhythmic structure], and focusing more on ambient textures that let the music flow organically through analog and digitally processed layers.
Starting from the first track, the disintegrating repetitions of drony re-sampled pads instantly remind me of works by William Basinski, tape hiss and all, while the gentle onslaught of incoming harmonic frequencies are reminiscent of works by Tim Hecker and Vladislav Delay. The dull, murky, and thick reverberations bridging acoustic and electronic elements will also satisfy the fans of Gas and Fennesz alike. But comparisons to others are futile, since Tilliander has already made a name for himself, ranging from his dub and tech-house releases under his real name on his own label, Repeatle, to abstract electronica and glitchy IDM on Komplott under a Komp alias, and even a minimal dub 12″ on Echocord under his Lowfour moniker, among the many.
Across a wide spectrum of tracks, I hear the same main theme, which is explored upon through various experimental approaches. Tilliander's proficiency in electronic music and control of its branches clearly shows throughout Mokira. This is especially evident when ambient progressions are interrupted by a growing 303-like-gliding-bass-line that is at once unexpected and yet feels very appropriate. Throughout the album, a noticeable amount of true analog equipment dominates the presence, as only accented by a track, appropriately named Oscillations And Tremolo. Towards the end of the album, a single loop is re-sampled and re-assembled. And once the tape hiss comes in, the path is obvious – it leads back to the beginning of the album where the music continues to decay and disintegrate.
Persona is truly listening music. Preferrably with your eyes closed. And it is upon multiple listens that you will begin to discern and peel off its layers, to reveal the true genius behind this latest installment from Mokira. It's no wonder, that after numerous contributions towards the evolution of electronic music, Tilliander was awarded a Swedish Grammy music award in 2005. Thus, I am immediately propelled to dig up and revisit his earlier releases. During your parallel search, it's worth picking up an acid tech-house 12″ under Tilliander's real name, titled, Stay Down (Repeatle, 2007) featuring a remix by The Field. Also recommended Tilliander's debut on Mille Plateaux, Ljud, and his very latest Show (Adrian, 2009).
myspace.com/andreastilliander | repeatle.com
myspace.com/typerecordings | typerecords.com