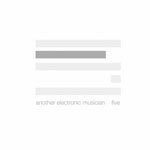 It's about time that I got my hands on Jase Rex's fifth release, appropriately titled Five. Critics universally agree, that unlike his moniker suggests, Rex is not just Another Electronic Musician. And though the past releases by Rex were closer to subdued melodic electronica, this album clearly puts the D in IDM. Familiar playful glitchy percussion is complimented by strictly defined rhythmic structures, covering groovy dub beats with layers of pads, delayed jazzy chords, and sprinkles of digital errors. Five becomes more than a head bopping album, it begs for a loungy atmosphere  and shoulder popping dance floor alike.
These days Jase Rex is hanging out in Southern California, where he must surround himself by a vast influential musical library, from early pioneers of electronica to the latest craze of dubstep, as it clearly reflects in his music. This marriage of the old and the new is at once familiar and welcome, as the two favorite elements bridge together in the album that keeps on pumping catchy hooks in every track. Where sound becomes a story, and the story yields the sound.
This is an interesting addition to n5MD, considering that this highly reputable and personally admired Oakland based label, tends to [lately] focus on less upbeat releases – from ambient neofolk by Last Days, to electronic dreamscapes from Near The Parenthesis, to post-rock shoegaze by the owner himself, Mike Cadoo (aka Bitcrush). It's an interesting avenue that is only applauded by at least this fan of the label. Although I tend to agree that IDM in its original incarnation may be long dead, and that the acronym is slapped and overused by many, we owe it to Another Electronic Musician for keeping it alive (even if it needs a little life support). Thank you, Jase, for a wonderful reminder of the times that are still yet to come.
myspace.com/anotherelectronicmusician | anotherelectronicmusician.com
myspace.com/n5mafia | n5md.com