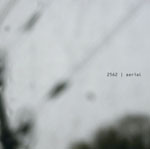 Twenty-five sixty-two is not just a postcode in The Netherlands' Den Hague – it is also an alias of its resident who is a prolific producer of dubstep, techno, and broken beat atmospherics. Dave Huismans's first full length release on Tectonic under 2562 moniker is titled Aerial. Tectonic is the same label that previously brought you the 12-inchers from Pinch, Skream, and Cyrus. On Aerial, Huismans layers dubbed out minor chords on top of the blowing wind of white noise and deep sub-bass enriched syncopated beats. The rhythm bounces between a Detroit-meets-Berlin techno sound and reverb heavy dubstep, creating tunes geared more towards home listening then as the fillers on the dance floor [not that hearing these tracks booming on a loud sound system would be unappealing].
With his own personal style, Aerial is more of an album then a compilation of singles. The tracks work well together, wrapped around the concept the same way Burial delivered the unmistakable sound of Untrue. One thing for sure – this isn't the sound of London. That is to say, that it seems to have more in common with minimal dub techno then the filthy bass ridden dubstep hooks. Both styles are excellent – just depends what you're in the mood for at the moment. And this very instant, I need to be chilled out and at the same time warmed up, keeping the evil grin away. At the end everything is just a matter of taste. And there's only one way for you to find out.
For more music from Huismans, check out his two side projects: a few EPs on Subsolo Records as A Made Up Sound; and earlier released jazzy broken beat EPs on the Dutch Flyin' High Records under Dogdaze alias. Recommended if you want to hear dubstep with some Modern Love and Basic Channel feel.