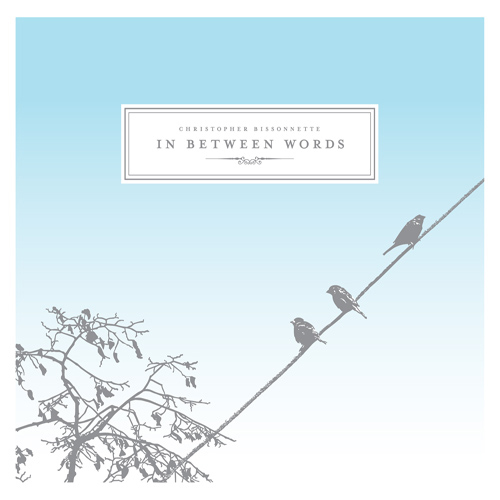 Here's another winner for Kranky, a Chicago based label that has been releasing outstanding material from Pan•American, Deerhunter, Stars Of The Lid, Loscil, Atlas Sound, Benoît Pioulard, and Valet, just to name a few. In Between Words is a sophomore release for Canadian based Christopher Bissonnette. And what a sonic treat it is! The warm layers of sound blanket the microscopic hair cells within my cochlea and gently sway them with precision controlled sound pressure. Half way through the first track an itch develops deep within my auditory canal, but I simply can not scratch that deep. Tiny white-noise artifacts crackle through the thick orchestral pads, like distant lightning in the muggy summer. But the thunder never breaks. Instead it stands still, simply just there, quietly revealing its presence, forcing you to accept. Accept this, and everything else that is currently around you.
In Between Words is a collection of Bissonnette's works exploring special acoustics and integration of field recordings. Through six purely ambient and minimalist tracks, Bissonnette experiments with found sound and the empty space found in between.
"Inspired by the continuous din, the constant low-level hum of urban background noise, interspersed with all manner of mechanically created sounds, Bissonnette finds in this a near-melodic soundtrack to his daily life."
The organic swells are based mostly on symphonic instruments as well as macro synthesized frequency rich sound waves. As such, I find this beautiful composition much plausible to the soul, then the external background sounds of our urban environment. I almost wish that some public transportation authority would publicly broadcast this music during my morning commute. Until then, there are always headphones.
If you enjoyed this album, be sure to seek out Bissonnette's debut album, Periphery (Kranky, 2005). Recommended if you follow works by Philip Jeck, Tim Hecker, Machinefabriek and Stephan Mathieu.
myspace.com/christopherbissonnette | christopherbissonnette.ca
myspace.com/krankyltd | kranky.net
also on Headphone Commute