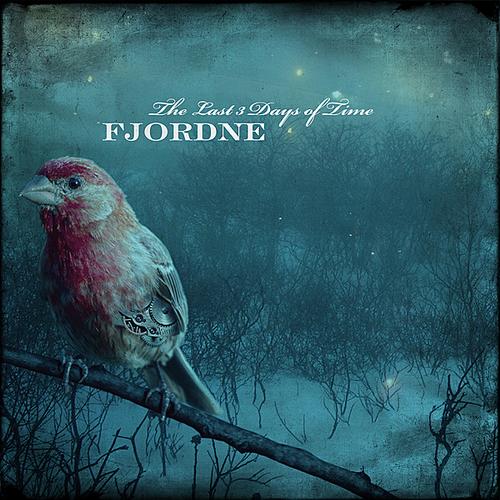 Here's everything I love about modern classical and experimental ambient. Tiny sprinkles of noise and artifacts. Glitchy digital errors across strummed guitars. Chopped up echoes of piano. Timeless bliss… All making up some jigsaw puzzle of a melody that reveals itself only if you unfocus your mind, unplug the brain, and blur your vision. Let the sound saturate your thoughts, swirling forwards and back in time, seeking lost data across corrupted volumes of memories. Ah, there it is, that moment. Nope, gone again.
Tokyo based Shunichiro Fujimoto's solo project under Fjordne moniker is a feat of subliminal time slippage consumed by the inevitable force of a black hole. Sourcing only acoustic instruments and some voice, Fujimoto digitally warps and processes the sounds into The Last 3 Days Of Time which gets picked up by a San Francisco based Dynamophone Records. And here's where owning a physical copy of this album really pays off: the 250 limited and numbered compact disk has a black lining (maybe that's what reminded me of black hole) and arrives in a small round tin container with a matted imprint of a bird sitting on a branch, revealing tiny mechanical gears beneath its feathers. A wind-up bird of time, approaching its last three days… And the clock ticks…
It is no coincidence that the cover art resembles the theme behind The Wind Up Bird Chronicle by my _all_time_favorite_ Japanese author, Haruki Murakami. Fujimoto's music is inspired by this and other Murakami works (which you absolutely _must_ read if you read fiction at all!).
Highly recommended for fans of Fennesz, Alvo Noto, Oval, Marsen Jules and Deaf Center. Also, make sure to pick up The Abbasi Brothers' Something Like Nostalgia, now that Dynamophone has officially released the album – you can get your Dynamophone copies at a growing n5MD store, which you can always leave with a cart full of goodies. [*UPDATE* – Looks like Mr. Fujimoto released his third album, Stories Aparat From The World, on Japanese based Ryoondo-Tea label in July of 2008]
myspace.com/fjordne
myspace.com/dynamophone | dynamophone.com