"… I looked at my shelving unit the other day and thought I could hollow out the middle row, be laid to rest in it with the records, and they could just nail wood over the top, and I could go into the ground with it all…"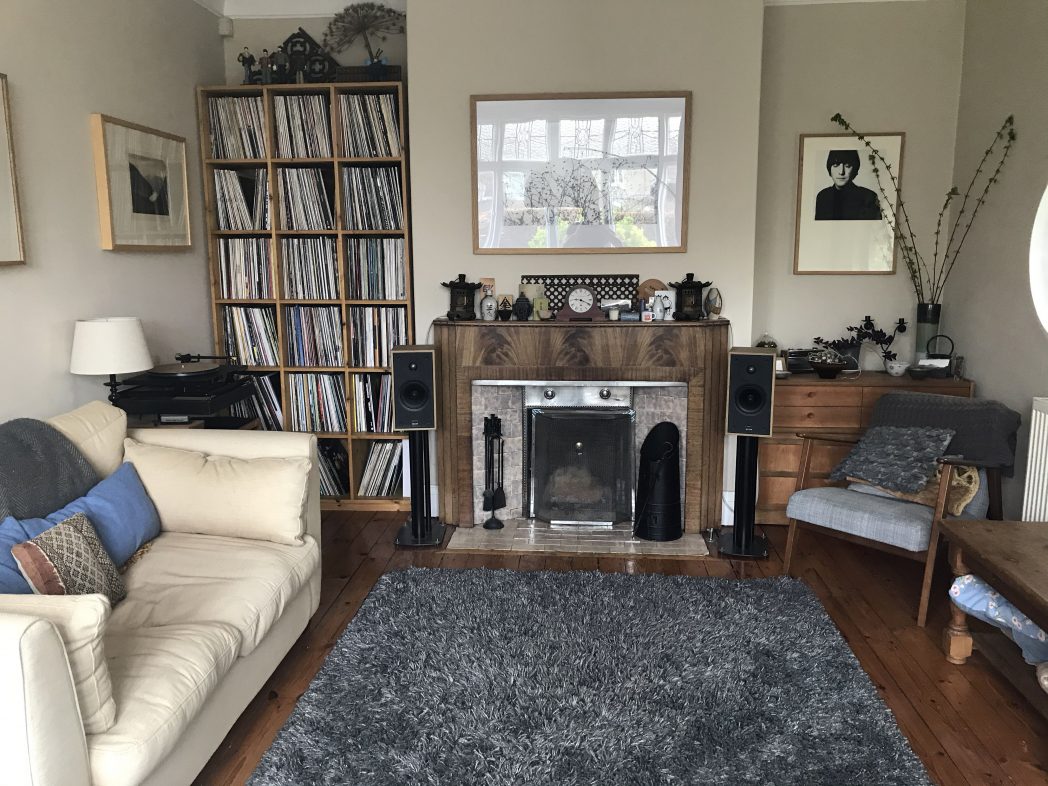 How many records would you say are in your collection?
Well, I can tell you exactly how many I have because I keep an inventory 🙂 903 records. I was one of those people who shelved their vinyl in the mid-eighties and went full-on into CDs, so I had amassed about 6000 of those before I realised I wasn't really enjoying music and wasn't spending whole days just playing one thing after another, so I sold my CD player one day, packed all the CDs up in boxes and put them in the loft and started adding to my vinyl collection again. I haven't looked back. Nothing would make me go back to CDs or a digital format for listening to music. Fine if that's your thing, but I know that for me, hearing a CD is a static one-off affair, once I have heard it, it reveals nothing new to me. Vinyl on the other hand just keeps revealing different thing to me again and again.
Do you consider yourself a 'collector'?
I'm not sure what that is, when I hear that phrase, I imagine people in cravats looking lovingly at their first edition Led Zep volume 1 in an airtight case, knowing that the additional 'superhype' credit makes it worth £400 (i.e. a tremendous investment), whereas I have that very same version, and just keep it to 'actually play' because it's a superb sounding pressing. Go figure. Mine was a very lucky find at a thrift store many moons ago. I think of myself as someone who considers music as important as breathing, so I buy music as if my life depends on it. My partner Johanna often tells me (having looked at my bank statements) that I could have a heroin addiction and it would be less financially and emotionally hazardous and she may be right about that. So, I buy enormous amounts of music, trade a little when I need something that I cannot afford, so sell a few items to get, but otherwise, I am just thankful that the universe blessed me with a soul which needs to hear music to grow and self actualise. I used to collect whole collections, like everything by Neil Young or Thelonious Monk for example, but then I realised that I need to contain myself to the records that I will repeatedly listen to (That's everything by Monk, not so with Neil).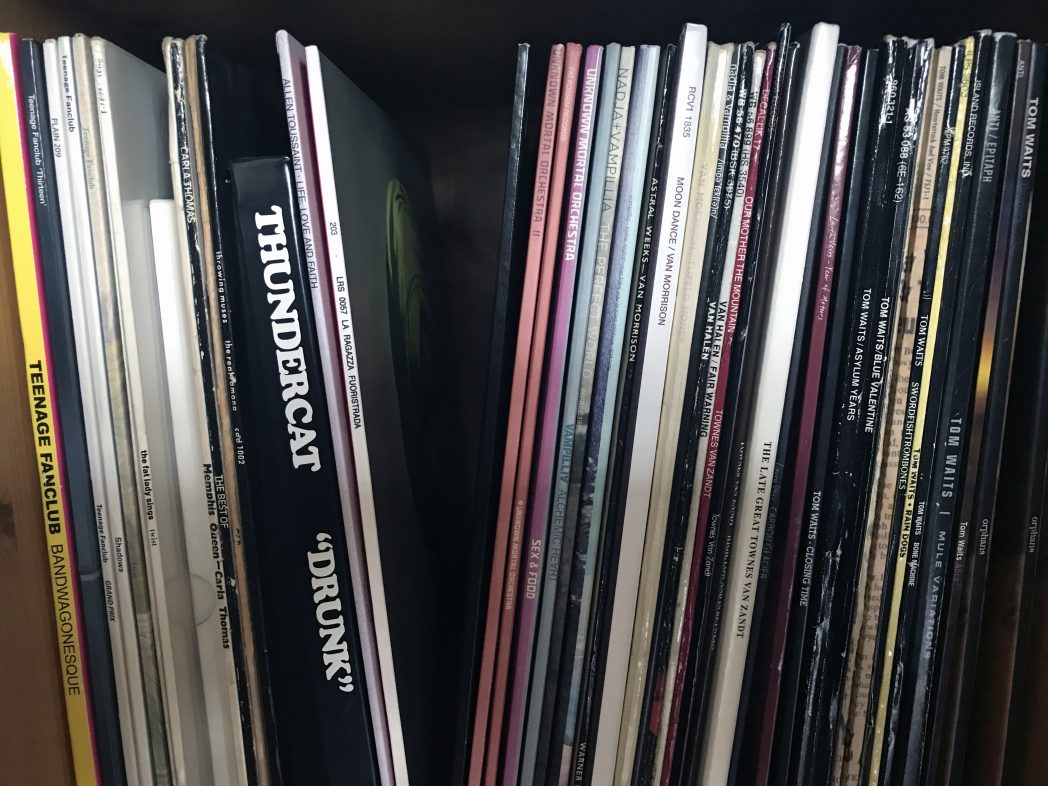 What is your playback setup like?
It's the one thing I have allowed myself to spend a bit of money on given how important it is to me, whatever money I have made from publishing and films etc., I have generally put straight into paying for my house, but a good system is the one thing I thought I could justify over time. Don't get me wrong, I would always choose to buy records over spending it on equipment, but I still always wanted a Naim set up since I heard an uncle playing music on his old 1980's pre olive Naim and I was hooked on the musicality of the sound. The same way I was obsessed with old triumph motorbikes, so I ride one now 🙂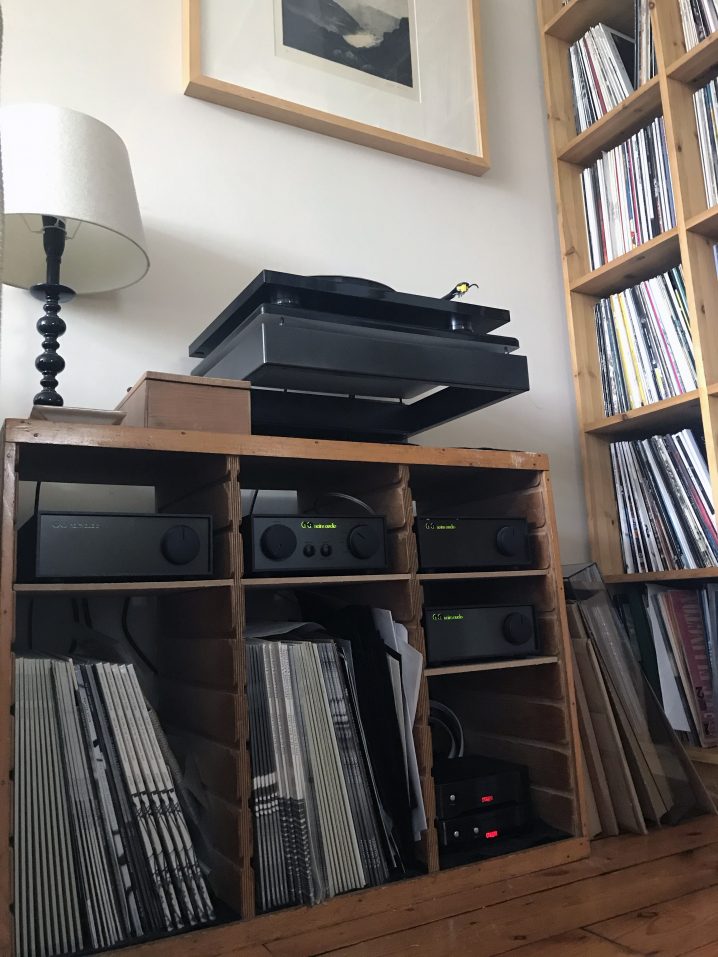 It's by no means a very expensive setup, my good friend Nick Hawley has a sublime set up which makes you swoon whenever I hear it, but I will never be able to obsess as much as he does (sorry Nick you know this is true, but we all love you for it!). I have only very recently closed off what I consider to be a great system in a certain midsection of the Naim universe. The set up I have is felt to be a particular sweet spot for Naim heads like I am although I wasn't aware of that until I was way down the road I had found myself on before I knew that 🙂 So, my set up is as follows:
Naim NAC 72 Preamplifier
Naim High Cap Power Supply (just powers the NAC)
A pair of Naim NAP 140s which bi amplify my speakers
EPOS 11 speakers (designed by EPOs around the system I have, so truly lovely sounding and lovely synergy)
Rega P6 turntable (modded with aluminium reference sub-platter and Delrin centre boss)
Rega Upgraded power supply
Rega Aria dedicated phono stage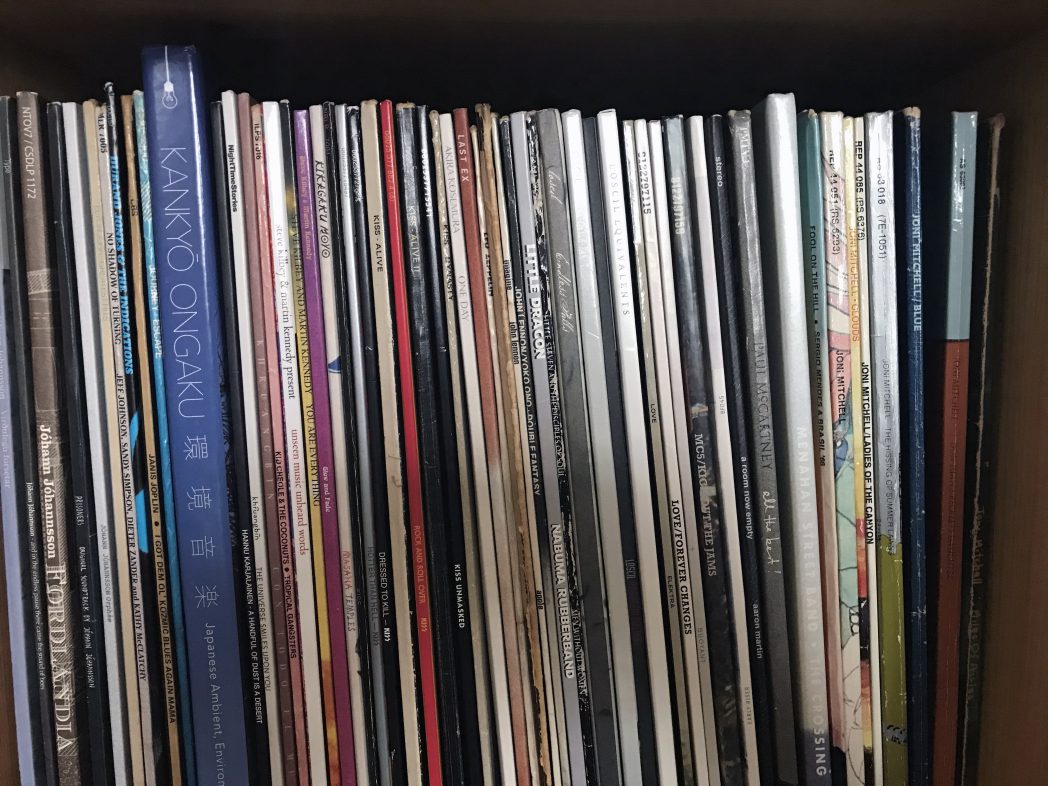 So although I could have spent much more, I REALLY love how my system is working and the synergy of the constituent parts right now. I am resting in a pleasant harbour and expect to corrode gently in the shade of this system. I think being autistic also means that I sense and experience sounds in a different way to people who are normally aspirated and I can only say that I feel blessed to be able to receive music in the total way that I do, it's a really immersive experience for me.
I am also fortunate to live in a lovely old double-fronted house, so Johanna has one living room, and I have my own, which just houses my instruments, graphic novels and records. It's a beautiful sounding room, and I am fortunate to have that dedicated space to luxuriate in 🙂
What was the very first record you purchased?
The first record I owned was a mono copy of Revolver given to me by my father, which I still have. The first record I bought with my own money was the single "So Lonely" by The Police in November 1978. I was 7 years old, I know this because until recently I had it in a box of singles with the date I bought it on the sleeve 🙂 which I accidentally threw out in a house move! – it had all my Arthur Lee 7″ s in and my Birdland (Hollow Heart, what a belter!) ones too… much wailing about that ensued!!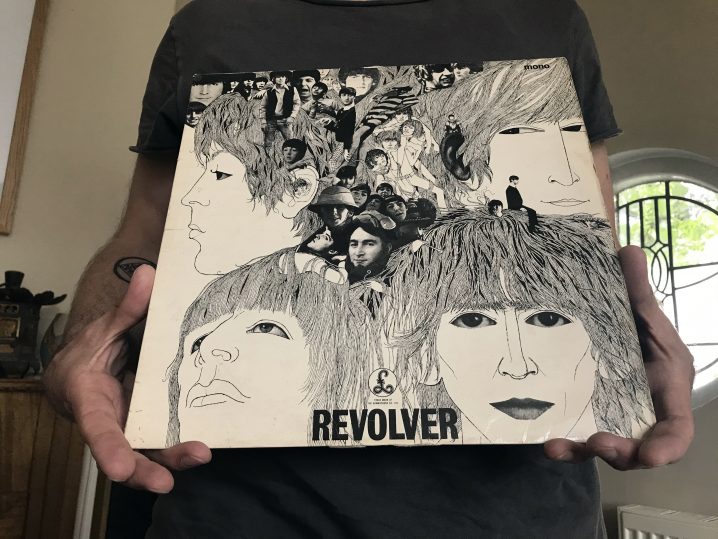 Tell us about the most prized record in your collection.
I have managed to buy well it seems throughout my life, and consequently, I have certain records that are seemingly worth a lot of money were I to put them up on Discogs, but those are not the records I would personally consider to be those I most hold dear. These are records which have personal meaning. Often they are specific songs. Like the band Brad, whose song "If You Could Make It Good" (from "Welcome to Discovery Park") is amazing and makes me shiver in shame at how better I need to be as a lover, and Kathleen Edwards' song "Asking For Flowers" which is the most shattering expose of a relationship ever and which could ONLY be written by a woman in my opinion. So so many songs, I could go on for hours.
I would say that almost all the records I have in my possession have some story attached to them and a reason why I needed them or bought them, be that a trip or a sense that it fulfilled something in my need to make sense of what I am feeling. Early on David Axelrod really meant a lot to me. I mention an Arvo Part record in reference to a later question, and that one ranks high due to its emotional impact on my whole life, there are other records like Janis Ian's "Between The Lines" because when I was living a somewhat isolated life in Groningen (Netherlands) aged 9, my parents were almost universally absent in my life and I was mostly alone with that record, and it is like a comforting thing for me to hear it. It got me through some dark, dark times.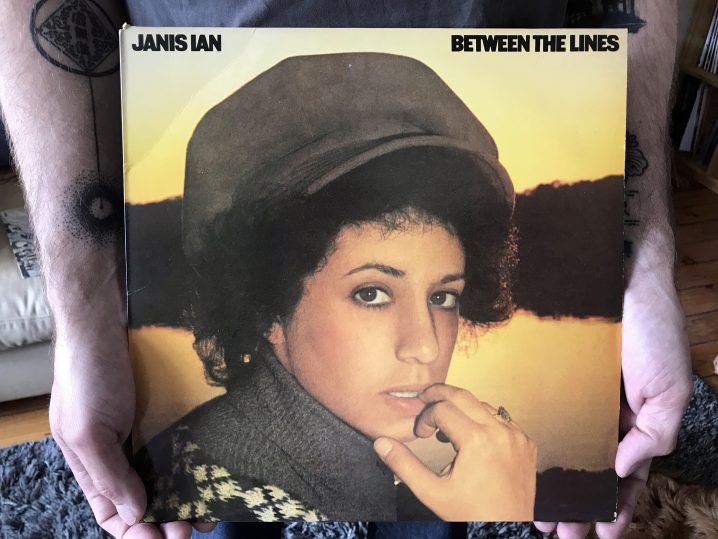 It's hard because records like the first album by Love and "Inner Mystique" by The Chocolate Watchband I listen to at least once a week, as I do "The Source" by Jimmy Scott, then there are things like Pergolesi's Stabat Mater, which honestly are so sublime I cannot even articulate it.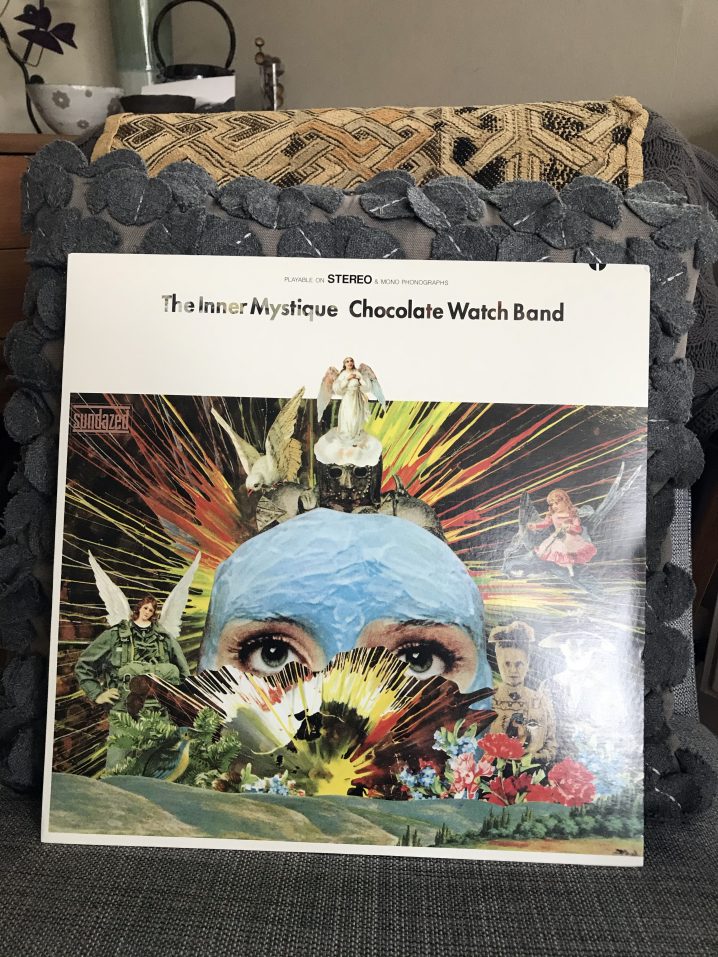 So, similarly, even though there are records that are sonically and musically better in my possession (where do I start, Monk, Arvo Part, Bill Evans, Coltrane, Kiss, Tom Waits, Lee Morgan, etc. etc.), I would have to pick "Travels": by Pat Metheny. It's not even my favourite Pat Metheny record, that is "First Circle". But from the opening strains of "Are You Going With Me," I feel contained. When I have been at my most bleak and lacking in hope, those first two beats on the snare that opens the song immediately pacify my darkness. I have had that record since it was released in 1983 and it's one of few records that I have literally carried out of places I needed to escape in the middle of the night under my arm because I knew I could count on it to calm me and reassure me. It's never let me down. We all love Pat Metheny and seeing him with Johanna and my boys in London in November 2017 and hearing him play some of our favourite songs (both my boys have always loved "Last Train Home") brought me to tears and reminded me of what I have survived to get here, and that I have raised them to love good music.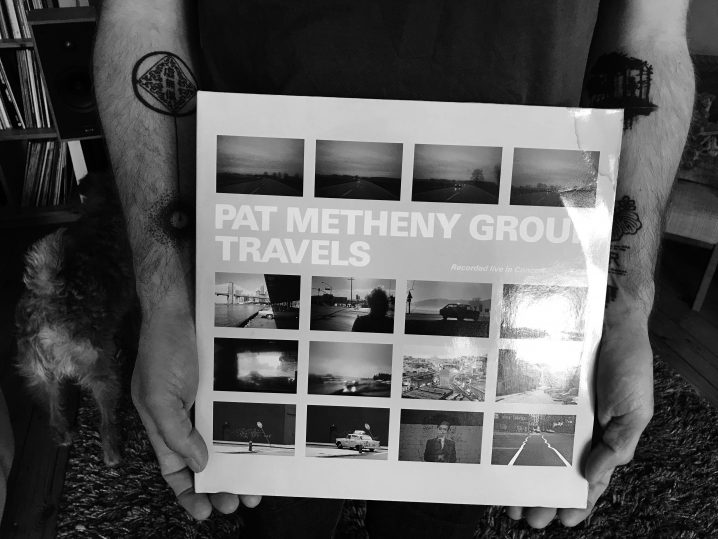 What makes you want to purchase an album on vinyl as opposed to any other medium?
I only have a turntable, so that seals it for my decision making. I have digitised my collection where possible as a backup and to play when I am riding my motorbike, and I do occasionally play digital files through the hi-fi, but not often. I am not necessarily one of those people who insists that music is somehow more pure on vinyl, but I know that I prefer to hear music that way. I did stop for a nanosecond over buying the new half-speed master of 'music for airports' by Eno, as my original first pressing sounded nice, but that was one record where I preferred the clean high res space of a digital version playing through my hi-fi, but when I got that half-speed master, man, that's a beautiful sounding record.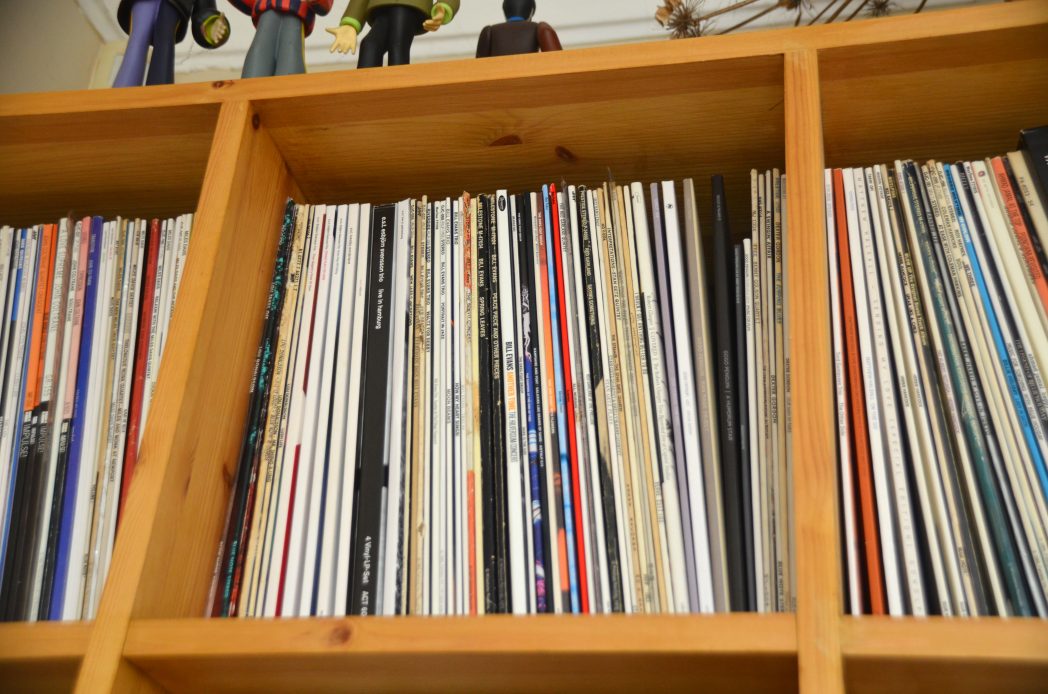 What are your thoughts on the "inconvenience" of vinyl?
There is nothing remotely inconvenient to me personally about the format, I love the whole process of getting up, perusing and then handling the records, I like looking at the artwork and having to turn it over halfway through, its all very evocative of my whole life and playing records and having them around the house when I was a child. I would never want to lose that. Johanna definitely worries about the impact on us in terms of space ("when will you have enough?", well I just laugh and think, "when sound itself stops, and when people stop making it") and I know she worries about the amount of money I spend each month. It's nuts how much records are these days, and to people like me, who would choose to buy a record over breathing, it's not easy.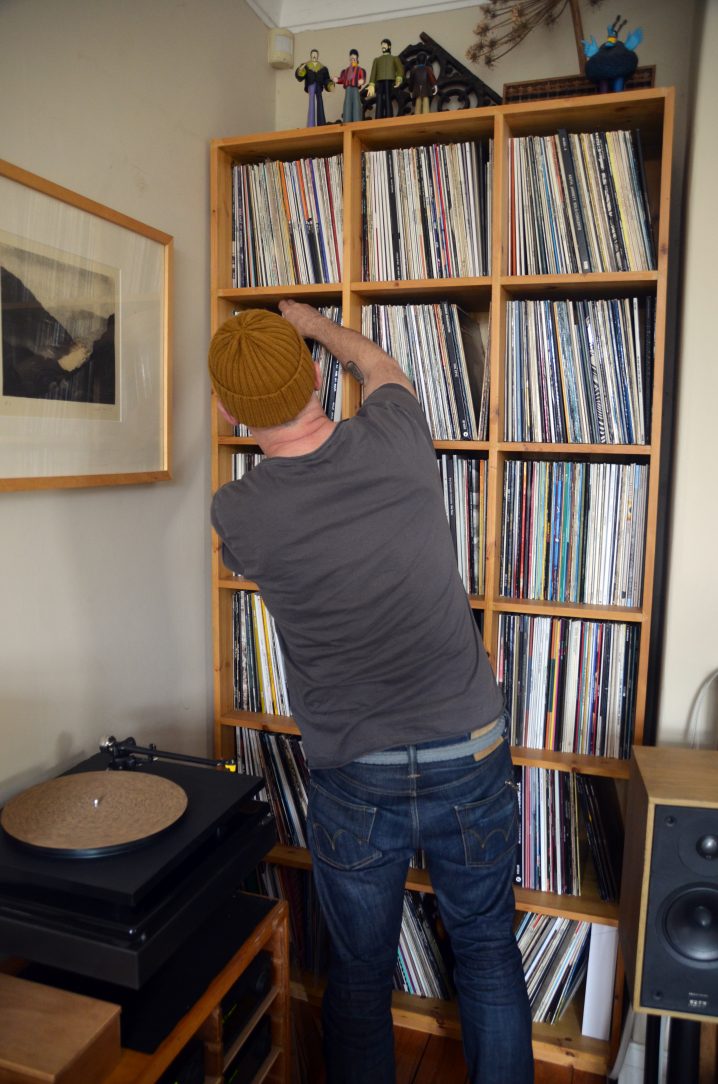 What album has your favourite artwork and why?
Whoah, that's a hard one. Sometimes I immediately think, "Revolver" by the Beatles as that was the first record I ever owned, and it seemed so magical to me aurally, and that cover is funky! So many things I could choose. I could go with a mad, intense record by the Dutch band Claw Boys Claw ("Shocking Shades of Claw Boys Claw"), because I think it's raw and savage, like the music. I could go with my favourite designs of the peerless ECM label (I was really knocked out by Keith Jarrett's "At The Deer Head Inn" when it came out, and David Darling was an idol for me from a young age, and his "Darkwood" record is a beautiful example of what ECM do well) but picking one? How do you choose your favourite Blue Note?? (Jackie McClean's "It's Time"? My favourite Lee Morgan one "Search for the New Land"?).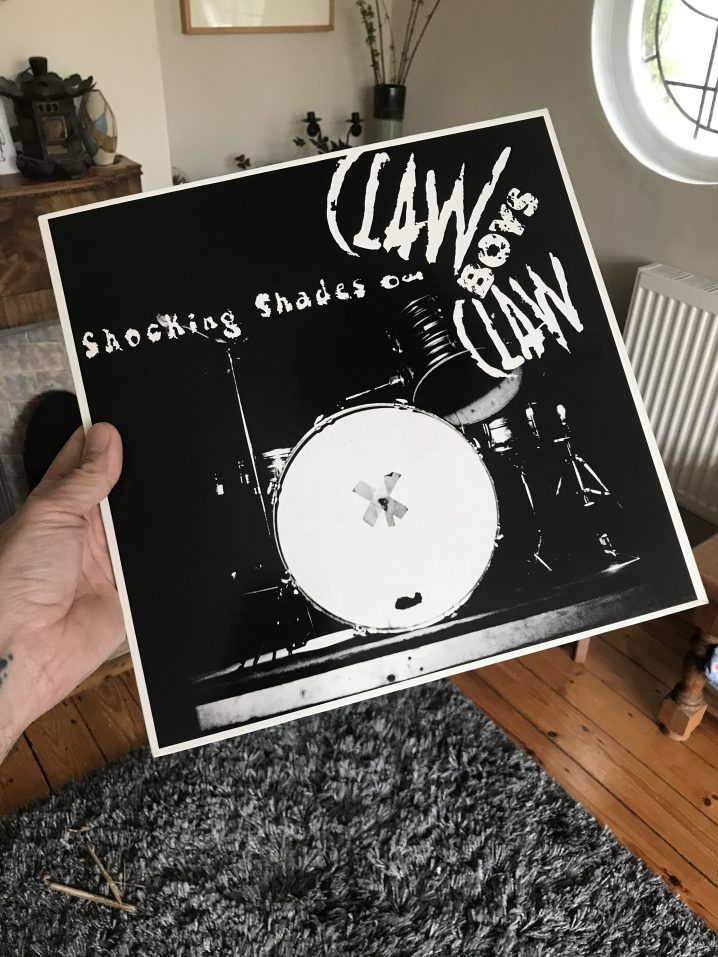 I also really like the cover to Piero Umiliani's "La Ragazza Dalla Pelle Di Luna", he is a total genius, and so many of his covers are great.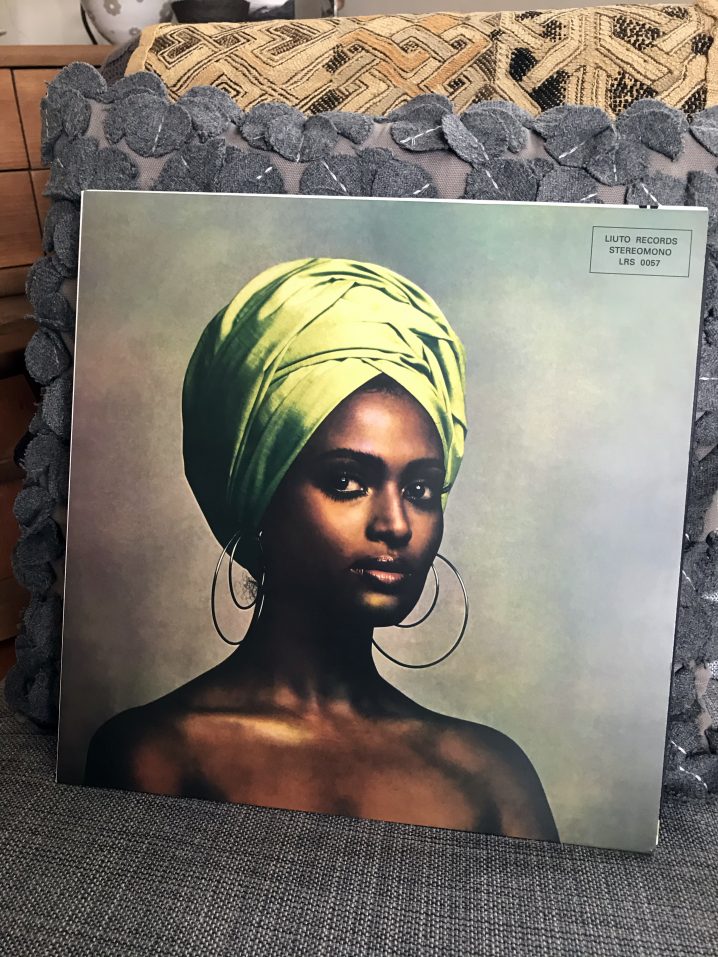 "Monk" by Thelonious Monk is one of those genuinely iconic covers that I could look at all day. And Monk is very important to me, so if this were just about me, I would maybe go to that one.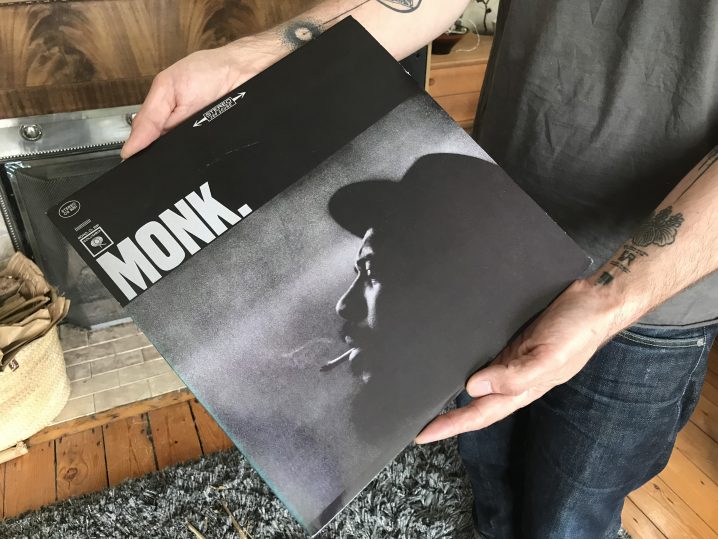 But if I HAD to pick only one cover to adorn a wall in our house, I would go with "Blue" by Joni Mitchell, because when I met Johanna, it was the record that she would play for me and I suddenly couldn't bear to not have it near me when we were apart, so that record always reminds me of our burning and all-consuming love when we met. Twenty-six years later, I am still in awe of her and that I'm a lesser person when she isn't near me. So not the one I like the most visually, but the cover that would immediately transport me back to that place of fierce love, because I had been through an extremely distressing childhood, she was the first person that showed me what love actually was, so to hear these songs of love by Joni and suddenly have a knowledge of what she meant was a shattering and beautiful truth for me. That cover would be a thing of significant meaning for us both. Songs are like tattoos. Yup, dead on Joni!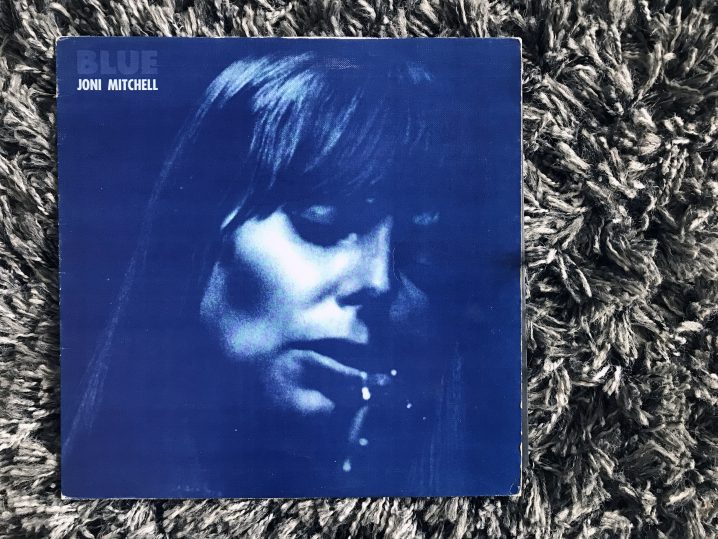 What do you look for when you go record digging?
I always have a list of things I am after. I carry my whole collection as a PDF on my phone and a list of things I am after. When I am in Japan, it's mostly jazz as their original pressings second hand are so well maintained and the pressings were exquisite. I also love a lot of Japanese jazz and folk music, so that's what I am after there, as well as anime and soundtracks. Their 1980's minimalist music which is now undergoing a much-deserved revival with people like Hiroshi Yoshimura and Satoshi Ashikawa and I often sought out that type of stuff in my first forays to Japan. But increasingly my list is very small as I have most things I consider utterly essential to me already. But sure there are always records I am after, but mainly they are so very expensive on Discogs I cannot bear to pay those prices. Nor could I. But often when I am travelling I want the record store staff to turn me onto something local I could otherwise never have come across. I really enjoy the discussions I have with them round what I like and then asking them to suggest purchases for me. That's how I came across ADHD, an amazing Icelandic jazz quartet when I was on holiday there last year.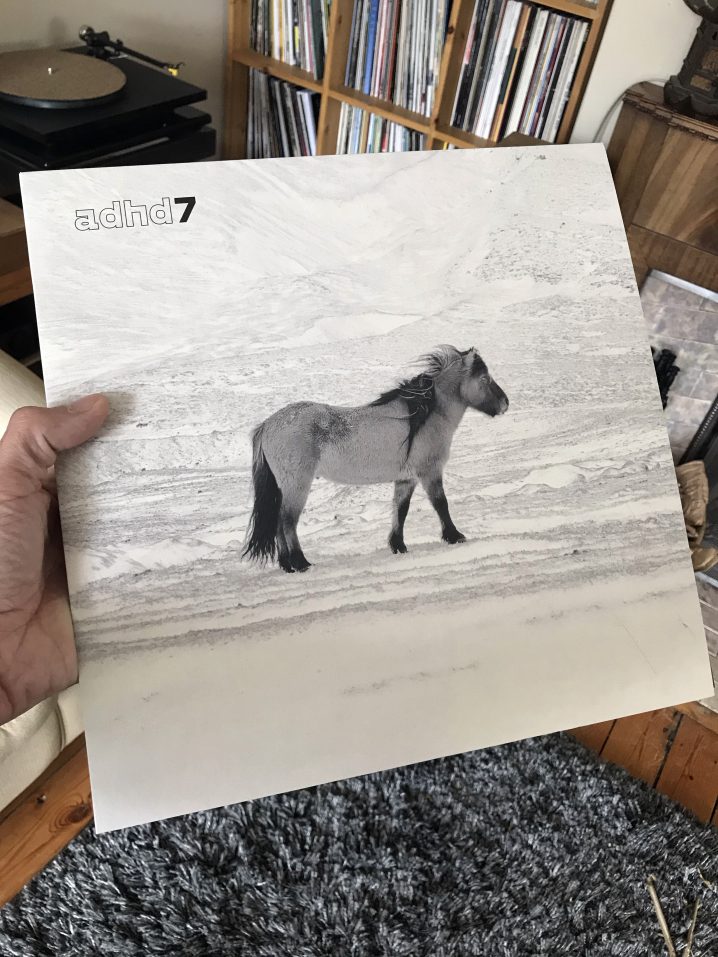 Where do you buy your music these days?
I REALLY miss those early experiences, when I was growing up in the north of the Netherlands in the early eighties (Groningen to be precise), 'Elpee' was the place I loved being in. It was that whole, "oh Chris I have been waiting for you, have I got something for you to check out" type thing. Now, like everyone else, I think you will talk to, spend a bit of time looking for the obscure items on Discogs, an experience which can be pleasant or downright infuriating when you think of the prices some people are asking for a record, which I consider anti-art. I dream of the market falling apart again so I can go back to picking up good records in second hand or charity shops for £2. I really like buying from artists direct at Bandcamp, great thing that site is and one I personally benefit from.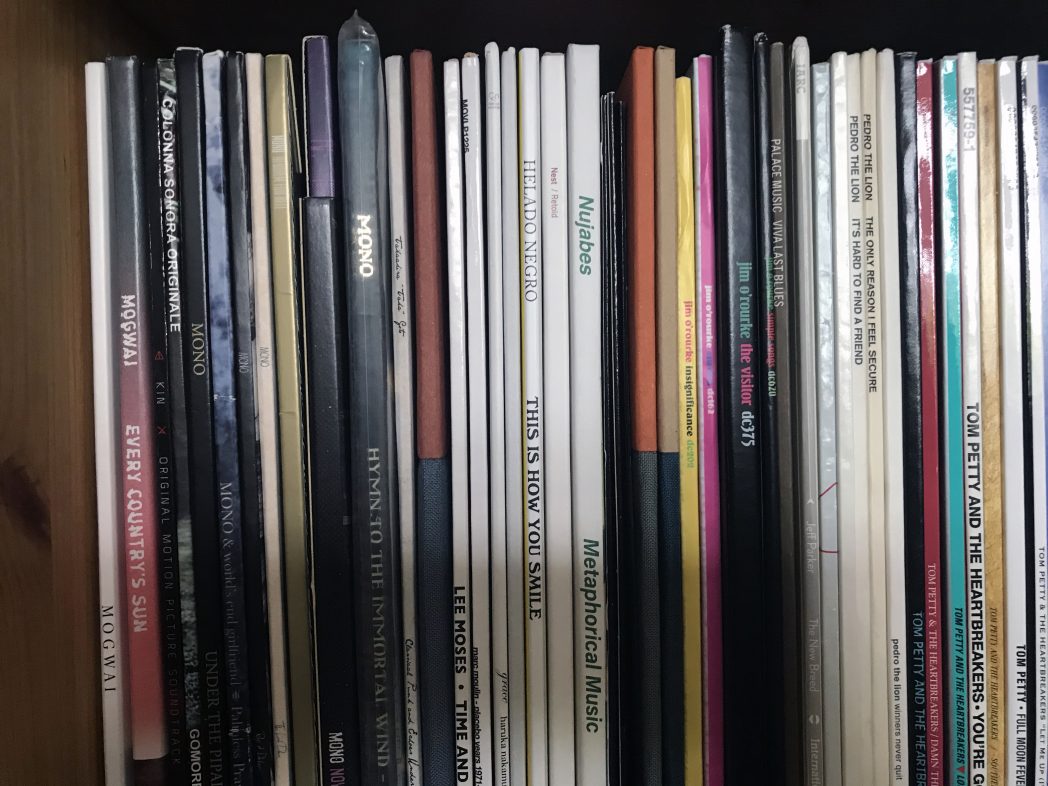 For everything else, there is only ONE destination, and that is the mighty Norman Records right here in Leeds, rightly a beloved institution across Europe, for their legendary service and care for you as a customer. I collect all mine on my way home from work, so I can tell you that Phil and the rest of them are amazing humans and it gives me pleasure knowing I do my bit to keep them going. I can often find the records at a lower price, but there's no way I wouldn't buy from Norman if they have the records I am after for sale. I have shopped all over the world, and sure, I loved being in places like Amoeba records in San Francisco and LA, and it's a whole other world in Japan for sure, and I love it there when I go there, but Norman Records have my heart (and wallet).
Generally, though I am usually going through a phase, so right now I am very much enjoying things with beats so that new Ash Walker record "Aquamarine", bvdub, Black Taffy, Greg Foat's stuff and a record by CS & Kreme that Nick put me onto the other day called "Snoopy". Another week it will be rare Japanese jazz, like Jiro Inagaki, Toshiyuki Sekine Quartet or something like that. Ryo Fukui records – thank goodness they were reissued recently! …which brings me to your next question!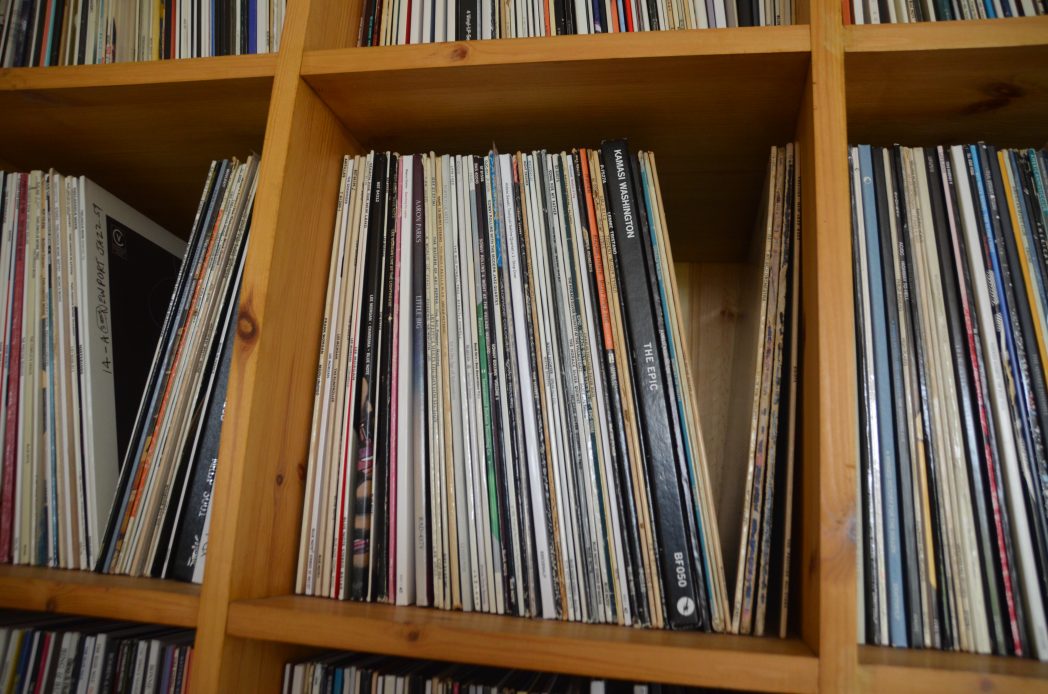 What are your thoughts on limited editions, original releases, and reissues?
Well, I am all about the music, so I am not fussed about collectable editions etc., and I get a bit tired of repeated re-pressings, I was really cross initially about that latest Abbey Road for example, as they only reissued that in 2012. However my drummer John Shepard came round with it, and I have to say I was blown away with the sonic quality and remix of it, so I bought it and now consider it a totally different record to the first pressing I have had since I was young. So it's OK if it's something I have struggled to obtain or has been in my Discogs basket for years and I haven't been able to justify the exorbitant cost.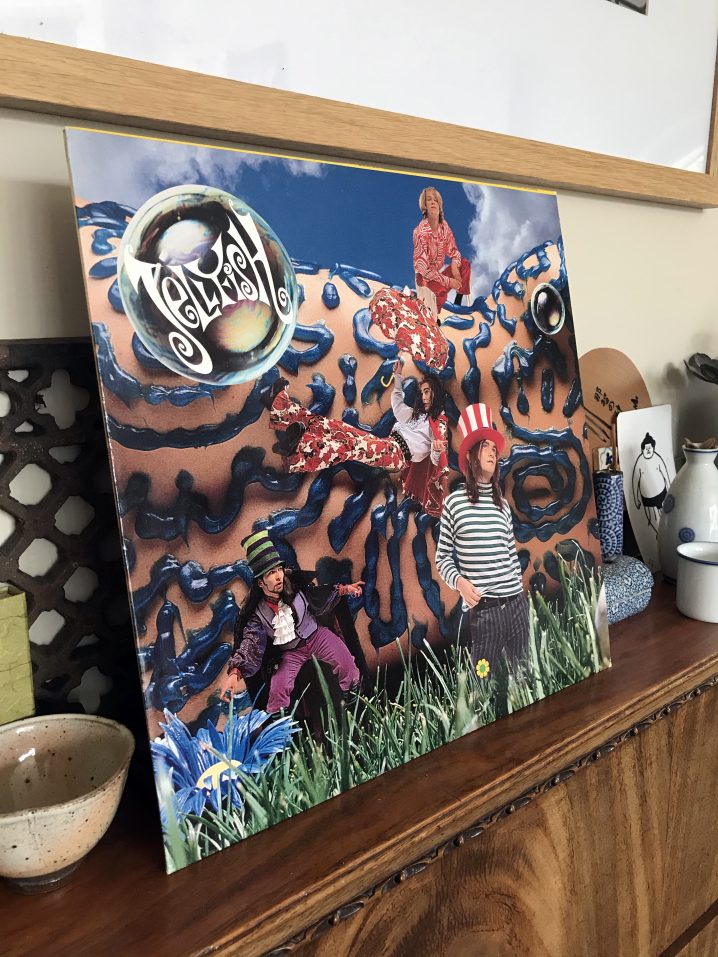 For example, I had a copy of that Dan Penn record "Nobody's Fool" for ages in my basket, but the asking price was mouth-watering, and nearly cried when it was suddenly announced for reissue. I consider one of the greatest debut's of all time to be the Jellyfish record "Bellybutton"… their second and last release was "spilt milk" which was awful, but oh boy, every song on that first record is a killer, so if that was reissued on 180g vinyl, I would be ALL over that. The same would apply to Arvo Part's "Tabula Rasa". I remember buying that the day it was released on the basis that I was a reasonably committed ECM guy, and this whole "new series" thing intrigued me. Now, let me tell you I consider myself to have been changed at a molecular level by that record when I first heard it. My personal copy is therefore absolutely trashed, and I cannot for the life of me think why ECM have not treated that to a lavish repress. It is perhaps the single most important record of all time, in my opinion.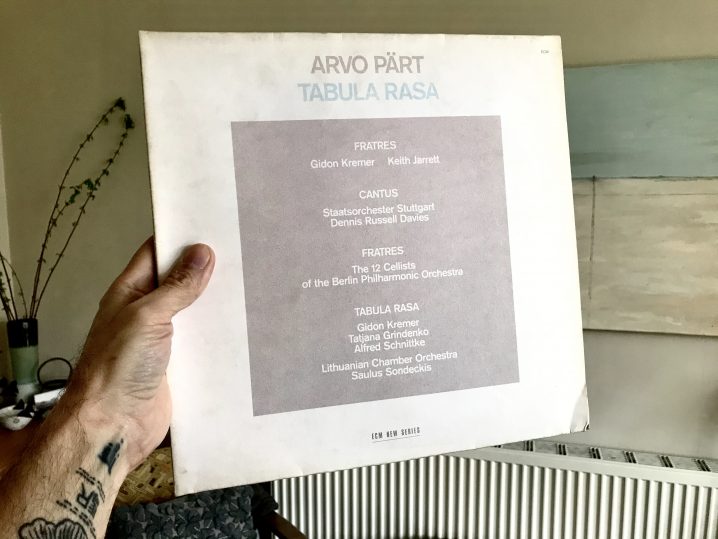 Likewise, when a record has only ever been on CD and gets a vinyl press I am ecstatic, so when Esbjörn Svensson Trio's "Seven Days of Falling": was released on vinyl, I was extremely happy. I am currently finding it hard to count down the days until "High" by The Blue Nile makes my Blue Nile section complete. It's been so long coming, and it happens to be my personal favourite just before "Hats". I also loved that recent Mark Hollis solo repress because the two previous pressings were so atrocious.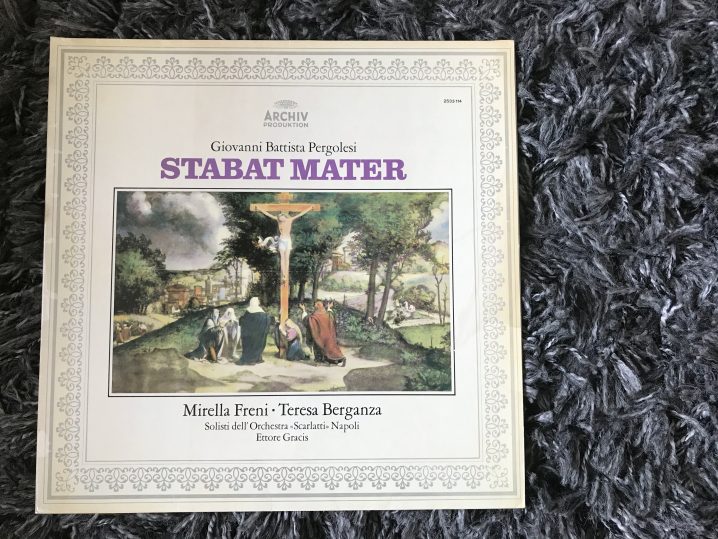 So, I guess overall I am happy with reissues etc., if they are bringing me music or a better version of it, I don't buy them for the sake of it. I also don't like additional outtakes on a release – I want the music in its original format. If I wish outtakes, I am happy to buy them separately. I tell you what drives me nuts though. People pressing things in limited quantities. OK if they sell out, then I am OK but when you have a huge record on your hands, take that DJ healer record a few years back "Nothing to Lose". They were selling at £300 a week or so after they had been released and that makes me angry because firstly I missed it and refuse to be made to spend that amount for anything, and secondly, the artist knows this so why not press more in a second run as you KNOW you will sell them and that the appetite is there for those sales. Everyone I knew across Europe was after that record when it came out. And the artists make not a penny from those exorbitant prices on Discogs. Makes me cross all over.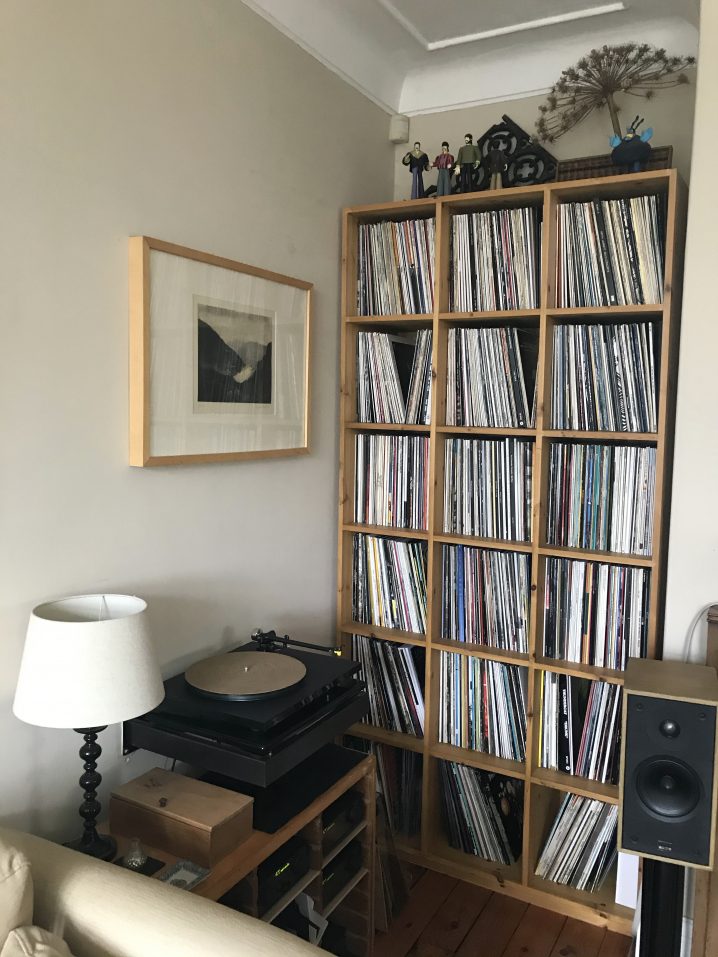 What were the most memorable liner notes that you've ever read?
Not sure really. I don't tend to read liner notes. I am only really interested in music. John Coltrane's "A Love Supreme" is one that immediately comes to mind, and the music, that does benefit from understanding what the notes tell you his state of mind was at that time. The Blue Note ones from the '50s and '60s were always a nice time capsule of that era and colloquialisms. Harry Smith's Anthology of American Folk Music includes brief synopses of each song written in the style of an old-timey newspaper headline (or abstract). For example, the song "King Kong Kitchie KitchIe Ki-Me-O" (AKA "Froggy Went A-Courtin'") is summarised: "Zoologic misogyny achieved in mouse-frog nuptials. Relatives approve."
Also, you can always count on Mingus 🙂 The liner notes for The Black Saint and the Sinner Lady (at least the edition I have) have something written by Charles Mingus about leaky faucets and critics and then goes on to talk about the members of his band. The first bit is REALLY hard to follow, the second bit is a good read. Basically, not sure about this one. I do love the cover for "Ah Um" though!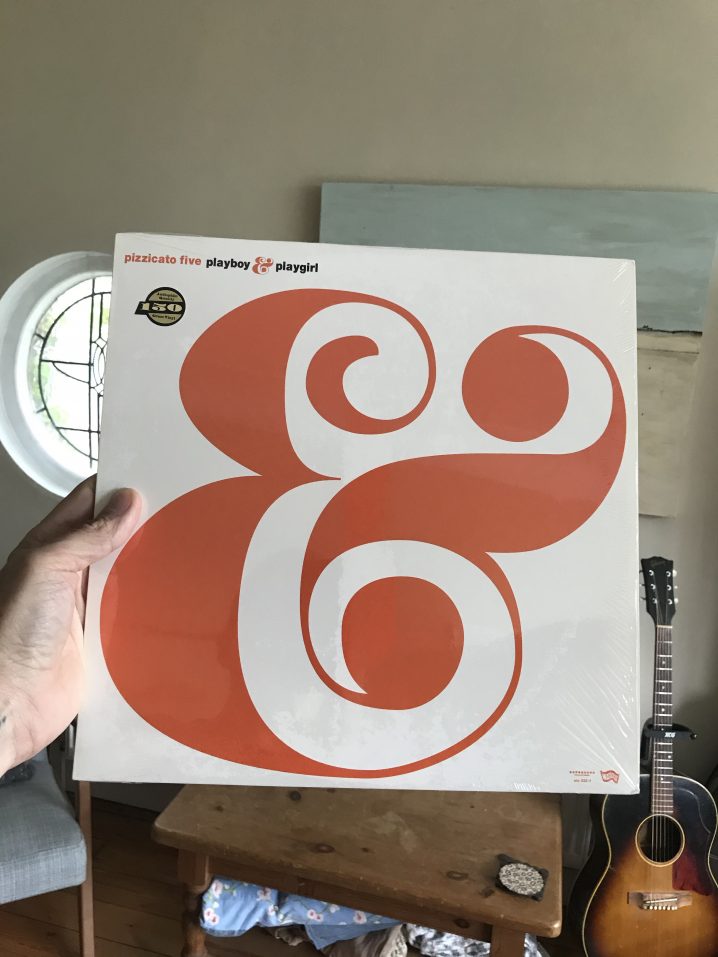 What record do you think you could play all the time?
Oh, so so many come into play here. And it depends on my feelings, so one day all I want is The Stooges, Wang Wen or Scandinavian death metal, some days all I want to hear is delicate pianos like Bill Evans or Sakamoto. Sometimes all I want to hear is Cornelius or Pizzicato Five and then other days Khruangbin and Kikagaku Moyo. The Blue Nile could feature "Hats" maybe. Of course, I always want to hear Steely Dan, who doesn't! Most days I go between all these things. It is really odd this, but I nearly picked that Last Ex self-titled record on Constellation. Hardly anyone knows or bought this, but I don't know why it has a HUGE impact on me. I think it's amazing, even though it was apparently written for a horror film that was never made, the textures and beats and atmosphere really speak to me. I find it really tranquil and soothing.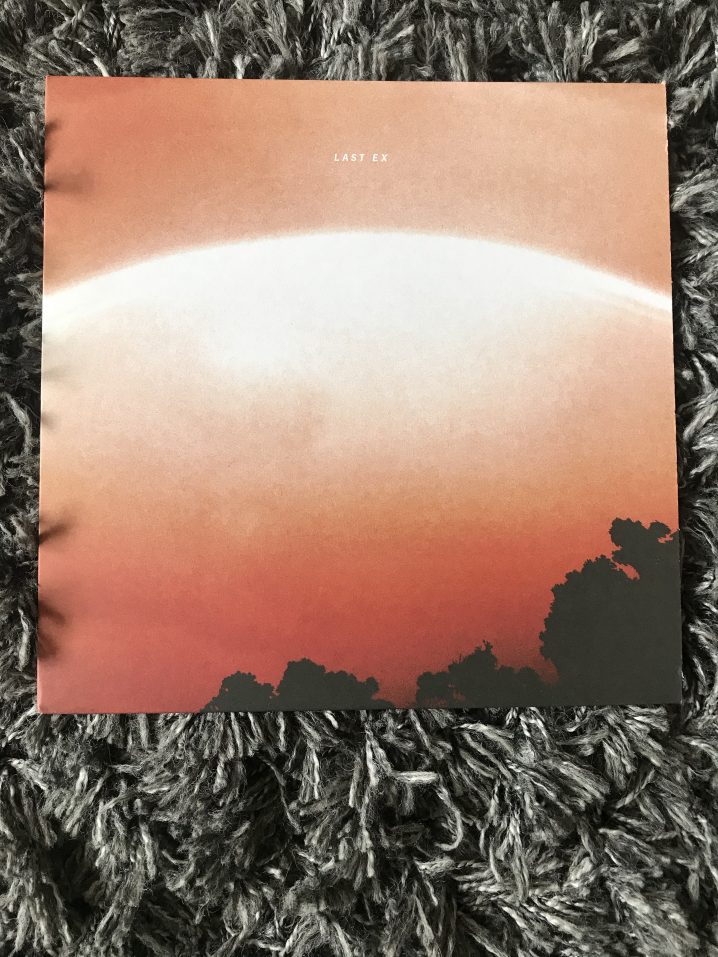 Another odd one for me, but one which I find incredibly mesmeric, is Frank Sinatra's "A Man Alone", it's wistful as fuck, and the arrangements on that record, wow! But I have a scenario that I put to people which is this one. "If you were forced to hit delete on the entire history of recorded music and could only keep ONE record for eternity, which would it be". I never even pause to think when I consider that question. For me, it would be Tabula Rasa by Arvo Part. It has everything, quiet brooding descending scales, rushes of mad intensity, and its just the sound of otherworldly pain and joy. It's just so life-changing. I honestly see my whole life as 'me before I heard that record' and 'me after that'. If anyone was in my house and responded to that record by saying it was shit or something I might need to be restrained. Actually, there is nobody I know that would ever say that. I think I have gathered good people around me 🙂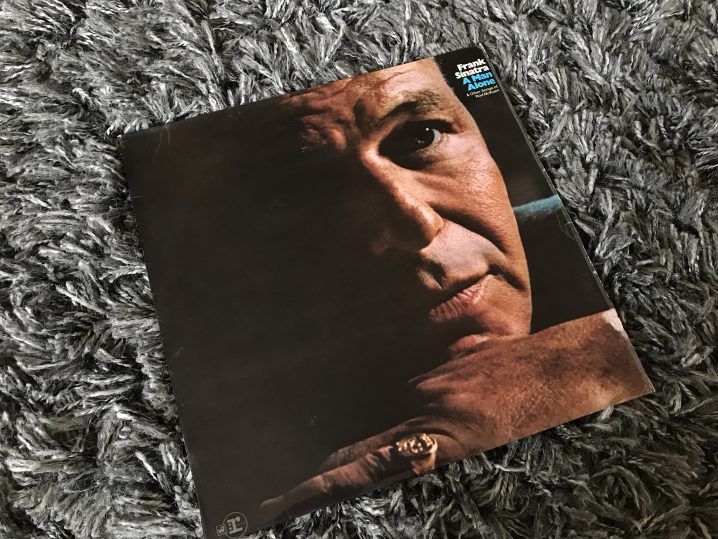 How is your collection organized?
OK, so right now it's Jazz A-Z then everything else A-Z, then classical A-Z. This is because Johanna found it infuriating that she couldn't find anything easily. But my preference was always to have it in genre or labels, so for example, I would have all my ECM together and all my Blue Note from 1950-80 but the other Blue Note scattered. That's the way I would prefer to do it.
How has vinyl impacted your life?
This sounds really corny, and it's something I think I have already intimated in my other answers, so it won't be a surprise when I reiterate that vinyl has been a constant in my life. A safe harbour when I couldn't really trust anything else. I become very emotional and hugely over sensitised during so many records. I could literally rip my own heart out when the brass comes in at 21 seconds in during the amazing arrangement done by Brooks Arthur on "Trains and Boats and Planes" on her record called "I Haven't Got Anything Better to Do". Seriously, listen to that exact section and tell me that isn't the sound of the universe gently rebuilding you on a DNA level!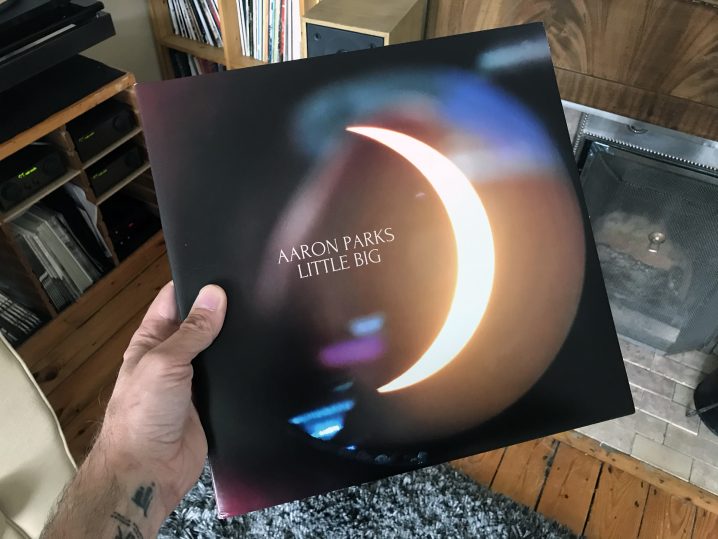 There's a section in Aaron Parks most recent record "Little Big" on the song called "Little Big" between 4:19 and 4:40, especially a double snare beat at 4:28 which makes it hard for me to breathe. That's how music affects me. I love it. That's a record everyone needs VERY much, go buy it now. I saw that band play in London at a tiny upstairs dining venue last year and oh my word, along with seeing Tom Waits it was probably one of the most amazing live shows I have ever seen. And I need to tell you that I saw AC/DC's Back in Black tour, and the tour that would be recorded by Motorhead for "no Sleep Until Hammersmith", so I have seen some decent shows here and there.
I don't get anywhere near the same feeling by listening to a CD or digital file, so I get very cross when I come across music I like, and there is no vinyl option. It's a very real pain that I find hard to ignore, the idea that music is there which I won't be able to play on vinyl, some might find that odd and say "get over it" and just buy digital, but for me, it's just not the same.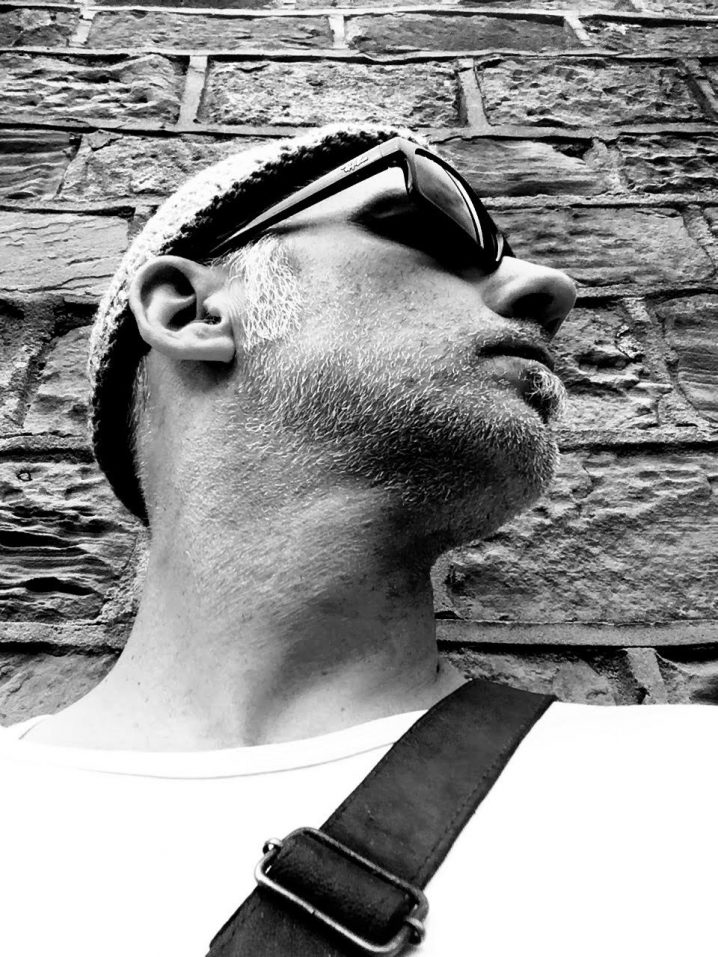 What will happen with your collection when you're gone?
I often stand my two boys in front of it and say that this is the distillation of a whole life seeking the truth of what music is and that when I am no longer here that they can just enjoy all that hard work I put in! I'd like to think one of their abiding memories of me would be how I stand there and mull over what I want to hear and then settling in to listen, sometimes with them. They immediately joke that they will sell it and buy comics and anime. My partner would keep some and then sell it off I think. Although I hope not. I have actually planned to have my key records buried/cremated with me, in fact, I looked at my shelving unit the other day and thought I could hollow out the middle row, be laid to rest in it with the records and they could just nail wood over the top and I could go into the ground with it all. From that point would grow a very odd but beautiful tree, one you imagine Tom Waits sketching. I liked that thought so much I fantasised about it while I selected my beat-up noisy first pressing of "Heartattack and Vine" and sat down to allow it to envelop me.
Photos © Johanna Hooson