Headphone Commute's In the studio with… feature has been popular ever since it's launch in April of 2014. Four years later and we are unveiling a brand new interview! Today, we let our friends invite us into their homes, and show us their music collection! Yes, we are all geeks here when it comes to music, and I always find myself excited with glee in a studio, checking out new gear. But I'm also infatuated with other people's vinyl, curious to dig through their very prized records and hear a story about every single one. And that's what we're doing today!
First up, is a very good friend of mine Ryan Griffin, the man behind A Strangely Isolated Place. Ryan may not have a music studio in which he creates, but he sure knows his shit about good music. We even seem to have a similar musical trajectory, traversing the same genres, around the same times (like hard acid trance in the mid-90s, hehe). Ryan may be physically across the globe, living in Los Angeles, and me in London (funny, because he's British and I'm American), but we're still going to get a very nice tour of his collection! Naughty, naughty…
p.s. Please leave us a comment on this new feature, so that we'll know where to take it next!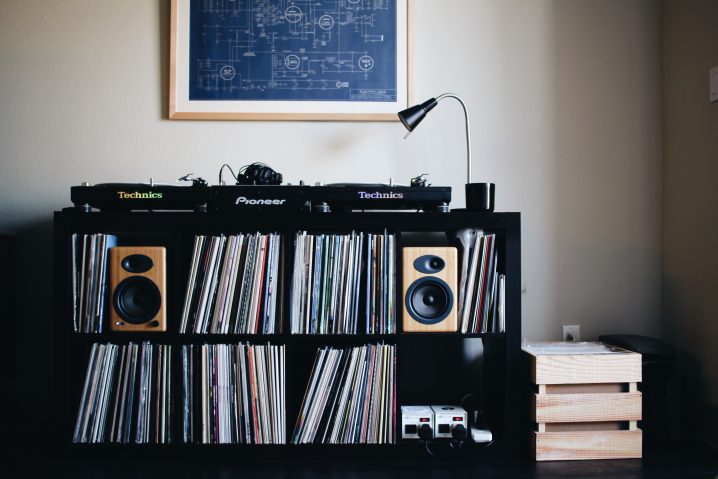 How many records would you say are in your collection?
I haven't counted in a very long time. The last time I did count was before I moved to America (taking count for insurance reasons before I put them on a ship to potentially disappear forever!) six-or-so years back. That was around 1500 at the time. So, I'd imagine easily 2000+ now.
Do you consider yourself a 'collector'?
By the very nature I refuse to part with any of my records, and the fact I am a 'completist', I'm probably defined as a collector. Plus the buzz I get every time I walk into a record store tells me I must have something wired that way. There are definitely much more serious collectors than me, and I wouldn't say I'm the guy with the mega-rare pieces of vinyl or one of those diggers that pride themselves on finding the records no-one else has heard. I was a DJ before anything else, so my records come from my love of the music, not necessarily for collecting or keepsakes  – more so nowadays though. My wife would consider me a 'hoarder', but that's only because the records are now invading her side of the bedroom…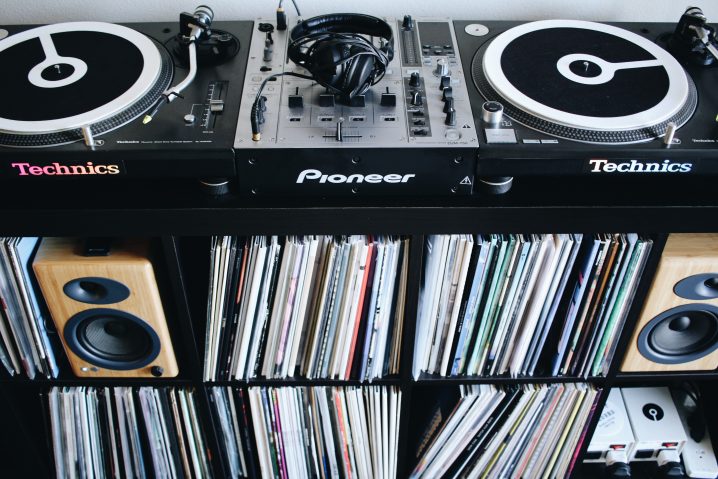 What is your playback setup like?
My setup is very modest in comparison to what you might expect from someone who enjoys vinyl as much as me. (I know you, HC are extremely into your gear and would put mine to shame). I guess, I live in a bit of limbo right now where I refuse to invest a lot of money into my gear until I have the perfect home location/setup. I don't have that perfect setup just yet. I moved from England (and various locations in England), to Oregon, then to California and it's meant I've never really settled completely. Thus, my setup is pretty nimble and basic. One day, I'll have my own studio and we can do this interview again!
Currently, I'm split between a setup in the living room, which is my 'DJ' setup and a setup in my office. The DJ/living room setup consists of my Technics 1210 and a Pioneer DJM750, running through a sturdy NAD C372 amplifier that's been with me for years, and depending on the occasion, KEF Coda floor-standing speakers, or bookshelf Audioengine A5s. I can't have my music too loud as I live in an apartment, so the bookshelf speakers normally do the job. I'll get the KEFs out when we need to annoy the neighbours.
My 'office' space (if you can call it that) is where I keep my label stock, packaging, supplies etc and new records before filing with the majority of my collection. I say that, however, I don't have much more space to move them around so they're building up in the bedroom and not moving on from there! My office is where I listen to records more intently, check test presses etc. Here I have a Pro-Jekt Debut Carbon Esprit turntable, run through a pre-amp and another pair of Audioengine A5 speakers.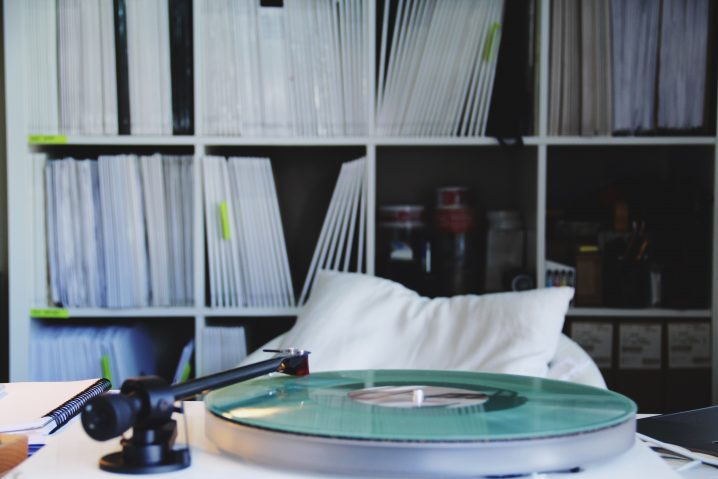 What was the very first record you purchased?
I wish I knew… it bugs me that I don't. I started collecting when I was 16 years old when I was into lots of trance, house and UK garage. I'm sure my first record was part of a big batch I purchased in one day to get me started with my turntables. This probably included the likes of Nalin & Kane, BBE, Energy 52 etc. These were records that I had been listening to non-stop for the few years prior, and as soon as I had my turntables, I set out to find them.
I can remember my first CD; The Prodigy's, Music for the Jilted Generation. And before that – on tape – notable inclusions might include Snap, MC Sar & The Real McCoy and Scatman. Yes, you read that right, no shame, I chose to volunteer that information. I had no Idea what ambient music was back when I was 11-12 yrs old despite some of the greatest albums of all time being released at that time.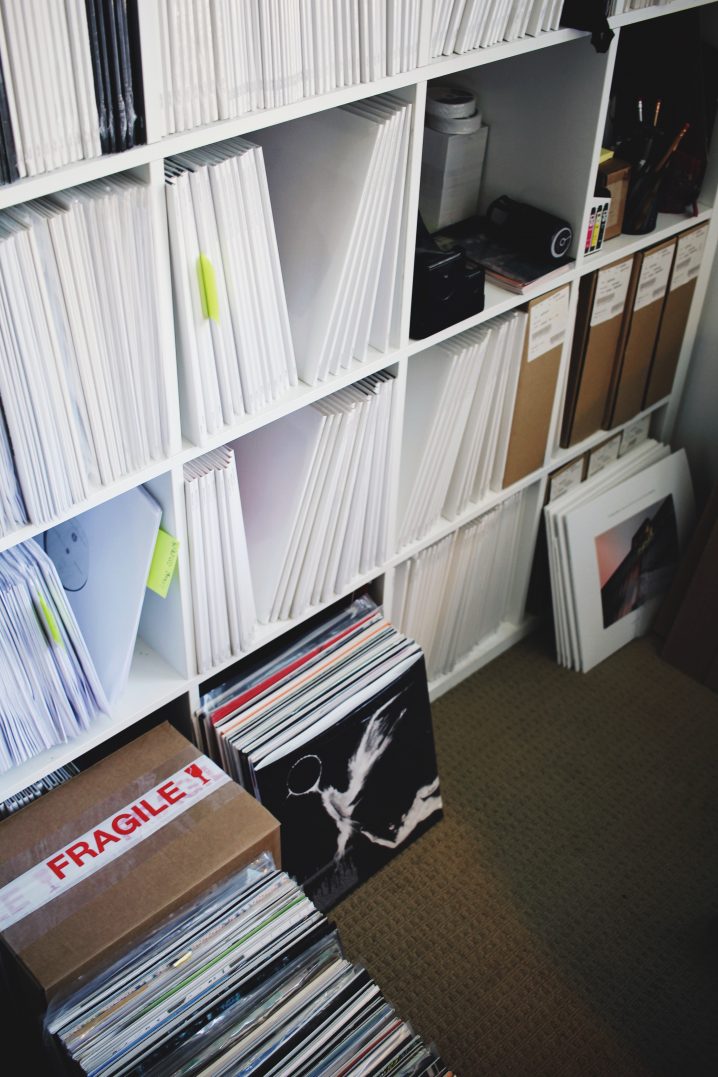 Where did you buy your music back in the days?
My vinyl mecca back then was HMV on Oxford Street, plus a few other stores in Berwick street – many of them now gone, like Blackmarket, or another one up the road I can't remember which was the go-to for soulful/deep house (I spent many days at Turnmills, Pacha and Ministry Of Sound back then).
I would jump on the train and take a day trip to London to buy 10-15 records at a time when a single 12" was around 5-6GBP. I don't think Phonica was around until about 2003, but that soon became my go-to. I also used to shop at a few really small record shops in nearby towns where I grew up – Hertford, Hatfield and St Albans. I can't remember names, they're all gone now, but they used to stock some older trance music and UK Garage as it got more and more popular at the time – proper record stores – where I learnt what a white label was, or a bootleg. These were guys renting tiny spaces or basements in Soho, just to sell 50 new releases at any one time. Passion first. Shame they didn't survive. They'd likely be doing extremely well with the recent popularity of vinyl.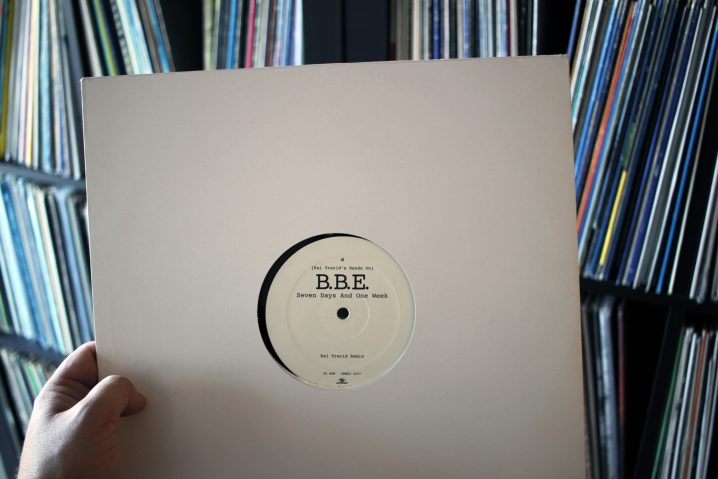 Tell us about the most prized record in your collection.
My initial thoughts go to my most expensive records, but as time has gone on, even this becomes subjective on hindsight. Paying 15GBP ($20) for the first pressing of Double 99's Speed Garage anthem, 'Ripgroove', back in the late 90's was unthinkable at the time. Paying $250 for Rafael's (The Sight Below) Unfurled remix EP in 2015 – a no-brainer, given that the money helped his lost studio efforts, and the record had my dream lineup of remixers included (Yagya, Biosphere, Markus Guentner, Loscil and bvdub). Both examples I'd find hard to part with, in their own special ways.
Additionally, I spent a very long time hunting down a trance record called 'Church of Ra' by Digger. It was on an old Trance mix CD I used to play religiously. I just checked Discogs and you can get it pretty cheap now, but it holds a special place for remaining as my #1 most wanted record when the likes of Discogs didn't exist. I hunted high and low for it. Those in the UK might remember HTFR (Hard To Find Records). They had the first version of a "wantlist" function on their website, where they emailed you if it came in stock. This record stayed on my list for years until one day it popped up.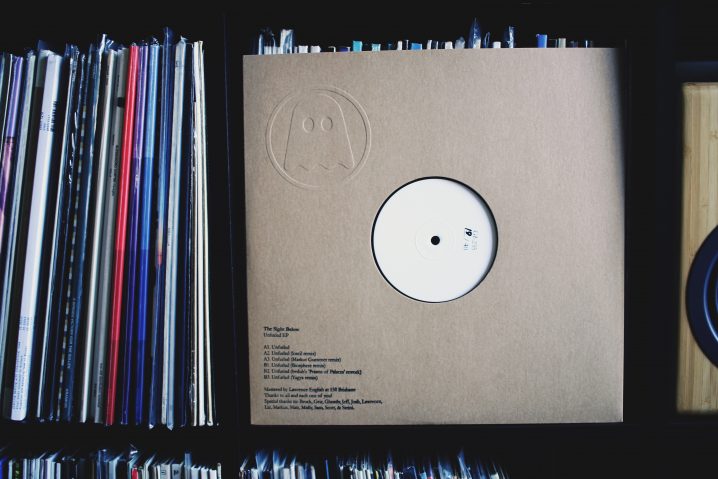 My records provide me with personal memories rather than monetary value, and I'd find it hard to part with plenty of replaceable records that you could find on Discogs for $1 nowadays. I flick through records like photo albums so now you can see why this question is so hard for me.
My collection features white-labels with personal notes on that look terrible, or bootlegs that have had drinks spilt on them and hardly even play correctly – but I still can't throw them out and wouldn't sell them (that's not fair on anyone!). I think the only record I've ever thrown out was Adam F's drum'n'bass anthem, 'Circles', and that was because I smashed it against the spindle and it split in half, tipsy one night. Literally useless, so it had to go.
What album has your favourite artwork and why?
Another impossible question. Without trawling through all of my records and over-thinking it, I'd pick the Ghostly SMM Opiate vinyl. It was the first 'color-in-color' vinyl I owned and it's executed beautifully, packaged within a screen printed, thick sleeve. I think Ghostly is a big reason why many labels obsess over aesthetics in vinyl design today.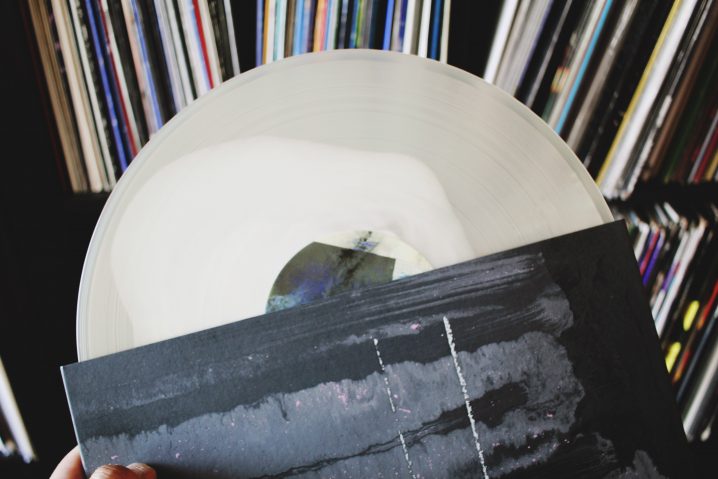 What makes you want to purchase an album on vinyl as opposed to any other medium?
I often find myself wondering this when I'm sat staring at stupid shipping prices from Europe. "Do I NEED it?". The answer is never yes when you think about it too much – I'm very aware at how privileged buying vinyl is – but there's something driving that collector mindset. I guess I have a few categories of subliminal consideration. (This is the first time I've actually sat down and thought about it).
Is this a record I would want to play someone else when they visit. A friend, my family. Is it something I can pass on physically.
Is this a record I want to DJ with (I always try to play vinyl when I DJ)
Is this record going to be around for much longer to buy (special edition, low quantity pressing etc might push me to want it as a physical format)
Am I supporting others close to me; labels, artists etc (It's important to me to support others just like they do with my own label)
Is it a beautiful piece of art (more than just the music)
PLUS is it any good! Even if it's a limited edition of 10 by my favorite artist, it still has to tick that box.
If none of the points in 1-5 are met, but 6 is met (I enjoy the music), then I'll buy it digitally. Of course, that's me analyzing it in hindsight. I guarantee if I went back through some of my recent purchases this thought process wouldn't apply. Sometimes, you just have to have that record.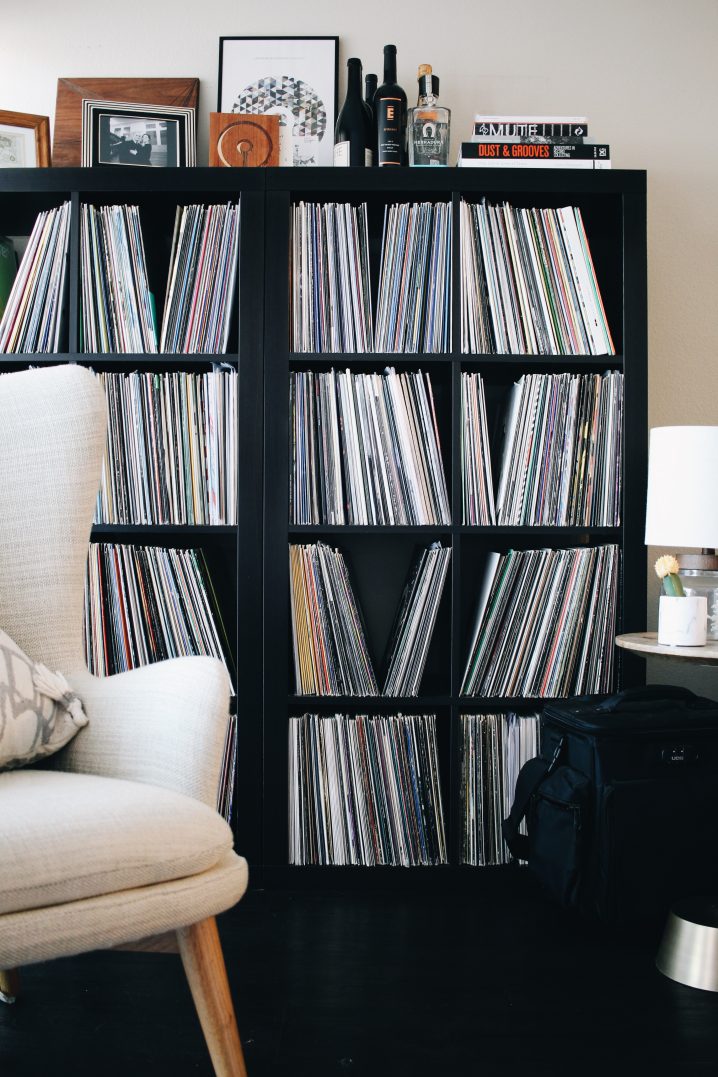 What are your thoughts on the "inconvenience" of vinyl? Ever consider digitizing the collection and selling it off?
I don't ever consider selling my vinyl collection. I can't even bring myself to part with some of those guilty pleasure records I purchased when I was 16-yrs old. Records are like photographs to me, and will always bring memories flooding back; where I purchased it, who I first listened to it with, which sets I've played it in, what 5am session at university with my housemates it throws back to. I'm pretty certain, up until say, the last 5 years, I could tell you which shop I purchased a record in. Since buying records online, this has become harder, but I could still give it a good crack. I'd make a good 'You Bet' contestant.
Also, I would never have the time to digitize it. I'd rather buy a HQ digital file than go through that hassle. That's why I'm so obsessed with getting a digital copy with any vinyl nowadays. Don't make me pay twice! Because I will damn it!
I'm very aware of how impractical vinyl is though. And I can say that with the experience of moving across the world with my entire record collection. As I mentioned before, I have this vision of an amazing studio space / listening room one day, and I'd be absolutely gutted if I didn't have all my records with me when that happens. So I'm holding on to that hope, until the universe pushes me another way.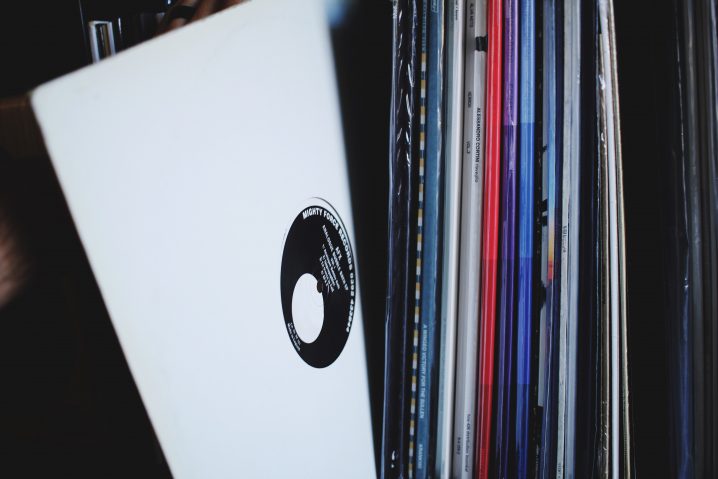 What do you look for when you go record digging?
The availability of records online has kind of ruined but in many ways helped my digging experience. On the one hand, you are now very unlikely to find that hidden gem at a reasonable price. Everyone has access to Discogs to see a record's perceived value, so to find a record that's undervalued, you need to be in a charity shop with someone who doesn't care about vinyl, or into some extremely obscure stuff that stores struggle to categorize or find online. So, searching for a bargain or an extreme rarity is not on the agenda. Gone are the days you'll bump into those.
I remember shopping for vinyl in my university town of Bournemouth, at a record store that (again) is no longer there (up by the 'triangle' for anyone who knows that area!) and the guys would reference a massive book that listed going market rates of second-hand records, updated every year. That's all they had to give you a price, and if it wasn't in there (likely unless you sold rock or pop music), they would often just default to a flat, low fee. That's when I'd find some killers for cheap.
Now, for me, it's more about finding records that are a bit of a risk. Maybe I've heard of the label, or it's a remix I haven't heard, or maybe the artwork looks so good the music might match it. That's where the internet helps – playing a quick clip whilst you browse, excited to then take it home for a full spin and to discover the B-sides, remixes and even more rabbit holes.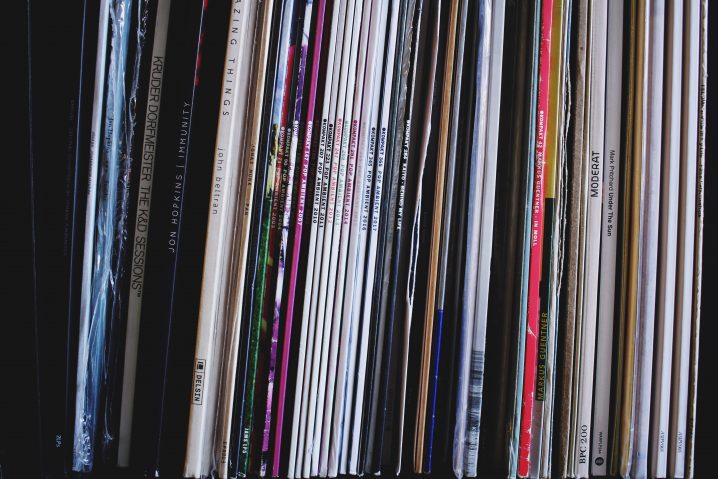 I also like to take the advice of the store where I can. Maybe they provide little notes on the outer-sleeve, (or in an increasingly dying practice), actually want to talk to their customers and help them out. If they do, then I'm all ears. I used to go into stores and just ask them to dump records on me. Some store owners would ask what I'm into first, and I'd ALWAYS struggle to remember an artist that would form a relevant and 'cool' enough comparison for the guy or gal behind the counter to give me the good stuff. "Errmmm…. ambient or techno?". It's hard to avoid coming off as a bit of an idiot if you start to go into all these obscure artists you like. It's like digger paralysis. There, I've coined it.
I'd like to think people would listen to me if I had the balls to open a record store – it's a shame when I see stores not interacting or helping others out. It's their job, after all, and it's one of the only ways they can differentiate from online stores, avoid Discogs et al, and stand out from the rest. A few do this well, many don't unfortunately.
One last thing I look for are records that will complete a collection or series I have. I refuse to buy them online until I've exhausted all my options. It's a weird thing I hold out for. One day I will probably cave and buy it online, but for now, I'm hoping I come across that last jigsaw piece in a store. An example is Kompakt's Pop Ambient 2008 compilation LP. I guarantee most people out there have this, and it's probably on Discogs for cheap. But I want to have that buzz of stumbling across it to complete my Pop Ambient LP lineup. No cheating online. Not yet, anyway.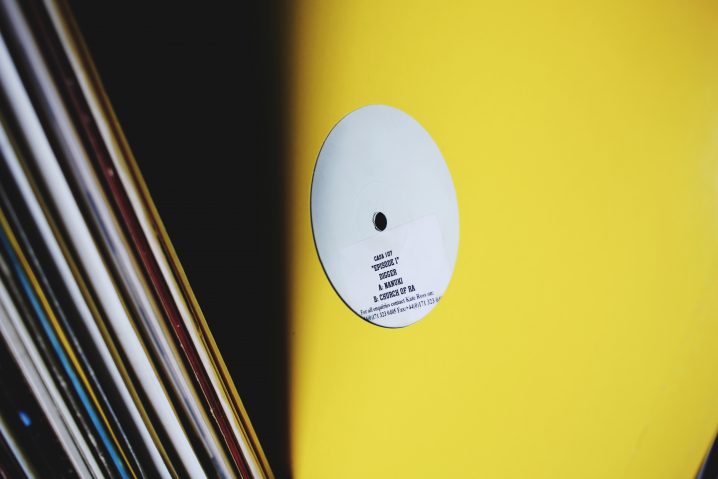 So where do you buy your music these days?
I live in LA now, and we have some great stores here including the "vinyl mecca" – Amoeba. There's also Vacation Vinyl who stock ASIP records – great guys who nail what a record shop really should be in service and approach. My label 'section' there is a minority in a shop full of Metal and Rock. There's Mount Analog, which specializes in a lot of ambient and experimental music. Plus a tonne of second-hand stores like, The Record Parlour – but it's mostly Rock, Hip-hop and Jazz in those joints.
If you're ever in LA, you should also try and visit The Record Collector, on Melrose. It's run by this crazy old guy who has an assistant who's catalogued the store since it opened many years ago. Thousands of old jazz, funk, etc, but if you're after some early ambient or experimental works, they have some serious records hidden away should you know what you want. I picked up some original pressings of Eno, Budd, Roach etc there a while back. The owner prices them on looks/knowledge alone. He was pretty spot on with what I picked up after I had checked, and I probably paid $5-10 less than the lowest Discogs asking price. He doesn't believe in all this "new internet nonsense"… so you can only imagine what to expect… you have been warned (that includes taking pictures!).
I miss living in Portland and record shopping at Beacon Sound or travelling up to Seattle for Wall of Sound – two of my favourite stores in the USA based on curation and service. But I'd say the majority of my purchases now are through Bandcamp. It's such a revolutionary platform for independent musicians and labels and I can only hope it keeps getting better in terms of its discovery tools and exposure for smaller artists and labels. We just need someone to fix the USPS postage rates now 🙂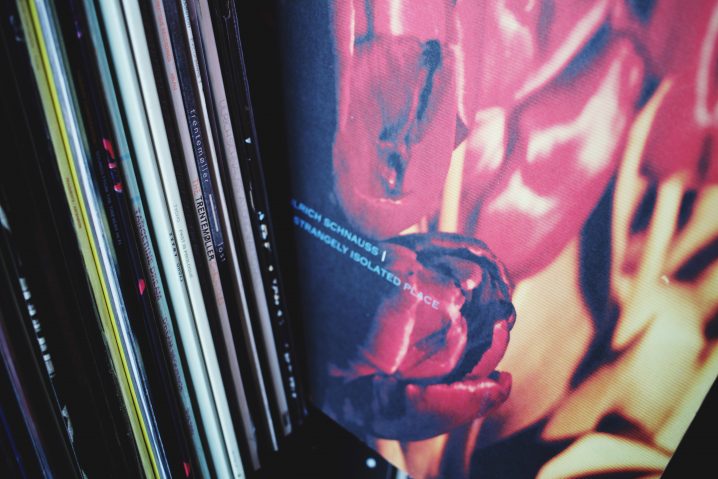 Thoughts on originals versus reissues?
I've never really cared or searched for originals over reissues unless the original offered something different. That is of course, until I see a repress take my original version down in value on Discogs. The Ulrich Schnauss ("A Strangely Isolated Place") album as an example, or the Kruder & Dorfmeister K&D Sessions LP, or any of the BoC albums. But then, I take a deep breath and I remember I'm never going to sell it anyway and I just fabricated a situation in my head that I would receive less money for it should I sell it one day. So I make peace… and then I buy the repress/reissue as a back up…
What were the most memorable liner notes that you've ever read?
I don't have any that come to mind, although I do really value when records have liner notes. It's a lost art in my opinion. I also enjoy a personal note with any order, and I'll collect them all – keep them with the record for added memories. These are like liner notes just for me – one example that comes to mind is Casino Versus Japan's 'Night On Tape', from Attack Nine. I bought a deluxe package that included the color vinyl, a pin, a t-shirt and a tote bag, and it came with a very kind note from label owner Nick. That was my favorite t-shirt until I got too fat for it. Sam Valenti from Ghostly come up to me at a show one year and commented on it as a big fan of CVJ. So that record sparks quite a few memories for me.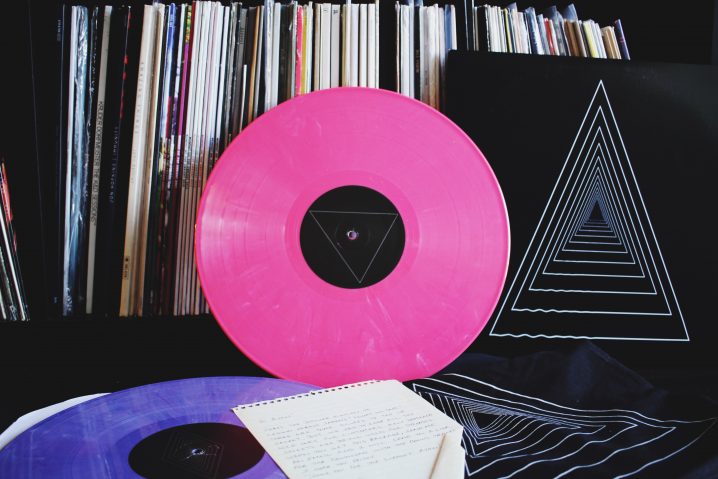 What record do you think you could play all the time?
This is almost as hard as asking me for my favorite album. I'd probably say Boards of Canada's The Campfire Headphase – a classic album that suits the vinyl format and sound more than any other. Plus I have two copies including the reissue, so I can wear one out!
How has vinyl impacted your life?
Made it heavier. Made my wife more annoyed. Made my wallet emptier. My apartment more cluttered. Made moving everywhere a nightmare. Given me a bad back. On the whole, I wouldn't advise anyone to collect vinyl, but listening and sharing music will feel a whole lot more fulfilling if you do.
How is your collection organised?
Roughly, by genre. Then within each genre, it depends. I try and keep the majority of my ambient/experimental/electronica records alphabetised. My house, techno, minimal, trance, electro, breaks, UK garage and speed garage sections are organised by where I put the last record. I have a good memory and will memorise where I put a record back or what it was next to, then it stays there if all goes to plan. DJ'ing out gives me anxiety as I have to pull records out of position for them to never return to the exact same position!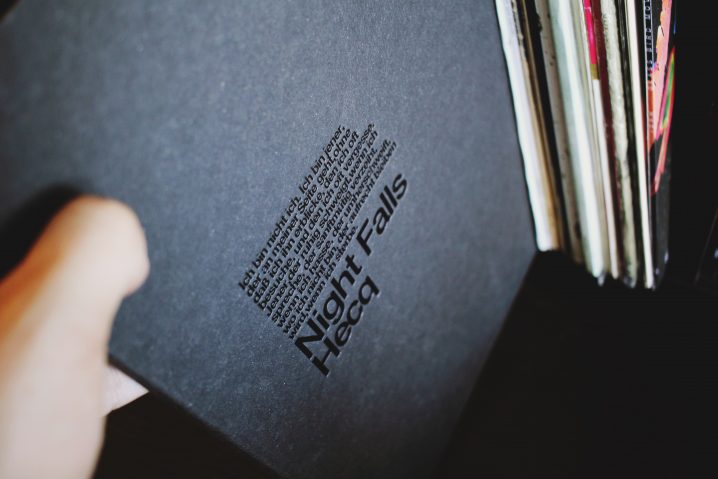 What will happen with your collection when you're gone?
My wife will out-live me, and it will definitely be sold the very next day. Maybe one day I'll have my own store and it can live on and be sold to like-minded collectors. [Edit, I just asked her, she said she would let my friends come and cherry-pick a few then keep the rest in my memory, so sweet 🙂 ]
Don't forget to put me in your living will 😉