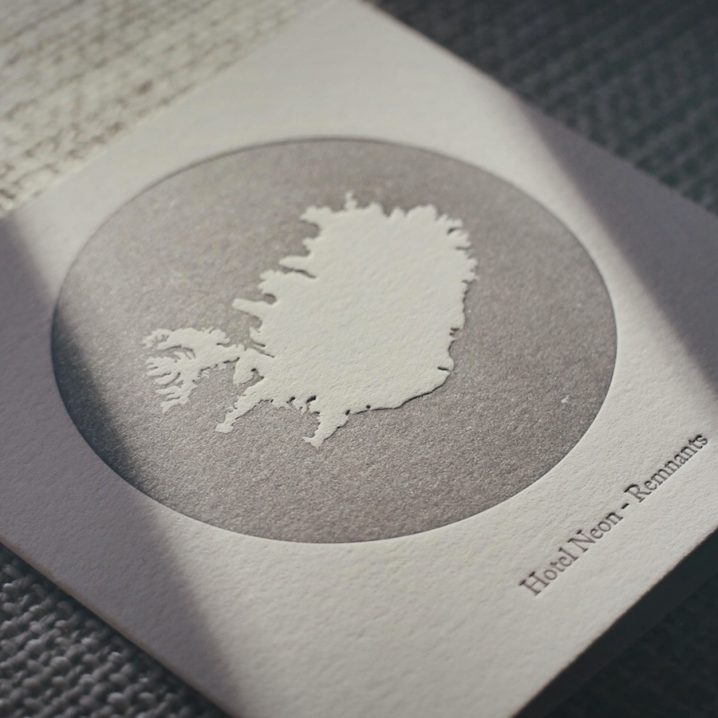 The Ring Road is Route 1 through a wonderland, an 828 mile long circuit around the country of Iceland. It is also the setting and inspiration for a new album called Remnants by the ambient drone trio Hotel Neon, quite a contrast from the origins of their eponymous début which was conceived and recorded in the confines of a Delaware apartment. The implication of this is that the perspective has changed from an inward focus to an outward one, but that would only partially be true. The presence of vast, glacial landscapes is certainly suggested in the four pieces that make up the album, but these patient, fluidic drones are more reflective of the inner state that the journey evoked.
There has been a notable evolution in the band's sound that coincides with the addition of Steven Kemner as a new permanent member alongside the core of twin brothers Andrew and Michael Tasselmyer. The first two minutes of "Cascading" seems as if it could have flowed right out of the previous album, Hotel Neon, with it saturated hiss and ebbing flow, but a different kind of light dawns in the piece through textures added by guest musician Andy Othling of Lowercase Noises (with whom Hotel Neon has recently embarked on a series of living room shows in the Western US). They intertwine beautifully to capture a genuine sense of both stillness and wonder.
The melodic constructs of the band's sibling post rock project The Sound of Rescue bleed through the spiraling layers of "Chains" from which emerges a piano march to lead the quietly majestic outro. "Deluge" is an earthier, more somber piece haunted by ominous bowed guitar sounds that takes us squarely back into drone territory while the closing title track gives brief respite as it slowly descends from ethereal heights into a swirling sea of distortion.
Whilst Hotel Neon's début album was born of chaos and strife, 'Remnants' is a tribute to sentiment – a nostalgic reflection on memories, inspired by a road trip to Iceland in 2015… Their circumnavigation of the Ring Road is filled with longing for bygone memories, field recordings and layers of texture from a wide variety of sources." – Fluid Audio
Remnants is an incredibly expansive journey to cover in the space of thirty-four minutes and clearly there has been great attention to detail in crafting the rich layers which tend to reveal something new on every listen. It is gratifying to see the band embracing so much artistic growth on the back of such a solid debut. This is something you can really sink your ears into.

The hand-numbered physical edition comes with 4 panel letter-pressed covers, a glass mastered CD, 5 x luxury single sided prints, inserts from a 19th century 'Visit To Iceland' book, a photo booklet of Iceland, and some dried barley all housed in a stitched glassine bag. Alas, this edition sold out in a matter of hours, as most Fluid Audio releases do. Occasionally the odd copy will pop up or the artists may get a small allocation, so check back frequently with both for news on that if interested. A digital is available via bandcamp (link below). The album was mastered by Taylor Deupree (12k).
hotelneon.bandcamp.com | hotelneonmusic.com | fluidaudio.co.uk