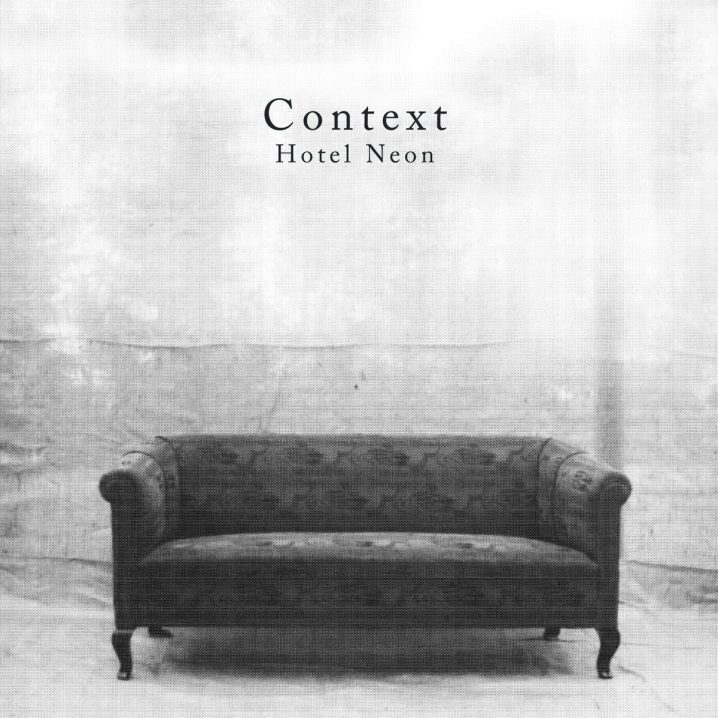 Context is arguably the only thing that gives a song its meaning in the mind of a listener…"
Hotel Neon's third proper full-length studio album (not counting their Live On WPRB self-release in 2016) reaches our ears courtesy of the beloved Fluid Audio, once again. Following on the footsteps of their 2016 Remnants, the Philadelphia-based trio [used to be a duo, by the way], made up of brothers Andrew and Michael Tasselmyer plus Steven Kemner, composes one of their most delicate works to date. For this particular undertaking, the group has stripped their ambient soundscapes of context, as the title of the album conveys, and even content for that matter, leaving the listener to their own devices, to interpret the music as it comes along. Even the tracks have been titled after a particular time of the night (presumably named after a particular recording session or a recommended time slot for proper consumption). And that's all just as well since I rarely pay attention to the titles of the music that I'm listening to on the very first run anyway – I always want the music to speak to me first without the words, without its context.
Throughout the album, Hotel Neon weaves long threads of sonic twine into a fabric of dense, deep, and concentrated drone. But the sound is not overly heavy or overwhelming here. It's not like a single rumbling pitch, manipulated in space, dynamics, and color. This is indeed ambient music, evolving over an indeterminate period of time with its intricate passages, wide frequency stage, and even field recordings, to paint an atmosphere of sheer beauty, spreading slowly, over a solitary cabin, like a thick morning fog. I manage to lose myself in thoughts and in process while attempting to dissect the numerous individual layers that make up this quilt, and that's precisely what such ambient music should achieve, even if it's for a short period, until it brings you back into the present moment with an exciting new exposition, and you think to yourself, "Oh, well, now that is just lovely!"
Context is all about how we, as listeners, interpret and translate a song's original meaning. The subjectivity of music, a vital part of its heartbeat, its magic and charm, gifts a song multiple angles and meanings – sometimes far away from the artist's original intentions. Music can be shaped by both the listener's inner and outer environments: the state of the current weather, the shifting of moods, and experiences, positive, negative or neutral, that we shoulder day-by-day.
The direct message of a track title has disappeared. Vague symbols have usurped them, unable as they are to contain any kind of subliminal message. As a result of this, the listener has been given a lot more freedom to interpret the music as they see fit – they put the ambient washes of sound into a context of their own making. Everyone has a different perspective."
The credits of Context are sprinkled with more than a few familiar names. For example, Takahiro Yorifuji, aka Hakobune, contributed "textures" to the piece "4:10 AM", and at "6:59" we hear distant soaring vocals by Lacey Tasselmyer. The mixing and additional production have been contributed by Matthew Kidd of Slow Meadow, while the mastering has been accomplished with a lovely touch by Taylor Deupree. Oh, and don't forget the gorgeous artwork by Nieves Mingueza – we really must celebrate the visual artists contributing towards our overall experience of music! This is an album that you will surely fall in love with, and return to for many more subsequent listens, especially if you are a fan of acts like Hammock, Slow Dancing Society, Endless Melancholy, Siavash Amini, Stars of the Lid and A Winged Victory for the Sullen.
hotelneonmusic.com | fluidaudio.co.uk
p.s. I have never quoted someone else's review, but the following words from Misha Cherkashin, left as a comment on the album's Bandcamp page, capture a wonderful aura of this release: "Context is like a library of burned diaries in an abandoned home which leaves you in a state of wonder, craving for the context of each life you get a glimpse into."
©
Words by HC