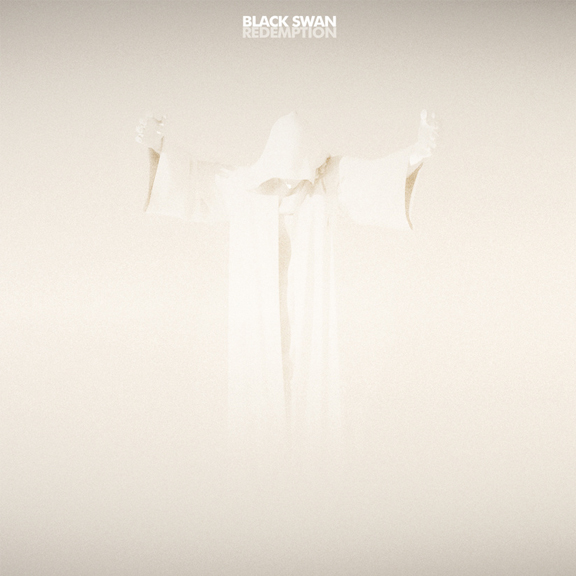 Who needs all hallows' eve when you could feel the tremor every moment? Thanks to the mischievous mind of Black Swan, that certain type of fear comes in the form of music. But I don't want to paint a picture of a horror movie soundtrack in this review. Instead, the sounds emanating from my speakers are full of shivers and unease. Of a certain type of drone, if I may say, perhaps for bleeding hearts. These hums are punctuated by the elements of startled panic when the orchestrated hit rolls in [and I jump each and every time], but slowly even these sounds subside into a full-on cinematic score of stringed and brass overture. This is where the Redemption ends, and thick delicious dread begins.
Advised to be listened in headphones sans all equalization, in an uninterrupted session at the highest tolerable volume possible, the noir-fi sounds of Redemption descend into a dark abyss, the grip of which is cold and strong. Halfway through the album, enveloped in silence, lavish hiss, and negative space, you wake up in another place, somewhere beneath the performance stage, perhaps six floors beneath the surface, where the concrete walls barely resonate with sounds from above. At this point, you're unsure if the music is coming from an old Victrola buried in the catacombs, an echo of the soul imprisoned in the past, or maybe just within your head. You strain to listen, but the sound of pumping blood around your middle ear becomes too deafening to hear. And all that's left is pure dismay.
The mysterious musician behind the Black Swan moniker has been releasing stage fright for the past three years, when In 8 Movements appeared first on Experimedia in 2010. The debut was followed by The Quiet Divide (2011), Heaven (2012) and Aeterna (2012), all released by the artist's own Ethereal Symphony label. I've been a fan of all these sounds since the very first drone and subsequently invited Black Swan to contribute a track towards my … and darkness came benefit compilation. There's something absolutely gripping about this sound, in a calm and yet unnerving way, which keeps me coming back for more and more. I wish there was a name for this fantastic genre. Hauntology may not be the right word, but it's the first word that always comes to mind. And by the time you reach "Inferno", you'll know exactly what I mean.
There's much that I can say about this music, but what I can not do is analyze its source. Instead, I pour myself a glass of red wine, lower all of the lights (including the glow of the monitors as I type this), put on my favorite pair of headphones and listen to the awe unfold. Although I may be one of the few obsessed with Black Swan's sound, I know that I'm not that far off, alone in the crevasse: Ghostly International has picked up one of Black Swan's pieces to be featured on their phenomenal 2013 compilation, titled SMM: Opiate, among the likes of Simon Scott, Celer, A Winged Victory For The Sullen and many others. And yeah, of course, I recommend the latter as a physical release directly from the artist!
Be sure to read my past reviews of Heaven / Aeterna, and The Quiet Divide, download or stream an exclusive mix by Black Swan, Music For Masquerade, and finally check out an Interview with Black Swan!