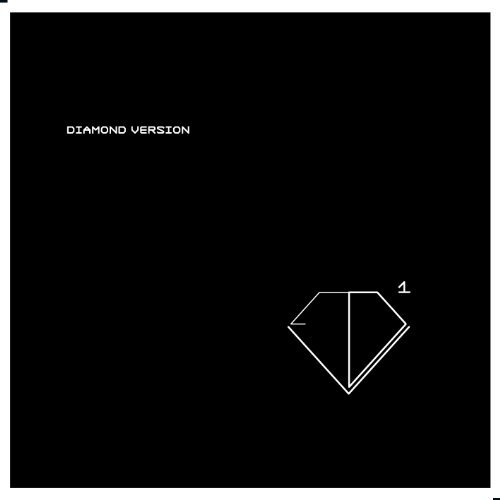 Diamond Version is perhaps an inevitable meeting of the minds of Olaf Bender (Byetone) and Carsten Nicolai (Alva Noto). The two have been running the Raster-Noton label for ages, and their aesthetics are sort of two sides of the same coin. They've both been exploring rhythm and noise, as well as the spaces between, from the start of their respective careers, with some of Nicolai's material as Noto being quite severe and minimal. Byetone has typically struck me as more rhythmic, especially in his more recent output, usually with a nice groove that pushes his sound into dance music territory at times. It's interesting that Mute signed them for this new series of collaborations. But it's not entirely surprising, though, I suppose, with Mute previously championing Finnish kindred spirits and perhaps forefathers, Pan(a)Sonic.
Anyone who heard Byetone's Death of a Typographer or especially his more recent SyMeta will not be surprised at all by these cuts. In fact, if I hadn't known this was a collaboration, I'd have assumed it was Bender on his own, because it sounds so similar to what he's explored in recent years. On EP1, the broken beat, mid-tempo groove of "Empowering Change" is so undeniably Byetone that it's irresistible to my ears. "Technology at the Speed of Life" is also quite good, a much faster clip about it, having the same tinge of rock n' roll attitude that characterized some of Byetone's SyMeta.
EP 2 is perhaps the most humorous of the bunch, with pitched down, manipulated voiceovers of product sales pitches set to an industrial, mechanized groove that is distinctly Byetone in nature.  The palette of sounds still feels like 100% Byetone — deep bass, white noise, sine waves, etc. — but the attitude is rougher and ruder. "Turn On Tomorrow," which kicks off EP 3, is the best raging Panasonic track that act never made. Its roaring, ascending grind adds frantic urgency to its propulsive rhythm section. And that propulsion is really at the core of most of these tracks. A mix of industrial textures, up-tempo, chugging grooves, and the occasional biting commentary or soundbyte about commerce and media.
EP 4 carries that personality, with a deep thudding rhythm kit and chugging, stuttering fuzzy synths providing momentum. How refreshing it is to hear these guys making music that's downright infectious without sacrificing any of their uniqueness or edge in the process. EP 5 comes full circle, starting with what I'd say is a rock n' roll take on the disjointed electronic rhythms of one of their label cohorts, Grischa Lichtenberger, before throwing down some serious booty-inspiring electro. Both "Operate at Your Optimum" and "Sense and Simplicity" have an infectious physicality that would put it right at home in the center of any smart electro DJ set. Lean and mean, each of these tracks is smart and entirely danceable; perhaps some of my favorite stuff in the whole series, the intersection of mind and the dancefloor. "Make.Believe" ends the series with an undulating phrase of kicks and line noise before it fades away, like the tide going out.
It's nice to hear these two artists collaborating with such exuberance; in stark contrast to the ethos of Raster-Noton, Diamond Version brings not only a playful spirit but a versatility for both the dancefloor or at-home listening that is refreshing. This collaborative project merges the talents in a way that not only plays to their strengths, but also with a tinge of dark satire. The five EPs are available as digital editions or individual 12″ plates. The Japanese label p*dis has already manufactured a limited edition 2xCD compilation collecting all of the EPs, but I'm sure a similar release will follow on Mute.
diamondversion.info | mute.com
©
Review by Matthew Mercer of Ear Influxion.