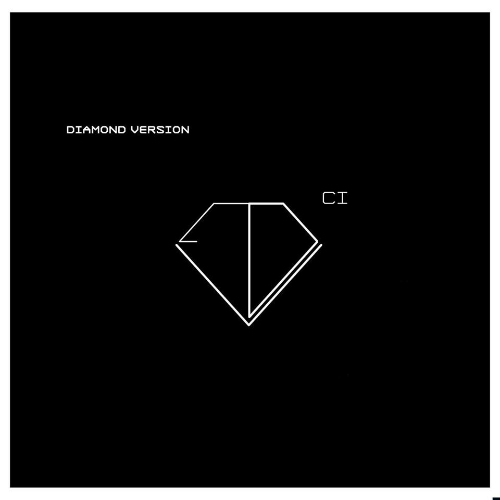 Olaf Bender (Byetone) and Carsten Nicolai (Alva Noto) have spent the last 15 years or longer along a similar trajectory, exploring digital minimalism, rhythm, and noise with a fairly severe ear. Along with Frank Bretschneider, they've curated a legacy befitting their aesthetic via Raster-Noton, a label whose visuals and sounds all fall directly in line with its founders' consistent vision. Diamond Version is a more playful counterpoint to their often more severe solo recordings; it liken it to a sort of laptop rocking-out for a change (though Bender has also explored some of this more raucous sound on his recent Byetone albums), with a shot of dark humor.
For the uninitiated, Diamond Version focuses on electronic rhythm and noise, with a clean, clipped, syncopated sound that is low on melody or tunes and high on an industrial groove, without the distorted snarl that description might imply. The tempo is usually in a pretty comfortable zone of 120 or so BPM, but there are some more uptempo tracks that dial it up into something with more spring its step, touching on elements of classic electro. Of the new tracks here, three of them feature guest vocals. The first one has spoken vocals by androgynous performer Leslie Winer, with a dry, almost sarcastic tone to it (starting the album off with a glitchy "Congratulations on being a big fucking deal!"). Additional tracks feature Kyoka ("Feel the Freedom") and Neil Tennant of Pet Shop Boys ("Were You There").
The latter is easily the highlight of the entire album, but its placement at the center of the tracklist is crucial to its success. Amidst all of these glitchy and rhythmic workouts, Tennant's vocal is startling in its melody. It's a hymn, one of those dark odes to Christ that is probably more bizarre than moving, but its juxtaposition against Bender and Nicolai's industrial swagger is supremely effective. There's even a bit of a chorus hook to it — something I never thought I'd say about a Diamond Version track. It makes me want to hear more of the same, although I suspect that its virtue is in its uniqueness among the surrounding more obvious tracks.
The rest of CI that follows is alternate takes of previously released material, with the exception of "Connecting People," a rather droll take on how telecommunications both connect us and keep us apart. Its sense of humor reminds me of Atom Heart, but the rhythmic sensibility is purely Diamond Version. The duo were smart to reprise "Make.Believe," the last track on their fifth EP, in an alternate version to close CI — its haze of feedback and pads allows it to decay gradually as a comedown from the more mechanical pummeling that precedes.
I think that Diamond Version (as well as many of their Raster-Noton projects and affiliates) are the missing link between the harder and more mechanical side of industrial dance music and the cleanness of digital techno and other current electronic styles, aggressive enough for tougher ears but also with enough of a groove to slyly work in a more conventional techno or electro DJ set. I'd recommend their EPs as well, but CI is well worth it for some of its exclusives, too.
diamondversion.info | mute.com
©
Review by Matthew Mercer of Ear Influxion.