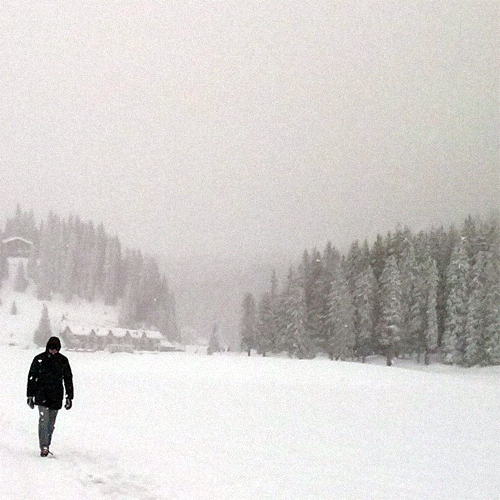 Hey Alessandro, who are you, where are you, and most importantly how are you?
I'm a 35 year old guy and i was born and live in the eternal city: Rome. And I'm fine, thank you! My main job is to engineer Microsoft and Linux software systems, but my great passion is music.
Let's start at the very beginning. How did you get into producing music?
I have always listened to electronic music since i was a child, and at the age of 14, i set up a small studio in a room within the furniture shop of my father. I had mixer and turntables, but i felt the need to create my own music, and then i started to buy the first instruments (synthesizers, Roland TB303 and TR909 with a series of multi-effects pedals). At the time i loved Techno and Gabber music, but over the years, my tastes have changed dramatically!
And what is your production setup like now? How do you go about capturing field recordings?
I use few tools, but all analog. My studio is composed mainly of a Roland VP9000 (a sampler with built-in multi-effects) an Akai (another analog sampler whose sound is routed to another multi-fx) 2 synths (Waldorf and ION) and my laptop, that i use only to record the various tracks. The field recordings are recorded on portable minidisc, and then passed through my samplers and multi-effects. For example, "Alchemy of Ice" was composed using only the VP9000.
And how was your moniker, Netherworld, born?
I chose the alias Netherworld because, reading a book of Lovecraft, i was very impressed by the description that the writer gave to this sort of parallel reality or underworld. I soon realized that my music and the idea i had of it, was tied very well with that concept, and i decided then that it was to be my project. And then describe, through sound, the parallel reality and the other "worlds" or reality, i felt inside of me.
It seems that you were always interested in glacial ambiance, since even your first album title is 'Eternal Frost'. Where does this fascination come from?
You're right, "Eternal Frost" was my first icy album! It was published in only 99 copies for the Umbra Records of my friend Gianluigi (best known as Oophoi, who passed away this year). The passion for this kind of environments and sound, has always been present in me. When i'm in a quiet and snowy environment, i feel as if i'm eternal. My deepest being is united intimately with nature, and my mind expands towards infinite horizons. It's a feeling hard to explain in words, i prefer to do it with music. Another reason why i feel deep attraction for the cold, that's what i'm probably the reincarnation of some inhabitant of the North (an Eskimo? A Viking?). In addition, there is also another reason that is linked to the esotericism of Hyperborea, and the ancient civilizations of the North.
So have you ever been to Norway or any other Scandinavian countries? Would you like to spend some time in the arctic recording and composing music inspired by the glaciers?
Yes, i have been in those places, but also in the Scottish Highlands, and on the peaks of the mountains here in Lazio. During my travels and excursions, i brought with me my minidisc recorder, and i have collected over time, a large library of sounds coming from the glaciers, wind, moving ice, the northern lights and more. My three albums that i produced on my label Glacial Movements, reflect and describe my experiences and how i felt in those places. For example, "Mørketid" was composed predominantly of Norwegian field recordings that i have collected in these beautiful places, while "Over The Summit" represents my feelings and memories related to walking and hiking above the snowy peaks of the mountains in Italy. The approach of my last "Alchemy of Ice" is a little different than usual, it is more esoteric, and tends towards a description of the details that i had never explored so deeply in my earlier work (also the choice of the cover, was made with this concept in mind). All my records are always processed, reworked and manipulated with my tools, with the aim of obtaining from the raw material, the divine spark wich is my main goal.
At what point did you decide to launch your own label and how did you come up with the name?
The choice to give life to my label took place at the right time. I felt that i had any such qualities to be able to manage both my productions, that even those of other artists. From this point of view i'm a very ambitious person, but i always try to be humble and to have my feet firmly planted on the ground. Within a few years, step by step, i have laid the foundation of GM through intensive work on the choice of the highest quality for each production (by the choice of the artist, graphics, music etc.) of a world-wide distribution of my products, and an international promotion which is a fundamental element. The choice of the name was very careful. I wanted to relate the concept of frost and cold, and give a global vision. The term "Glacial" refers precisely to the theme and the kind of sound which deals with the label, while "Movements" is the set of all releases, past and future, that make up the catalog. Imagine every work as if it were a piece of a huge mosaic in which its image could be a snow-covered mountain, or an iceberg, or Antarctica… I leave to the listener the choice to choose the most appropriate one!
How do you find the time to compose music on top of running a label and your day job?
I compose my music very sparingly, and i'm not the kind of artist that produce a lot of records (my discography says it all). I find the time during the weekend, or when i'm not at work. I need to be very quiet and have the thought-free mind, otherwise i can not do anything. However i have accumulated over time many sounds, ready to be used for a possible new release, or for a live-set (for example, just yesterday i gave to the staff of the cult-magazine THE WIRE, a new unreleased track " Sacra Terra Imperitura " for their download compilation "Below The Radar").
Talk about the the process of releasing your very first compilation. How has that changed over the years?
"Cryosphere" was the first piece of the puzzle, and i wanted to "sound out" the ground creating an edition of 300 copies in CD-R. I involved some of my favorite artists (Lightwave, Troum, Aidan Baker, Oophoi) and the end result was beyond my wildest expectations. The compilation was all sold in a matter of three months, even though it was a CD-R housed in a slim case. It received many reviews and appreciations, and this gave me the courage to move forward with my project. I knew i was on the right path, but to make it a step further, i had to improve the quality aspect of the packaging, and publishing official CDs, instead of CD-r.
Who is responsible for all the cover art and design of Glacial Movements releases?
All photos of the covers of GM products (except "Cryosphere") are part of the catalog of Bjarne Riesto, a photographer who lives in the Arctic Circle in Norway. His photos are very beautiful! The packaging design is curated by Noah Mc Donald, with whom i work now for some years, and with whom i am very well indeed. He always knows the best interpretation of what the artist and me have in mind.
How do you go about selecting music and signing artists to Glacial Movements?
It's a matter of heart and feelings. Usually, i contact the artist i know who can give me what i want to achieve through my label. But sometimes it happened the opposite, in fact in the catalog of GM, there are artists who, through their work, hit my heart and my interest instantly. My intention is to collaborate with artists as diverse among themselves, but working for GM, they have in common the same source of inspiration.
And is there a particular musician that you dream of having on your label?
I think that i'm already very happy and proud to have produced the music of some of the artists that i've always loved, for example, Lull (Mick Harris), Rapoon (Robin Storey, co-founder of Zoviet France), loscil and bvdub. However, there are other artists that i love, and whom i'd like to work with (and oh, to be honest, i'm already planning something in the future) such as William Basinski, Teho Teardo, Murcof, and Marsen Jules…
Describe the financial aspects of running your own independent label. Is there a struggle between profitability and staying true to the love of music?
Ah, what a good question… of course what keeps me going more and more, are certainly not the economic returns, but the love and passion that i have for music. However, i can say that i was lucky (and why not, even a little good) to be able to always have a good economic returns, which gave me the opportunity to invest more and more. I am convinced that most invests in a project, the results will be more and more over time. The money that i invest come from my own resources, so i assume (as it should be) all risks of each record release. My policy is to invest money for the physical product (choice of the digipack, original photo to be used for the design of each work, and graphic design), and the promoting.
So what do you have lined up in the future, for both Netherworld and Glacial Movements releases?
I just came out with Netherworld "Alchemy of Ice" therefore for the foreseeable future, i prefer to give space to other artists. In fact, on July 22 I will release in digital format Frozen Thoughts "Calm Before The Storm", while towards the end of September, i will produce the highly anticipated "Erebus" by bvdub & loscil! The work for the next year are to be determined yet, but there will definitely have to Marsen Jules "The Empire Of Silence".
Thank you for your time! Any last words for readers of Headphone Commute?
I want to thank you for this nice interview, and of course a greeting and thanks to the entire community of HC, that has always supported Glacial Movements. Thank you friends!!!