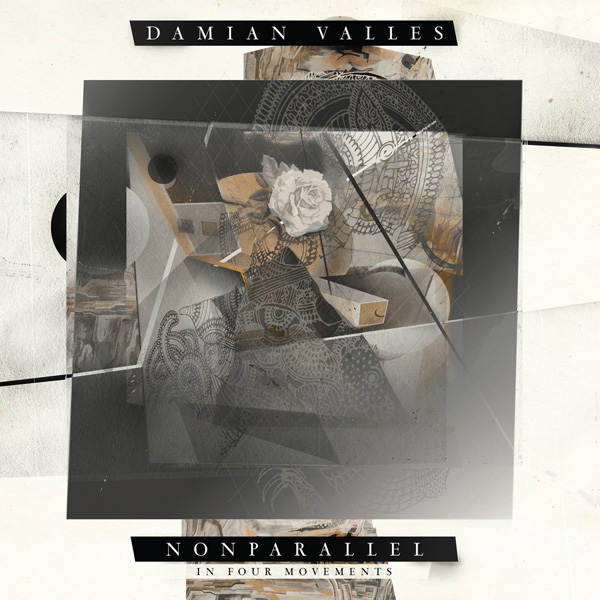 Damian Valles' music is a Zamboni for my mind. Invented by Frank Zamboni in 1949, the unique ice resurfacer shaves away a thin layer of ice with an incredibly sharp blade. Wash water is sprayed to loosen the debris, which is then squeegeed off and vacuumed up. Finally, a layer of hot water is applied, to fill in the remaining grooves in the ice. The temperature of this final stage allows for a minor melting of the upper layer, insuring a stronger bond when frozen once again. Damian Valles' music is a vehicle to condition my slightly damaged mind. Removing stubborn traces of a daily grind, the sound shears off the damaged layers, and covers them with new.
Nonparallel (In Four Movements) is Valles' fifth full-length solo album (I'm not counting the split he released with Talvihorros, titled Monuments And Ruins, this past June on Textura), and indeed contains four lengthy ~10 minute tracks. Each is a variation on the former, layered with orchestral loop drones that seem to resurface through crackle and pops. For this composition (which roughly took three years to complete), Valles sourced his samples from the recordings of avant-garde Western classical composers and various releases by the Nonesuch label from the 60-70s. The fragments were lifted directly off the vinyl, which explains the above mentioned wrinkly noises. These patches of sound were then heavily manipulated, cut-up and stitched, compressed and stretched, to create a sonic blanket of aural modulation, presented in the final piece.
"In working with the material, Valles wanted to enter into its very lineage, to forge a dialogue with it, to both extrapolate something essential from it and contribute to its legacy by using it to create an original work some three decades later. […] In using [vinyl] to create a backdrop for the new pieces, the intent is for the old sounds to mix with those generated from the newly pressed work to create another aspect to the overall soundscape. […] "Nonparallel" is equal parts anthropology and alchemy, at once documenting the prescience, relevance and richness of his chosen source material and creating something bracingly new from it."
I can go further into details, deconstructing each passage into individual sampled fragments, each magnified to infinity, harmonic elements preserved, then glued at the seams and fed through more filters. Instead I prefer to experience Nonparallel as is – a meditative din in a thick cloak of sound, reworking history of electronic music into a gorgeous devotion and love. A beautiful addition to Valles' catalog, already rich with releases on Under The Spire, Drifting Falling, Standard Form, Audio Gourmet Netlabel, Twisted Tree Line, and hibernate. Mastered by none other than Taylor Deupree the record should be picked up directly from Experimedia by fans of Stephan Mathieu, Lawrence English, Marcus Fischer, Janeck Schaefer and Philip Jeck. Recommended therapy!
Listen to Rural Route No. 1 and Skeleton Taxa by Damian Valles on MOG!