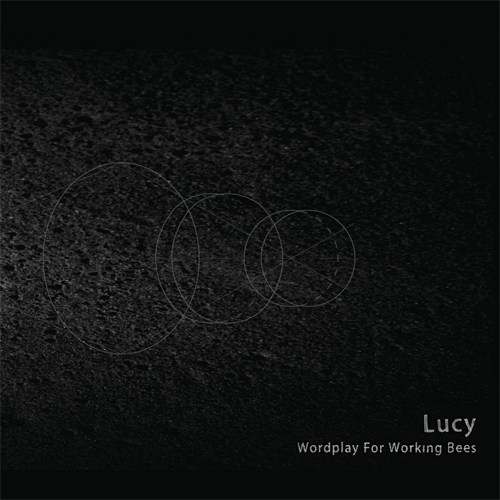 Blurring the lines between dark ambient electronica and grim pounding techno, Luca Mortellaro drops a stunning debut, kicking off the very first CD release on his very own label, Stroboscopic Artefacts. This may be Mortellaro's first full-length album, but it is by no means his initial offering to the scene. Lucy has been steadily releasing 12″ EPs on labels such as Perspective, Meerestief, Ware, and Prologue. In September of 2009, Berlin based Mortellaro launched Stroboscopic Artefacts, signing Lee Xhin and Dadub. Wordplay For Working Bees marks another era for the label, as it spreads from the DJ booth into your bedroom for an astonishing headphone experience.
Dropping the hammering four-to-the-floor beats, Mortellaro explores the deeper textures of the genre, stretching its limits beyond the obvious elements. Interestingly enough, with the kick drum removed, the music on Wordplay For Working Bees is still undoubtedly techno: it perfects the (r)evolutionary aesthetic, precision designed to transport the listener into a brooding, hypnotic, and at times psychedelic world. What is immediately clear from the production on the album, is that the artist behind the music is very experienced, skillful, and incredibly confident in his execution. This latter assurance radiates through every pore of this texture rich, intensely atmospheric, surgeon scalped sculpture, producing an album worthy of its highest praise.
The titles of the eleven tracks on the album are all about three characters in length: "gas", "eon", and "mas". But read them together and we unravel a mysterious quote from a Greek philosopher, founder of the cynicism, Diogenes of Sinope, consecutively spelling "The art of being a slave is to rule one's master." I wonder what Lucy is referring to. Wordplay For Working Bees is an album that must be archived in every genre redefining follower's library, and especially fans of Demdike Stare, Shed, Sandwell District, Marcel Dettmann, and of course, Surgeon. Be sure to also check out a 12″ remix release, Beeline For Working Bees, with reworkings by Tommy Four Seven, James Ruskin, Peter Van Hoesen, and Truss. Also, you absolutely must get your hands on the very first 2×10″ boxset from the new Stellate Series, where four producers curate two tracks each, highlighting their unique visions on the outer edges of electronic music. For the Stellate 1 release you are graced with sounds from Borful Tang, Perc, Keving Gorman, and Lucy himself. Highly recommended, and a label to keep your ears on!