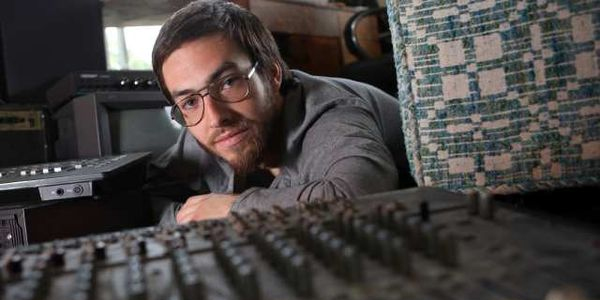 Hey Matthew, how is sunny California treating you, and what are you working on right now?
sunny california I call it home now. its treating me well, tucked away home on the hill… working on music and LR right now w/no misc. day job is becoming an everyday. finally getting the first real taste of an "artists lifestyle". working on tunes,..original pieces and edits as i please… DJing in Los Angeles, ,at dublab & Top Tape… i was talking to my roommate emv last night about the artists responsibility. one could argue artists have the most ultimate responsibility, to the arts, yet on the other hand administrative hectic hustle and business responsibilities are more absent. paying rent, eating, sleeping, creating… no catching traffic at 5am to commute to your job, responding to "the man"…none of it. I'm happy creating again, finally. LA is the place for me to do it, too…so many friends here. All of my favorite music are fortunately some of my best friends, and all out of LA..amazing…
How did you first get involved with the LA scene when you moved from the south?
oh the days! once upon a while, i was a young dublab intern…….and then………well here I am! i owe it to an amazing college radio experience in Tallahassee FL, at WVFS, i was listening and playing all sorts of music from los angeles.. a lot of original music from dublab's circle of artists… …got really into the SW fantasy of starry desert moons and peyote experimentation 😉
What is the process behind your composition, and how do you source your sounds?
sounds nowadays?
hah. so hard to pin-down. i typically tell folks the sounds are sourced from WHEREVER, however the means. ill never stop experimenting for capturing new sounds. if id like to think of a hi-fi clean thick sound, i'll use a synthesizer. Lotus (flying) let me borrow a funny but super clean and funky roland synth ive been playing a lot now. playing keys is cool, dam-funk really inspired me to start playing more, again. that guy is a genius. i know so many musical geniuses out here in LA, from so many walks of life. I listen to so much music and soak it up you know? its embedded into my process… i'll be listening to nothing but iasos or dilla or the Stones, the Congos, sun araw, all that music means so much to me, otis redding… somehow its all influencing my everyday and the release/expression is the music — it's a bit much sometimes i know, to take on, fully…as a listener… folks are more open minded these days im finding more young people are too…
Talk a little about the message in your music and the overall feeling that you wish to convey.
soul. transcendence. simple feelings of happiness , all that hippy-shit yeah? no i am FOR REAL. cant you hear it, or does it all just sound like garbage? no no…..im becoming more confident lately too, in my tracks…….maybe lately ive been finding that i want to make music folks can groove too…maybe not dance to but at least GROOVE too, whilst being transcended. if your art can accomplish that, props. sun araw stuff does that for me lately, as far as new music goes…
How would you describe your genre of music to my 90-year old uncle who only listens to classical?
old folks need simple explanations. if it were my progressive 21 year old college friend id go into descriptive subgenres etc, but for a 90year-old? id make it sound as cool as i could. id want old folks to know i'm speaking from the soul w/my music. i'd say soul.
Tell us about your own label, Leaving Records, and the limited cassette releases you put out.
LR was started from being involved w/ dublab, meeting amazing new artists from LA, and world-wide via dublab's cyber-reach. Jesselisa who is the art director / designer, and i curate, produce, and release the music. the tape thing was something we wanted to make as an quality music/art item… an art project was the label initially. it has that feel. tapes we could produce ourselves at home, and jesse had a silk-screening rig in her backyard in montecito heights for dak's standthis full-length. noone had released dakim's music before REALLY… i felt honoured to released it & reassured him the presentation would be worth the while. he trusted us and it caught on to a few dublab fans around the world….and then slowly spread.
With digital medium being in unlimited supply, an outdated technology becomes a collector's delight. What is your fascination with cassette tapes?
the tapes sounded good too, but all real-time from the pro-tools master at my house you know? i was hip to experimental labels who had been on the tape-thing for way long… deep dudes like Stunned, Digitalis, etc. I asked those dudes where they get their tapes made and they told me… we could get them cheap and professional. i spread the word of the manufacturer to a couple journalists and musician / label friends of mine and the thing is a trend now BUT, tapes have always, always, always been about sonic fidelity, DIY recording, & analog obsession for us. that same frame of mine remains true with all of the artists we work with. its just to set the record straight. too too many shitty tapes being made right now. kids too, they dont do their homework so someone's gotta teach
What's on the horizon for you? Any live shows where the fans can catch you
STARTING 3/6/2012!