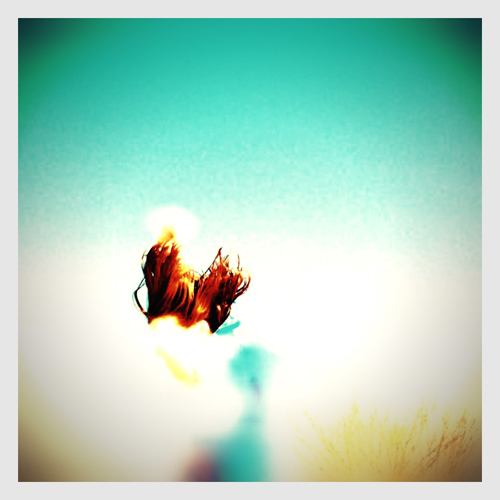 Here's one of my favorite quotes by Elvis Costello (courtesy of Tigon's blog) – "Writing about music is like dancing about architecture – it's really a stupid thing to want to do." This concept becomes even more pronounced once one spends many years engaged in this [absurd] activity. Myself included. Verbs, nouns, and especially adjectives, repeated and reused, start to lose their substance. Words like 'beautiful', 'nostalgic', 'serene', 'haunting', 'ethereal' begin to blend into each other, merging context with content, perception with meaning. Music, on the other hand, enters our existence free of verbal restrictions, its message augmented by a fluid state of mind. This contemplation aside I still choose this medium to amplify the broadcast…
It is not a coincidence that I selected to explore the above topic in this review of Polar M's Northern Birds. Kyoto based Masumi Muranaka creates tracks that belong to my favorite genre – organic ambient glitch. Sounds that are familiar to me through favorite albums by Ametsub, Nils Frahm & Anne Müller, and Aria Rostami… In describing this cerebral musical puzzle I am usually lost at words – perhaps all of the tiny glitches trigger the wrong synapses that create thread processing contention in my brain. But at the core of this review you must know one thing – this _is_ the music that I love. And with all creative adjectives aside, this fact remains as simple as that.
"[Masumi Muranaka] is quite simply a huge breath of fresh air in such a crowded scene, a guiding light of soulful and touching music which stays with you long after the record has finished playing."

The pieces on Northern Birds are mostly guitar driven, exploring textures and reverb filled space in between. Ocassionally a piano will make an appearance, dancing in chrorus with distant echoing synths. While some tracks appear as experimental sketches, some are fully structured around a rhythmic base. For example, in towards the end of the album, on track "YSW", Muranaka employs a gorgeous repetitive guitar melody, book-ended by glitchy IDM beats that would appeal to fans of Lusine, Arovane and Yasume.
Masumi Muranaka has previously collaborated with another favorite artist, Marihiko Hara – I recommend you check out his album, Credo (Home Normal, 2011). Muranaka is also known around Kyoto local cafes, apparel shops and exhibitions, where he frequently performs. Although his works have been previously used in some art films, Northern Birds marks Polar M's debut solo album outside of Japan. This is a fantastic addition to Nomaic Kids Republic and I can only be thankful to Ian Hawgood's for introducing it to my ears.
This review is part of our Nomadic Kids Republic label special…