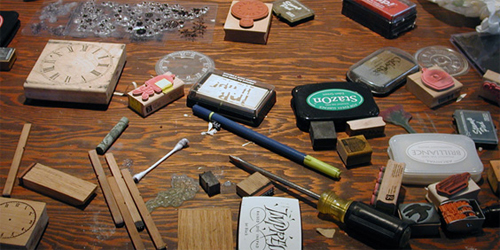 Welcome to another installment of Sound Bytes. Today I am proud and honored to introduce you to a brand new record label – Time Released Sound. Founded by Colin Herrick in March 2011, this small, independent, California-based label releases hand-made, limited-edition albums and EPs, with painstaking details and loving attention. "Focusing primarily on classically infused and folk based ambient and electroacoustic sounds by the artists we know, love and admire, we will be striving at all times to produce visuals and packaging for these fine releases that are as original and uniquely beautiful as the music itself." And although I'll attempt to to put words to the sound of the very first releases, as usual – the music speaks for itself…
Shaula – The Girl in the Clock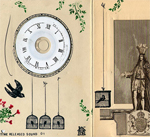 I must admit – being plugged into the music community with my finger on the pulse of sound has its own perks. Although the very first catalog edition by Time Released Sound is long gone and sold out, the founder of the label, Colin Herrick, was kind enough to send me one of the few remaining copies from his vault. These little gems are always hard to come by, as their rare existence marks the silent birth of a new beginning. There exists an unmeasurable space between the "idea" and its "fruit". And when in the blink of an eye that gap is bridged… (poof!) … something is born… To me, it's almost more magical than organic reproduction of cells, because in that instant something truly comes from nothing. By now you may wonder, "What is this philosophical discussion all about, and where is the review of Shaula's new EP?" Well, as her music is currently pouring out of my speakers, it gives birth to these thoughts and these words, and your thoughts, and so on… An unmeasured space between us all… May we all connect with music. [pause]. On The Girl in the Clock, the Japanese ambient/drone artist Shaula weaves her gently strummed guitar with soaring pads, swelling lo-fi noise, and somber decay. Shaula's twenty minute piece of plucked and bowed strings, tick-tocks the moments of timeless being. Quiet in nature, the recording begs for a bump in volume, revealing that long-forgotten lo-fi hiss (and bliss), that becomes a part of the composition as much as its supported melodies. With previous releases on Under The Spire, Somehow Recordings and Audio Gourmet, Shaula is surely to begin turning heads from fans of acoustic instrumentation that sways gently towards minimal shoegaze in the style of Hammock, Stars of the Lid and Bitcrush.
Fabio Orsi – The Theft Of A Rose
I am definitely one of the lucky ones to receive a limited edition copy of the second release from Time Released Sound. This one in particular comes with an original Polaroid photo, taken from the still of Jean Cocteau's 1940 film, "Beauty and the Beast", which the whole release pays a tribute to. And there are more goodies inside a hand labeled translucent envelope: three tiny roses and a lock of "Beast's" hair, tied and attached to the print through a heart-shaped hole. A packet like this is beyond presentation – it's simply art. And every detail within the physical aspect of the album simply emanates the love it was cared with. Now on to the music. The single track by Fabio Orsi, clocking at exactly twenty minute mark, slowly evolves through its gradually arising continuous drone. The theme from a movie eventually elevates above a thick frequency wall, as the distant strings begin to measure out the rhythm, and the voice exhales the end. Taranto based (Southern Italy) Orsi's atmospheric ambiance is at once magical and hauntingly sad. A fairly young artist, releasing only since 2006, Orsi managed to put out over a dozen albums on labels such as A Silent Place, Low Point, Slow Flow Rec, Boring Machines and Preservation. The Theft Of A Rose is a beautiful opening to Time Released Sound's "Homage To Film" series, and as soon as the layers subside, I am ready for more.
Alessio Ballerini – Music From The Puddle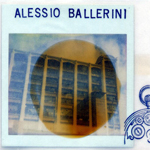 What I immediately notice with releases from Time Released Sound is that a good pair of headphones makes a huge difference. It's not that the speakers do not achieve the fidelity, but that a hugging set of open cans create a very personal relationship with sound, emanating close from within. For Italian ambient and drone artist, Alessio Ballerini's six-track EP, this particular experience is a must. Layered with field recordings, each track is an ode to a rainy day, forming a perfect soundtrack "for the puddles that form, and for the reflected realities found within them." Gentle synths swell and recede among the delicate electronics, acoustic treatments, and occasional minimal percussion by Michele Alessandrini, carried forth by strings, piano, and guitar, to create short vignettes for this Music From The Puddle. This second installment in the label's Polaroid Series comes with an original and unique "puddleoid" print photographed by the label's owner and curator, Colin Herrick. Mine depicts blue skies, palm trees, and an empty street, packaged in a hand lettered translucent envelope, with a formed "puddle" on the outside. Ballerini's previous albums include a digital release on Italian netlabel, Sine3pm, Circolari Per Paesaggio (2008), and a CDr on Somehow Recordings, titled Me And (2010). Now I am patiently awaiting a wet day, so that I can marry the sound of the rain with its humidity and freshness, celebrating music from the puddles and the skies.