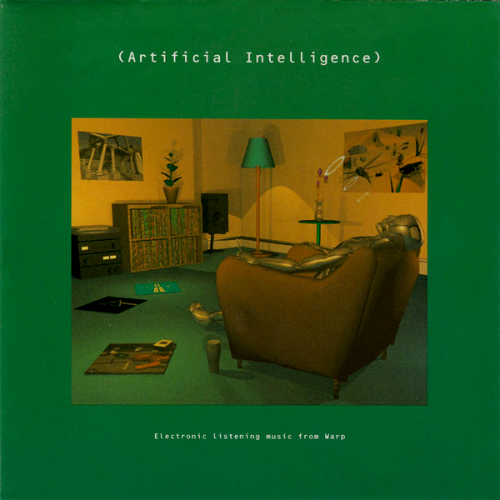 [EDITOR'S NOTE: This article was originally published by Headphone Commute in March, 2008. Ported over as a flashback in May, 2011, and then again refreshed in June 2014… Please enjoy responsibly…]
On July 9, 1992, a small label, starting off as a record shop in Sheffield, England, released the first instalment of its Artificial Intelligence series, with the purpose of showcasing some of the most experimental electronic music at the time. The founders of Weird And Radical Projects (WARP), Steve Beckett and Rob Mitchell, took the first leap in marketing dance music, produced for the purpose of listening. As suggested by the image of an armchair on the album's cover, the listener was invited to engage in sound and contemplate its intelligent form.
We realized you could make a really good album out of it. You could sit down and listen to it like you would a Kraftwerk or Pink Floyd album. That's why we put those sleeves on the cover of Artificial Intelligence – to get it into people's minds that you weren't supposed to dance to it!

— Steve Beckett (Reynolds, 1999 p.183)
The release was a success and became the topic of conversation on the electronic mailing list founded in August 1993, called Intelligent Dance Music List. Thus, the term IDM, was born. Allow me to take the time for a deeper dive and go over each individual track and artist appearance that graced this monumental period of electronic music history.
The album contained ten tracks, starting with Richard David James under his only appearance as The Dice Man. No introduction is needed for James and his continuous success under numerous aliases, most notable among them being Aphex Twin, AFX, and Richard D. James. Here, James graces us with a track called Polygon Window. He later adopts the track's name as one of his pseudonyms to release the Quoth single on Warp.
Moving on to track two. Michael Golding and Steve Rutter who were operating B12 Records out of London contributed a track called Telefone 529, under their Musicology alias. In 1998, B12 took a break from the music scene, and relaunched the label ten years later. Golding and Rutter are back at it again, with their techno release, 32 Line Up, under the B12 alias.
At track three we finally meet Autechre. Rob Brown and Sean Booth have previously released the very first 12″ on Skam Records under Lego Feet. Along with the debut Incunabula on Warp in 1993, Booth and Brown formed an umbrella project called Gestalt Communications (Gescom), with multiple anonymous releases on Skam and Warp. Among the numerous contributors to Gescom we find Darrel Fitton (Bola), Russell Haswell, and Rob Hall.
At track four, we're introduced to Ken Downie under I.A.O., his solo alias. Later, meeting up with Andy Turner and Ed Handley, Downy launched a group called The Black Dog. In 1995, Turner and Handley took off, to form Plaid, which continues to release on Warp. Downie took a break from music, but came back on Dust Science Recordings in 2005. In 2008 he dropped a techno album on Soma Quality Recordings, Radio Scarecrow, under The Black Dog once again.
Half way through the compilation we get a treat from Jochem George Paap, a.k.a Speedy J, a techno producer from Rotterdam. Paap contributed a couple of EP to the up and coming Ontario label, Plus 8 Records, operated by Richie Hawtin. His breakthrough, however, came in 1992, with a minimal techno bomb, Pullover. Come on, you remember that track! Speedy J continued to head up the techno scene launching a Collabs series working with established artists like Adam Beyer and Chris Liebing.
The Artificial Intelligence compilation continues with another appearance by Musicology. But, at track seven, there is an upbeat techno acid track, called Spiritual High, previously released as a 12″ on Probe Records. Who could this be? It is, the above mentioned, Mr. Richie Hawtin, quietly disguised under the alias, UP!, prior to his legendary Plastikman releases. In 1993 Hawtin defined the term "acid" with his Sheet One album, the inlay of which contained an acid blotter with the Plastikman logo. I still have mine intact – do you? "I don't remember falling asleep. […] They're all crazy […] Even me? She said… […] Especially you… […] And then I blew out the candle."
At eight, Autechre comes back with The Egg, which we again hear in its extended form on Incunabula appearing as Eggshell. Booth and Brown continue to rock our minds well into 2008, with their latest Quaristice release on Warp, always reinventing the sound and the future of electronic music. The track Crystel, still has some of the freshest beats, with addictive 303 filtered sweeps. Recently, I dusted off Autechre's Tri Repetae++ double release and was blown away once again by the impact of music composed over a decade ago.
At track nine we revisit Speedy J with his Fill 3 track. Paap is still around, recently composing a 5.1 soundtrack to Scott Pagano's visuals for the Umfeld audiovisual experience (check it out at umfeld.tv). Paap's many other aliases include Public Energy, The Dark Room, and The Second Wave. His notable collaboration with Mike Paradinas (µ-Ziq) is named Slag Boom Van Loon.
The compilation concludes with an ambient track titled Loving You Live by Dr. Alex Paterson. This work was written and produced by Alex Paterson and Jimmy Cauty who at the time were forming The Orb. Paterson's previous collaboration with Cauty has produced the hailed ambient masterpiece, Chill Out, under The KLF moniker. Since then, The Orb has seen many members come and go, and in 2008 released The Dream.
Ladies and gentlemen… the above roster defines electronic music itself, as we know it today. Granted, a modern listener may be put off by the tracks appearing on Artificial Intelligence, but here, history is preserved while it was still in the making. Warp went on to release a second installment, Artificial Intelligence II, with B12, Autechre, and Speedy J reappearing for another round. This time they were also joined by Mark Franklin, Robert Bird (The Higher Intelligence Agency), Mark Pritchard (Link) [who recently released EP 1 under his Harmonic 313 moniker], Beaumont Hannant, Richard H. Kirk, Ed Handley (Balil), and another great group, Seefeel.
Are you sitting comfortably? Artificial Intelligence is for long journeys, quiet nights and club drowsy dawns. Listen with an open mind.