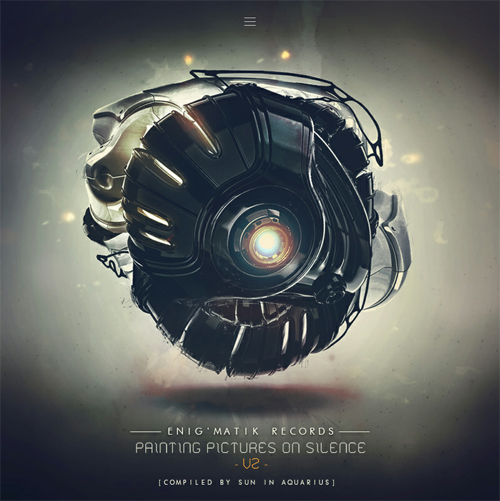 For the next few weeks I am preparing to immerse myself in the latest releases in one of my favorite genres: IDM. I have quite a few albums to catch up to, so let's not waste a minute! But first, allow me to diverge with a foreword. I've been a fan of glitchy electronica ever since Warp Records has unleashed upon the world its Artificial Intelligence compilation in 1992, introducing me to the likes of Richard D. James, appearing as The Dice Man, Richie Hawtin recording as UP!, and of course, the revolutionary Rob Brown and Sean Booth duo, premiering their intricate sound manipulations as Autechre. For more on Artificial Intelligence read my Flashback Review.
In 1998, Trent Reznor's Nothing Records published a compilation titled Nothing Changes, which came with my copy of XLR8R magazine. On the twelve-track release, Plaid, Squarepusher, Plug, Meat Beat Manifesto, and once again Autechre, have revitalized the genre, piquing my interest in exploring it even further. Nothing Changes changed everything! These two compilations mark the definitive moments in my life when music has awakened my senses and enlightened the self. It is no surprise then, that I keep turning to compilations curated by the labels to introduce me to fresh new sounds. Such is the case with the second installment of Painting Pictures On Silence, released by the Australian Enig'matik Records.
Specializing in "Sound Design Focused Glitch Music with strong emotive properties", Enig'matik first caught my attention with the very first volume in the series, released in May of 2011. With the initial offering of experimental electronic, glitch, and abstract IDM, the label head, Jake Rose (aka Sun In Aquarius), introduced the world to some of Australia's and New Zealand's finest sonic junkies, beat surgeons, and DSP heads. Following the debut, the label published a few digital releases, and subsequently was featured in Headphone Commute's Best Compilations and Mixes as well as Best New Labels of 2011. With this followup, Rose is casting a wider net, attempting to capture a global roster of premier talent responsible for the evolution of the aural virus which has infected my ears for the last two decades.
Along some of my all time favorite artists, such as Si Begg, Access To Arasaka, Frank Riggio, and KiloWatts, I am delighted to learn of eighteen new names and faces, such as Mind Tree, Faithfull, Geskia, and Chris Komus, to name just a few. The collection of tracks do not exactly fit into any single genre – instead they blend and merge exotic elements adopted from a variety of styles. The compilation showcases everything from glitch-hop to break-step to psyDM and dub-core. These are the frequency spanning, wobbly and crunchy pieces that burst with DSP-rich juices and splatter all over the rear walls of your skull.
As a collective, Enig'matik is a breed of producers staying true to their own individual journeys into the unknown territories of sound exploration, whilst expressing themselves in a pure form of energy vibration. Intertwining personal experiences and distant memories with experimental lashings of abstract frequencies on their sonic canvas, each individual artist has their own unique story to share, presented alongside like-minded artists in a future fueled environment of microscopic life.
Equipped with a decent pair of headphones (and no, not Beats by Dr. Dre – seriously, throw those in the garbage), this unique trip through the ongoing story of electronic music will definitely leave you thirsty for more. Pumped through a meticulously treated sound system, the music will make you bop, pop, and flop, in new and unimaginable ways. You can grab this digital release from Enig'matik Sounds bandcamp, where you should also check out the very first volume, as well as single releases from the label by Quanta, Goosebumpz, Chris Komus, Woulg, Whitebear, Child and Auma. Recommended for all the addicts to IDM paraphernalia, dealers in underground DSP doses, and manufacturers of otic stimulants. And I'm already waiting for volume three…