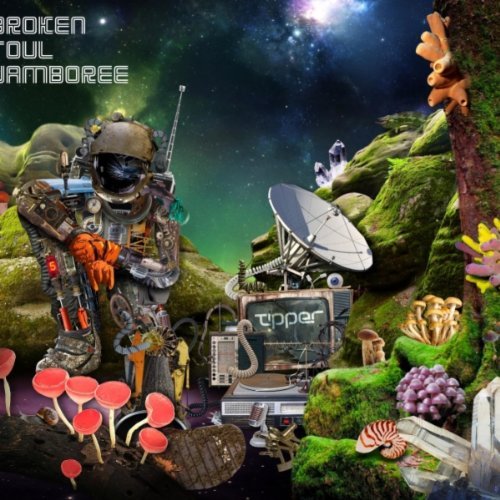 Load up that rubber band gun with a stretched-out bass and snap the trigger on the dropping rhythm – the wobble bubble hip-bop is in the house! The 10th studio album from Dave Tipper, Broken Soul Jamboree, is about to slap you across the face, with its top notch production, acoustically rich other world themes, and of course, those staple (dare I say) glitch-hop downtempo beats, that have made Tipper a household name among the trip hop and nuskool breaks junkies alike. From acoustic instruments to CPU-intensive DSP rendering, the music prepares the listener for yet another mind trip, with captain Tipper behind the knobs and gas pedals.
What could be said about this UK producer that hasn't been said before? How careful must I be with my words, in order not to reclassify the descriptions of the past? Should I attempt to write this review composed entirely of questions? You think? While Tipper follows his self-imposed rule of producing and releasing whatever he feels like on his own Tippermusic, I follow mine, and write about the music that simply makes me feel. The product of it all is just an auxiliary function. There is no other hidden agenda.
It was through this self guided journey that I have discovered Surrounded back in 2003, and immediately fell in love with Tipper's music (I can still hear Forty Winks just by thinking about it). Since then, he released five more albums – the latest recommendations being Tertiary Noise and Wobble Factor (both released as digital only downloads in 2008). But it is with Broken Soul Jamboree that Tipper returns with his sound, and I feel like I am back running through the morning forest, looking for my sleeping friend's dew covered tent.
Since Surrounded, Tipper has perfected his production techniques, paying a little more attention to the low-frequency space where the bass wobbles, and a little less attention to the direction of the rest of the world. Where others are concerned with following the latest trend (if you haven't noticed, dubstep managed to creep its dirty tail into every genre), Tipper is mostly concerned with making music that he loves. And that's where his perseverance prevails. On Broken Soul Jamboree, Tipper appears a bit more wise, mature, and even more confident in his sound than before. And through this confidence, Tipper is not afraid to show a little emotion, be it nostalgia or melancholia, while exploring the farthest corners of his mind (and ours).
Be sure to read our Two and a Half Questions with Tipper