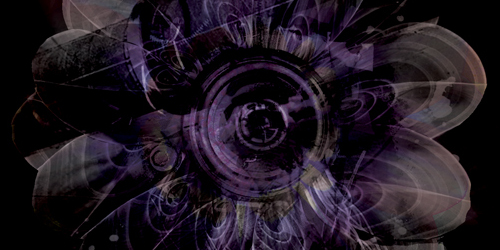 Peter van Cooten has been involved in music for over 50 years now. Based out of Utrecht, Holland, Peter has been feeding his passion for ambient music by consuming the sounds ranging from Klaus Schulze, to Tangerine Dream, to Bill Laswell and of course, Brian Eno. After being invited to compile a mix for Dutch Nation Radio, Peter became interested in creating inner worlds of music through layered collages of his favorite tracks. In the last decade, Peter has been publishing mixes on his Ambient Blog, and today we are proud to feature a mix, carefully crafted exclusively for Headphone Commute. Here's Peter with an intro:
Dawn Secrets.
What exactly happens at the moment night changes back into day again, when darkness slowly retreats and light comes back in? Are we aware of what happens outside, at that time of day most of us are still sleeping? What sort of animals or creatures are hiding from the light, and what sort finally dare to come out again? Would we discover "Dawn Secrets" when we'd leave our own safe and familiar surroundings?

To be honest, I did not start this mix with this theme in mind… it just 'dawned' on me when listening to it when it was almost finished… But from the start, I wanted this mix to have a strong 'environmental' feel (and not only include field recordings). Like most of my previous mixes, I also wanted it to be be unnerving as well as comforting: I like to cycle between 'tension' and 'release' to give it a 'storytelling' feeling. So I guess it's better labeled as "cinematic environmental"  than just as "ambient".

I know it sounds weird, but when creating a mix like this, I always feel like if the mix itself is choosing the tracks to be included. The result of some combinations often surprises me. I hope that this mix tells its mysterious story to you… and maybe reveal some 'secrets' along the way…

Peter / ambientblog.net

This mix was created December 2010 for Headphone Commute.
Track Listing
00:00 Atom TM – Notturni No.1 – 1i3835tra3Um3, 2010, Rather Interesting RI067
00:52 Atom TM – Notturni No.2 – 1i3835tra3Um3, 2010, Rather Interesting RI067
02:54 Plinth – Drift – Flotsam, 2006, Second Language SL05X
04:47 Jon Hopkins – Dawn – Monsters (OST), 2010, Domino Records DS036CD
06:03 Simon Whetham – Music's a Wood you Walk Through – Wood – Dragon's Eye Fifth Anniversary, 2011, Dragon's Eye Recording de6008
07:54 Enrico Coniglio – The Crab's Secrets – Underwater Noises, 2011, Ephre Imprint/Lost Children Netlabel
10:19 Mariolina Zitta – Cave Calls – Concert for Bats, Voices and Natural Sounds, 2007, Earth Ear ee6142
12:50 Philip Samartzis – General Electric – Audible Geography, 2008, Room40 EDRM416
13:50 Un Vortice di Bassa Pressione – Hydrocoma Pt. 3 – Underwater Noises, 2011, Ephre Imprint/Lost Children Netlabel
15:30 Listening Mirror – The Organist – Coffee Break Ambient, 2010, Audio Gourmet Netlabel AGN021
15:50 Chubby Wolf – Vocal Sounds Vibrate Air – Wood – Dragon's Eye Fifth Anniversary, 2011, Dragon's Eye Recording de6008
16:24 Balmorhea – Palestrina – Constellations, 2010, Western Vinyl WEST070
20:50 Johann Johannsson – Sifreri – Explorer's Club 7 – Reykjavik, 2010, Loaf LOAF36D7
22:07 Wil Bolton – Slate – Time Lapse, 2010, Hibernate HB22
23:40 Sigur Rós – Kafari – Sing me to Sleep (Indie Lullabies), 2010, American Laundromat Records ALR-0023
28:35 Jos Smolders – Aiolos (Vangsaa Exterior) – Various Sampler Contributions, 2010, Earlabs
32:43 Julien Mier – Breathe With Me – Flakes, 2010, Esc.Rec esc.rec.30 / Lomechanik lomek15
34:28 Sleepingdog – Polish Love Song – Sampler Winter 2010, 2010, Gizeh Records
37:40 Markus Mehr – Datenwolke – Lava, 2010, Hidden Shoal Recordings HSR069
39:40 Keith Kenniff – Anchor's Hold – The Last Survivor, 2010, Unseen Music
40:52 Jon Hopkins – Attack – Monsters (OST), 2010, Domino Records DS036CD
42:16 MiaMia – Bend Over Harder – Flakes, 2010, Esc.Rec esc.rec.30 / Lomechanik lomek15
43:50 Enrico Coniglio – Fondamente Nove Incl. 130 Cm S Salicornie Topofonie, Vol. 2, 2010, Psychonavigation PSY039
47:25 Giya Kancheli – Theme From Hamlet, Var. I & II – Themes from the Songbook, 2010, ECM Records 2188
49:59 Ephraim Wegner – Swarm – Audible Landscapes, 2010, Crónica 052
50:50 Collin Thomas – Blackjack Afternoon – Stones/Still, 2010, collinthomas.net
54:20 Zazie Von Einem Anderen Stern – Nacht – Regen:Tropfen, 2010, Drifting Falling DRIFTING018
57:00 Zazie Von Einem Anderen Stern – Intro Regen"Ttropfen, 2010, Drifting Falling DRIFTING018
57:10 Hilmar Örn Hilmarsson – Degradation – Angels of the Universe, 2001, Fat Cat Records FAT1102
58:22 Atom TM – Notturni N0.3 – 1i3835tra3Um3, 2010, Rather Interesting RI067
59:02 Julien Mier – Breathe With Me – Flakes, 2010, Esc.Rec esc.rec.30 / Lomechanik lomek15
[ S T R E A M ] | [ D O W N L O A D ] | [ P O D C A S T ] | [ i T U N E S ]
Visual Sequence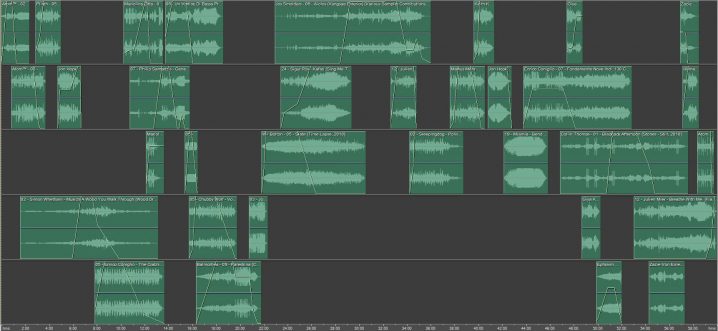 (Click to view full size image)