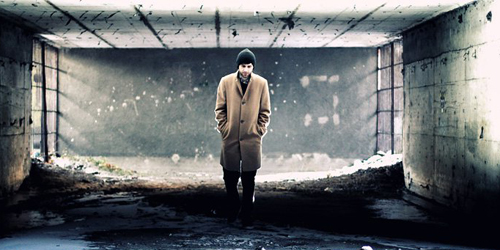 Where does your alias, "Pleq" come from, and what does it mean?
"Pleq" means nothing in particular. In fact, it is just a collection of letters submitted and matched entirely by accident. Secondly, I didn't want to duplicate existing names. So the creative process took me almost a week, then I started looking on the Internet to see if something like that exists. I found different words with unknown meaning for me, and the only thing that stuck in my head was the name of bulbs (hehe).
Please talk a little about your latest record, My Life Begins Today, and specifically its dedication to people suffering from multiple sclerosis.
This is one of the most important records in my life. For me, it is a continuation of the previous one, issued a year ago, also by U-Cover – "The Metamorphosis". You can recognize the same melancholic-glitch like atmosphere. I came up with the idea to dedicate my album to people suffering from multiple sclerosis, and it was just after the fashion show at which I was invited to make music. Ewa Amroziak's Fashion Show "SOS communication" was combined with the charity auction; then I learned a lot about multiple sclerosis, I thought that I could actually help by making music. Some of these records will be put up for charity auction, which is being prepared for 2011.
Your work has been released by a handful of labels. Is there one specific label that you wish it to be signed to?
Yes, it is true. I try not to be limited to any specific label that is why I don't establish permanent contracts. You know, it's quite a difficult question. I don't want to jinx it as I carry on preliminary talks with some labels. Once I dreamed about labels, now I hold discussions with them about releasing albums in 2011.
It seems to me that your work would be a perfect fit for Mille Plateaux's "Clicks & Cuts" series. Who are some of your current musical influences?
Yes, one of my tracks was on the Click & Cuts 5.1 Paradigm Shift (The Bonus Package). I am very pleased by that, but on the other hand, it is just the bonus package. There are no particular artists after which I pattern myself. I listen to all kinds of music, not only electronic music. Recently, I've been delving into drone.
What is your production setup like?
That's a pretty tough question as my equipment is my secret and I keep the secrets of the production to myself. I want to emphasize that I make music at home and I keep away from the new stuff. I'm not a big fan of new toys.
Tell us about your upcoming work.
Ok, I'll start from the fact that from January, I begin an intensive production with Pjusk. We were to start some time ago, unfortunately, other projects stopped us, so the whole production has been postponed to January. I'm in the process of creating a collaborative album with Off The Sky. We initially had 4 tracks, but now I'm working on another two. Another album from the Collaborative Spyweirdos is planned for 2011 too. I already have a collaborative album with Philippe Lamy which is likely to be released on the Mystery Sea in July 2011. Another project is a collaborative album with Hiroki Sasajima, Pawn.
With reference to certain records, in January, Basses Frequences is releasing my full album, only with my music, called "Ballet Mechanic". In November, Basses Frequences is releasing the single "Good Night" remixed by Pjusk, Off the Sky and Philippe Lamy and it is to present "Ballet Mechanic." However, in February, the Japanese Progressive Form is releasing "Good Night 2" with remixes of Pawn, Yui Onodera, Porzellan, Segue, Strom Noir, Haruka. And probably the most important record to me which will be released on Mille Plateaux in 2011.
See also Headphone Commute's review of My Life Begins Today