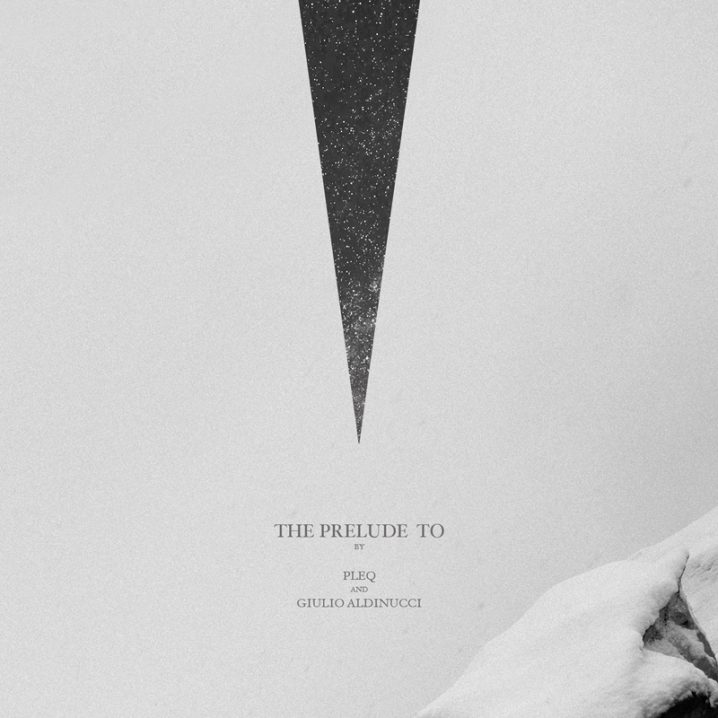 Collaboration borne of two artists sparking each other's creativity is at the heart of The Prelude To, a new album by Pleq (Bartosz Dziadosz) and Giulio Aldinucci released on The Long Story Recording Company,  a label formed from the ashes of Twice Removed,  run by Gavin Gatling out of Perth, Australia. It all began when a demo of Aldinucci's work was submitted to Dronarivm label (which Dziadosz curates), leading to the development of the title track, which first appeared as part of the monumental Home Normal's Elements 5 compilation. Fortunately for us, the partnership blossomed and resulted in a complete album, with the addition of three new tracks and remixes contributed by The Green Kingdom, Christopher Bissonnette and Olan Mill.
On the album, Dziadosz combines elements of drone, downtempo, glitch, and modern classical, employing synthesized sounds, violin, piano, and female voice in a style dubbed as "glitch & melancholy". Aldinucci, on the other hand, works primarily in electroacoustic music focused on methods of sound synthesis and utilization of field recordings. Together they cover a wide swath across ambient and experimental music and when their two styles collide, it makes for an exceptionally rich and vivid sonic amalgam.
Modern classical elements prevail on "A Prelude To", as disembodied piano, violin, and voice can be heard through heavy, crackling dust clouds of billowing drones. It is a hauntingly beautiful piece. The Green Kingdom's remix, which appears later in the album, is an ethereal, IDM slanted take, softening the drones and looping the violin into a pulsing undercurrent while bringing the piano and voice into the foreground.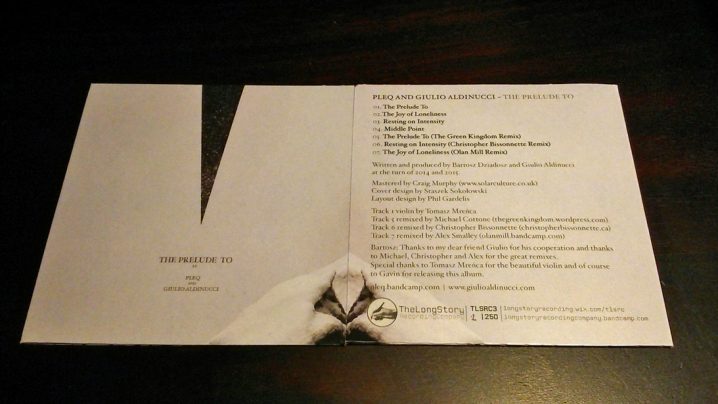 "The Joy of Loneliness" ascends on the back of layer upon layer of choir and organ-like tones until it evaporates into a haze of blissful distortion. To close the album, Olan Mill condenses this longest of tracks by more than half, yet somehow makes it sound even more expansive, as if soaring on the jet stream. This dynamic is inverted with "Resting on Intensity" as the Pleq and Aldinucci original is a resplendent drone that radiates and shimmers, while Christopher Bissonnette's subsequent reworking stretches it out to expose a deep and somber melancholy that was hidden within.
The aptly named "Middle Point" stands alone in the center of the album. It is a somewhat ominous sounding track which shrouds field recordings of voices and urban sounds in dense and slightly dissonant layers which ends up acting as a fulcrum that lends balance and symmetry to the record as a whole. So, while A Prelude To is composed of many ideas, parts and layers, it all fits together with a cohesion that yields more than the sum of its parts. It is a complete and satisfying listening experience.
pleq.bandcamp.com | giulioaldinucci.com | longstoryrecordingcompany
©
Words by Brian Housman of Stationary Travels
Additional editorial by HC