We are now in February, but I've got more Reflections coming! I think that looking back at last year, or the evolution of music in general, can be done at any time. Hence, the Reflections section has officially been promoted to an all-time feature. These can come at any time, or any subject. Let the artists speak for themselves!
Here are reflections from Bruno Miguel, who, in 2008, released Lylac as :papercutz. In April of 2010, Miguel will put out another album on Audiobulb, titled Do Outro Lado Do Espelho ("on the other side of the looking glass" in Portuguese). This release will contain ambient reworks of tracks from Lylac with an amazing roster of artists. Among the many, the remixers include Jasper TX, Taylor Deupree, Helios, Chris Bissonnette, Emanuele Errante, Autistici, Rameses III, Simon Scott and others! Wow – this is right up the alley of any Headphone Commuter. 🙂
:papercutz [Apegenine / Audiobulb]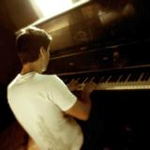 This was definitely one of the most challenging years I've gone through, filled with mixed feelings. Musically, it was a great one. I fulfilled my long desire to get back to playing live again and I got booked throughout the year, got a contract for my next releases and in turn that allowed me to get in touch with some artists on the ambient genre, one I've been following in love with, for one of this releases. Their response was overwhelming in a way that I wasn't expecting and for the first time I felt part of a community instead of an outsider. On a personal side, unfortunately I lost two important figures in my life, both taught me a lot (and their words will still echo in me for years on) and I'm sure this will affect my coming work…in fact it already has. As an artist, If I can call myself that, I feel the need to output some of this feelings and to continuously look inside, hoping to know myself better and to transmit some of that to someone who's outside my reality.
It's becoming hard for me to see music as a competition (unless we're talking about the industry and sales figures) and to keep track of most of what went through my way but I'll just drop here some names of new artists I discovered and that really moved me in 2009 in hope you'll try to find out more about them (if you don't know them already): Fever Ray, Soap&Skin, Bat For Lashes, Ben Frost, Nico Muhly, Fuck Buttons, Level, Jasper TX, Kreng, Chris Bissonnette, Rameses III, Rhian Sheehan, Simon Scott and my fellow countryman, Norberto Lobo. As always, musicians showed us there's no economic crisis that breaks the human mind. Here's to a creative 2010.
:papercutz
papercutzed.com