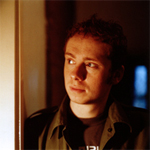 Today I've got another treat for you. John Twells, co-founder of Type Records, and the artist behind the name Xela, shares his thoughts on 2009. Occasionally I chat with John, and his breadth of knowledge across all genres always surprises me. Being the man behind one of my favorite ambient, modern classical and folktronica labels [hope he doesn't get too mad for me for that classification], I'm always impressed with John's deep appreciation for dubstep and hip-hop alike. It's no wonder I asked him to share his reflections.
John Twells / Xela [Type, Digitalis, City Centre Offices]
Thoughts on '09
2009 was a significant year for me, not only musically but due to a quite huge move from the UK's bleak West Midlands out to the USA. Most of the year was spent doing the usual machine-gun of live shows and preparing releases for Type, but the move was what took most of my mind-space, and that's what I'll remember 2009 for, I think. I suppose the latter half of the year, since getting settled in Massachusetts, has been interesting as I've been noticing what I actually missed, musically about the UK. Certainly the constant flow of innovative urban music (most obviously in Birmingham, my ex-'local' city) has been missing, but as a long-term hip hop fan it's been great to finally have access to stores that sell a lot of US urban music as a matter of form. I suppose it's made me more attentive to what's happening in the UK – whereas before I would be able to check out what people are listening to by going for a drink on Broad Street, now I've got to check up blogs and stores. And for the attentive, '09 has been a vintage year for both UK urban music and US hip hop.
In the UK we had phenomenal music from newcomer Floating Points – not only did he wow me with his debut 12″ for Planet Mu, but he totally melted my mind with the 'Vacuum Boogie EP' on Eglo. This record marked for me a high-water mark in modern UK dance music – it referenced 2-step, house music, the more recent funky (or UK funky) movement and Detroit techno while sounding totally, absolutely fresh. With three tracks he did more than most artists manage in an entire album. It's also worth noting truly astonishing 12″s from Joy Orbison (pretty much everyone's 'bright hope' for 2010), Joker, Rustie and the unstoppable Cooly G.
Albums wise I could really go on forever about my highlights – Cold Cave's double whammy of 'Cremations' (an anthology of their early work) and 'Love Comes Close' was a cold-wave triumph. From the minute Dominick Fernow (aka Prurient, now a full-time member of the band) thrust 'The Trees Grew Emotions And Died' into my hands telling me 'Everybody should have this, it's NOT noise', I knew it was going to be special, and special it was. DJ Sprinkles (aka Terre Thaemlitz) gave us the best house album in a good few years in the shape of 'Midtown 120 Blues' (on Mule Musiq) and Oneohtrix Point Never and Emeralds showed us that just because something is defined as 'hypnogogic', it doesn't make it a no-go area. My number one album though was a selection of slinky sex jams from Terius 'The-Dream' Nash, the much publicised Def Jam CEO and producer of Rhianna's breakthrough jam 'Umbrella'. 'Love vs. Money' was the producer's second album and my favourite R&B joint in some time with every track hitting a smooth-pop jackpot. Despite many talking up '09 as the year hip hop died, this album along with Drake's 'So Far Gone', Raekwon's 'Only Built 4 Cuban Linx Pt.II', Kid Cudi's 'Man On The Moon' and Clipse's 'Til The Casket Drops' made the year bump and fizz for me. Dead? Nah, it's just changed a little, and we all know how people don't like change.
John Twells
typerecords.com