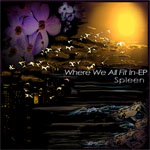 Beautiful melodic electronica will always have a slot on my shelf. Even if it's a digital only release. And here's one from a quickly gaining recognition netlabel, Summer Rain Recordings. And the label has a clear defined goal and purpose – all signed artists donate 5% of their royalties to NextAid (or any selected charity). And this is music you should be gladly paying for anyway.
Spacey, euphoric, and melancholic – the sound of Where We All Fit In falls somewhere between downtempo and IDM. In fact, Spleen defines the style himself as melantronica. But it's not just sadness that saturates this four track EP. In many places it is up-beat, light-hearted and breezy, perfectly fitting on an appropriately named label. Spleen is the solo project of Antwerp (Belgium) based Lennart Vanstaen. His musical influences include Radiohead, The Album Leaf and a roster of Icelandic musicians like Sigur Ròs, Björk and Mùm. Mentioning those artists should give you a rough idea of Vanstaen's influenced style.
It's easy to imagine this music accompanying a film, a lonely commute, a soundtrack to a passing life. In fact, Vanstaen has collaborated with Sophie Vanhomwegen to produce a soundtrack for a short film, Whatever Floats Your Boat, which was selected for the HDFEST film festival. This EP is Spleen's second release on Summer Rain Recordings. His previous contribution was 6 Moons Ago EP released in February 2008.
[I want to make a quick note, that Lennart Vanstaen's alias Spleen, is not to be confused with Miro Merlak's Spleen, who released a self-titled electronic album on Phthalo Records in 2001].
myspace.com/visitspleen
myspace.com/summerrainrecordings | summerrainrecordings.net