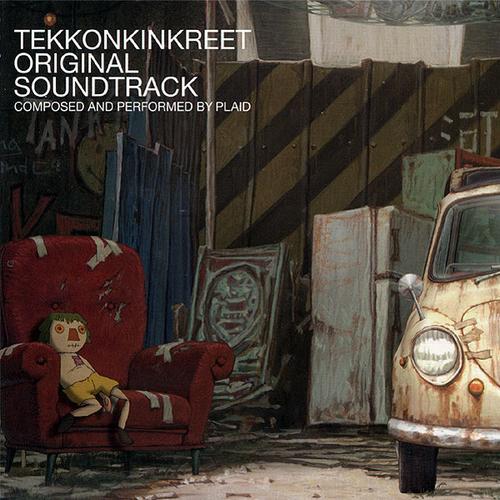 I was originally postponing any reviews of Plaid in anticipation of their new album, Scintilli, originally planned to be released sometime in Q4 of 2008. But it seems that it has now been postponed to mid 2009, and I can't wait that long to talk about one of my favorite artists (which you should already know all about).
And what could I say about Andy Turner and Ed Handley that hasn't been said before? As former members of The Black Dog, their discography goes back to the early 90s. Their official first appearance on Warp as Plaid was with Not For Threes (Warp, 1997) followed by a dozen of LPs and EPs. This year the duo celebrated their 20th anniversary of working together. In 2006, Plaid composed their first soundtrack to the Japanese anime, Tekkon Kinkreet (Studio 4°C, directed by Michael Arias), and just completed yet another soundtrack to Arias' 2009 film, Heaven's Door [to be released by Beatink in Dec 2008 or Jan 2009].
But back to the official soundtrack for Tekkon Kinkreet (which is actually a pun on "Tekkin Concrete", the Japanese term for reinforced concrete). The score is a collection of well rounded and extremely intelligent tracks that tell a complete story of their own, combining ambient, electronic, and even pop-rock elements that are beyond any dimension of measurable classification. It is a lavishly warm album, wrapped with diverse instrumentation, like vibraphone, strings, bass, acoustic drums and jazzy riffs, all driving forward the cinematic perception of a fantastic world existing in a world of animated film. There is just way too much in this latest Plaid release to be put into words, so I'll reserve to quoting Michael Arias from the liner notes:
"[…] the music should have an analog, old-world feel, to compliment the nostalgic ambiance of the Treasure Town we see in the opening scenes. As we move into the second act, […] old world analog will give way to newer, alien, synthetic forms: minimalist breakbeats and dissonant post-techno sounds. […] This music will echo fragments heard over White's dreams of ocean paradise and apple trees."
What's more exciting about Tekkon Kinkreet, is that unlike previous Plaid albums, it is not reprinted upon various media by Warp, Nothing, or Beat Records alike. It is a single release, falling slightly beneath the radar, on an Aniplex Inc., a Japanese imprint for Sony Music Entertainment (Japan). Not being marketed by Warp, this album may have slipped past a bunch of fans, unless they are loyal Plaid followers. It is still only available as an import [and sells on Amazon for $65 ???].
I highly recommend you listen to the album first (over and over), and then watch Tekkon Kinkreet – it will create an interesting experience of watching an exciting story, set to already beloved tunes [btw – the animation is amazing!]. Then pick up a Tekkon Kinkreet Remix project with interpretations by Prefuse 73, Vex'd, Derrick May, Mathew Jonson and many others. Recommended for fans of Kettel, The Flashbulb, Boards of Canada, Arovane, Wagon Christ, and The Future Sound of London.