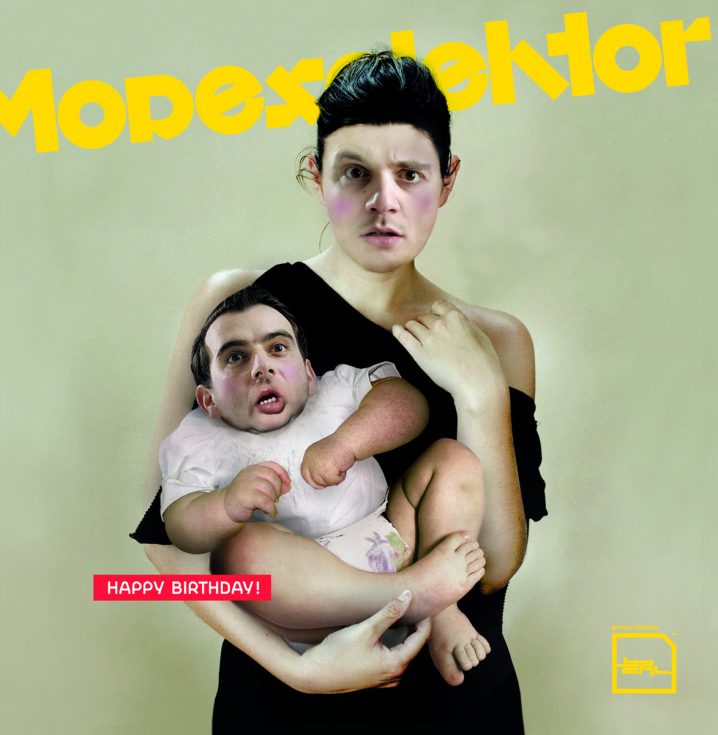 Mixing up everything from IDM to dub, electro and hip-hop, Modeselektor puts out a truly fun album that keeps me bopping up and down. There is evident humor in some of the tracks and that's exactly that attitude that forces me to spin Happy Birthday! on for a fun ride. Not to mention an excellent array of featured artists. We've got French hip-hop from Paris, TTC; some Dominican style fun vocals from Paul St. Hilaire; throw-your-hands-up party rap from Puppetmastaz; and an absolutely excellent track featuring Thom Yorke, titled The White Flash. [Side note: the 2008 12″ Happy Birthday! Remixed #1, features The White Flash remixed by Trentemøller – it's worth picking up just for the B side]. Modeselektor returned the favor and remixed Thom Yorke's Skip Divided from The Eraser (XL, 2008).
Modeselektor is a Berlin based duo of Gernot Bronsert and Sebastian Szary. When Bronsert and Szary initially met in 1992, they were producing music under alias Fundamental Knowledge. In 1995 they renamed themselves to Modeselektor, after a function on Roland RE-201's effects module. Another interesting side project is called Moderat – a collaboration between Modeselektor and Apparat which only saw a single 12″ on BPitch Control back in 2003 and now returned with a track on Happy Birthday! titled Let Your Love Grow.
This is Modeselektor's sophomore release, named in anticipation of the unplanned accidentally synchronized births of the duo's children. Modeselektor is not afraid to whip any stylistic trend back into its cage. From four-to-the-floor acid infused electro beats, to heavy grime, this is already a favorite party album. In the middle of the album, after a heavy beat from The Black Block, my ear pricks up to a familiar melody. The track's name is The First Rebirth, and I immediately recognize the classic trance anthem from 1993 under the same name, written by Jones & Stephenson for Bonzai Records (and I still have my copy – actually just dug up Commander Tom's '94 Remix on Prolekult). The album finishes up with an excellent up-beat glitchy hard breaks featuring Maxïmo Park.
Pick up this album and treat yourself to one of my 2007 favorites! Recommended if you enjoy Boxcutter, Pole, Plaid, Funkstörung and Mouse on Mars. Be sure to grab Modeselektor's 2005 debut, Hello Mom! p.s. Excellent popping music!