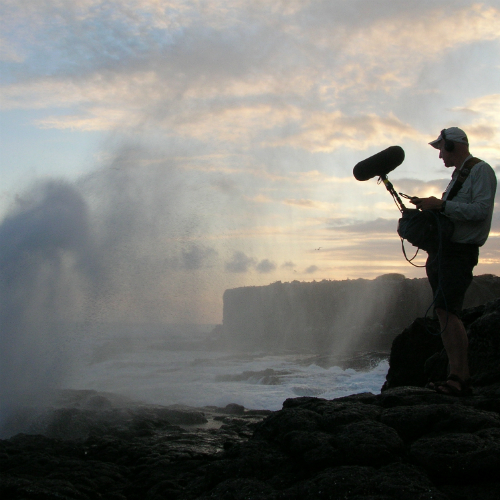 Chris Watson is one of the world's leading recorders of wildlife and natural phenomena. He has been releasing his archival works on Touch since 1996. Among the many favorites, Headphone Commute has covered El Tren Fantasma, Cross-Pollination, and his most recent work, In St Cuthbert's Time. Recently, Watson collaborated with Soniccouture on a project called Geosonics, Sampling Planet Earth, a Kontakt Player VST Instrument with hundreds of recordings from some of the world's most extreme and inhospitable environments. Headphone Commute caught up with Chris Watson to find out about this project and more…
Hello Chris. Where are you and what are you working on these days?
Currently I'm composing a new work to be installed at opera North in Leeds from the 27th Feb. to 15th March 2014. The piece is titled Hy Brasil and will be an Ambisonic sound installation re-creating the soundscape of an island that may or may not have existed off the south west coast of Ireland during the 16th century.
Tell us about the Geosonics project. How did you become involved in it?
I was approached by Soniccouture to discuss the production of a new instrument which featured my location work from a selection of habitats.
How was this project different than your album releases on Touch?
The Soniccouture project required a series of relatively short clips from much longer sections of my recordings. These were to be themed around elemental sounds that were rich in harmonics but not linked to a narrative which is usually a feature of my other works.
For this humongous library of sounds, did you go out and record some things separately, or were these mostly sourced from your past archives?
As the Soniccouture tracks are from across the world they were all sourced from my catalogue of recordings.
Speaking of archives, how big is your personal private collection of recorded sounds, and do you think you'll share any of it one day?
I have no real idea on the size or number of recordings I currently hold as I only have time to properly catalogue my work in post production after a specific project. I consider the Geosonics project an ideal way of sharing my work in a creative way.
Out of all the 'inhospitable' places that you've visited on earth, which ones are your favorite and why?
Iceland. It's very accessible, sonically remarkably diverse and always a stimulating place to visit, record and hang out.
When you travel, how big is your arsenal of the equipment? What sort of interesting things may we find if we look through your bag?
This sounds like the sort of question I get asked by customs officers around the world! I take what I consider to be required for each individual trip. This always includes a spatial audio microphone set up such as a Soundfield ST 450, a Schoeps DMS array, a Sennheiser surround rig. Ultrasonic detectors, contact mikes, hydrophones, small personal mikes, and SQN5S mixer and Telinga parabolic reflectors. All recorded on to Nagra and Sound Devices hard disc recorders.
What would you say is the difference between the sound of nature and a man made sound? Would you be interested in recording a factory, an oil pumpjack or a washing machine?
I've recently been recording and working with a wide range of 'man made' sounds for projects such as Inside The Circle of Fire and Underground.
Finally, what are your thoughts on this particular interesting topic of mine: is recording an art form?
It can be, it's all down to the presentation.