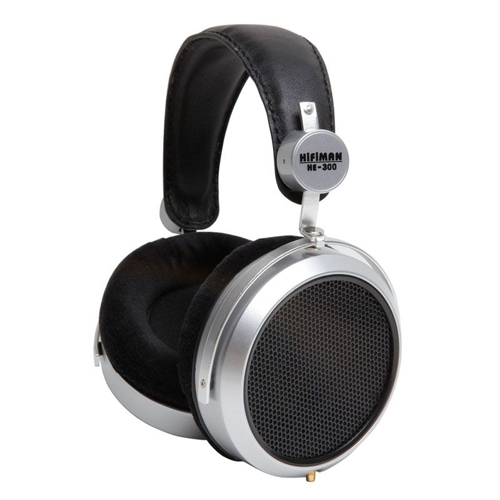 After my previous review of HiFiMAN's EF-2A Headphone Amp, I decided to explore this company's offering in headphones. After all, they specialize in the award-winning planar-magnetic series of cans, which start at $400 and go up to $1,300. But before I dive into the world of high-end drivers, I decided to check out the HE-300 – HiFiMAN's low impedance full size dynamic offering at only $249 USD (MSRP). It's important to note that although HiFiMAN is a small company, it is responsible for designing and manufacturing its own custom dynamic driver. Again, my aim here is to find and recommend a beautiful set of headphones without breaking your bank, while staying within the bands of the same-priced over-hyped celebrity-branded tuna cans.
What immediately impressed me is the look of these open-back cans. The perfectly round, silver-colored and velour padded ear-cups are definitely sexy. The pair comes with a beautifully braided silver coated copper cable (yes, you've read it correctly – actual silver coated), with individual channel inputs under each ear-pad! This cable alone is worth over a hundred bucks! The set is somewhat medium weighted (about 270g), and at only 50 Ohms can be driven by your favorite portable device. But remember, since this is an open-back set, the sound will leak in (and out), so I don't recommend walking around with these on the street. Plus, you'll probably look pretty ridiculous with the big cups over your ears.
So how do they sound? In one word: fantastic! I've now listened to HE-300 for more than a few weeks, and compared them with two other open-back pairs [these will eventually make it to my site as recommendations], but what's immediately attractive (besides the above mentioned features) is a price-point at which this pair is immediately accessible! I've dragged the HE-300 through my collection of ambient, post-rock, and IDM: the highs are crisp and crystal clear, with the warm mids a bit set back, and the bass deep and tight. I even had a pair growl a bit with some techno and dubstep, and although the low-range wasn't as thick and full as a closed-back pair can offer (see Beyerdynamic DT 770 PRO), it never once stumbled over the rumbling frequencies.
I especially enjoyed using the HE-300 while listening to piano and modern-classical music. The sound seeped out in transparent and textured currents, freely mixing in with ambient atmosphere around my head, like a slow curling smoke of an incense,  burning in a quiet humid temple. The music seemed to be within me, the performer's fingers lightly touching the keyboard, a foot on the pedal, a barely audible breath captured by chance. After a few minutes you'll forget that you're wearing the headphones, and that's when the magic sets in.
With the HE-300, HiFiMAN aims to deliver the similar family sonic signature of its top-of-the-line reference models, such as HE-500 and HE-6. I'm sure that comparing the models side-by-side will reveal the slight benefits of the higher-priced offerings (something I'm actually looking forward to), but until then I don't see why one should not be happy with this gorgeous entry-level pair. Again, HiFiMAN opens up a world of listening that even a seasoned commuter should embrace with an awe. Everything up until this point simply fell on deaf ears – now one must go and re-listen again!
MSRP – $249 USD
hifiman.com