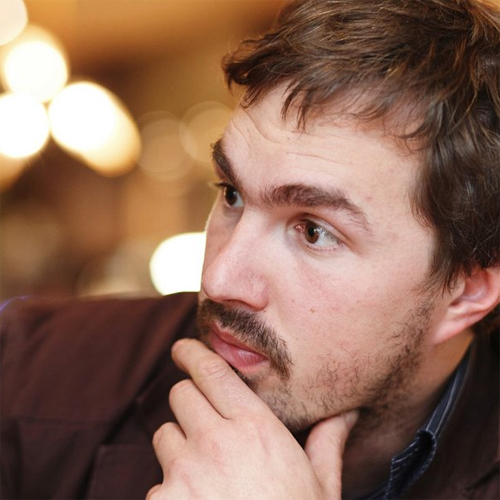 Hey Martin, how is your week going?
Pretty fine. On Friday we had another performance of the multimedia theater experiment "der live code". A piece with 5 screens, 8 speakers, a programmer and a visual artist based on texts by Marshal Mc Luhan. Right now I'm listening to an hour of generative ambient music which I created yesterday for an experimental film score.
I believe there's a definitive line between your Marsen Jules and krill.minima projects. Would you agree with that and do you think there are time when one bleeds into the other?
Both projects have very different approaches. With the Marsen Jules project I explore and examine sounds. I dive into them. I make them fill time and space completely.  I unfold a universe out of them. With krill.minima I'm experimenting with sound in the way, that I use a lot of different sources and techniques and melt them all together to something new. So, Marsen Jules is based on limitation, abstraction and reduction. krill.minima is based on richness, experimentation and the full range of possibilities.
Do you ever work simultaneously on albums from multiple monikers?
Sometimes I put things aside and pick them up later again. But usually I'm not working simultaneously on 2 different projects.
And how long have you been producing 'Sekundenschlaf'?
Sekundenschlaf contains a lot of Material from an 8-year period. Some of the tracks have been released before on compilations and net labels. For me it's somehow a "best of" krill.minima compilation.
Tell us all about the samples used in the recording of this album.
It's a lot of different samples and techniques. Mainly recorded in my living room.
How did you end up signing with Psychonavigation?
They asked me for a release, so I was happy to have some material.
What is the latest and greatest with your very own Oktaf label?
Preparing new releases right now. We will also feature a new artist. Gaston Arevalo from Uruguay with a very nice release of ambient music.
Read Headphone Commute review of Sekundenschlaf