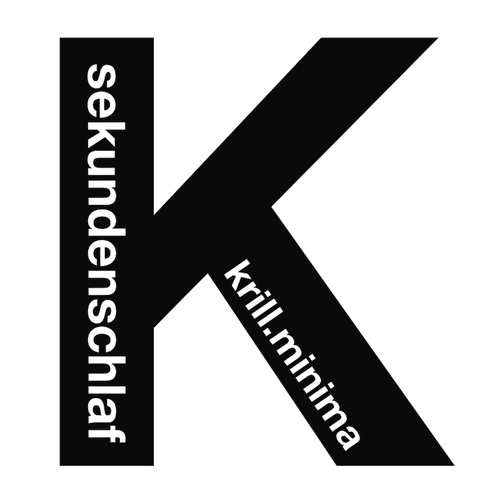 It's not ideal to start a sentence with the phrase "as a matter of fact", but as a matter of fact I discovered Martin Juhls' works under his krill.minima moniker way before I connected his Marsen Jules alias to the same name. Besides a Radiodub EP on Miasmah in 2004, there were three full length albums: Zwischen Zwei Und Einer Sekunde (Thinner, 2003), Nautica (Native State, 2007) and Urlaub Auf Balkonien (Thinner, 2007). For the latest album we witness Juhls join the Dublin (Ireland) based Psychonavigation Records with the 2013 Sekundenschlaf, which from German translates to "nodding off".
As a matter of fact this is the same krill.minima that I fell in love with. The twelve tracks on the album are spacious, concave and warm. The cavernous echoes of the dub ambient chords fall off the sunken walls and dive into abyss. Single sounds are allowed to breathe, bounce and reflect, sometimes with more than a second delay in between. The bass is broad, but not suffocatingly subterranean, propelling the mid-range into the forefront, with most sonic story unfolding at the front of the stage. The material is sourced from every day noises to weave in the textured atmospherics, hypnotic rhythm and sparse minimalism. There is a hint of dub reggae, but like the rest of this composition, it is restrained and not formulaic.
"Mostly when I start producing a new track or project I have a clear sound picture, emotion and atmosphere in mind which I want to make audible. Then I start collecting the sounds, chords and fragments which I think could work to create a comparable acoustic surrounding."
And don't be surprised if, like with me, it took you a while to link this moniker to Marsen Jules. His modern classical and orchestral ambient releases on Autoplate, City Centre Offices and his very own Oktaf label bare a small resemblance to to the dubby organic feel of krill.minima. Recommended for the laid-back blunted nights and followers of Quantec, Deepchord, Fluxion, and Efdemin. Be sure to pick up the latest from Marsen Jules on Taylor Deupree's 12k label, titled The Endless Change Of Colour. And while you're at it, check out some of my favorites: Nostalgia (Oktaf, 2011), Herbstlaub (City Centre Offices, 2005), and Yara (Autoplate, 2004).
Check out this exclusive Headphone Commute Mix that Juhls put together for our podcast in 2011.
And be sure to read Interview with Martin Juhls