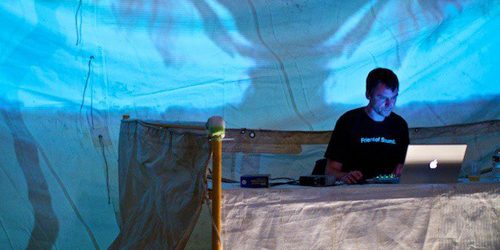 Hey, Scott. So, did you grow up in Vancouver?
No, but I grew up on Vancouver Island and have lived in Vancouver now for over 20 years.
Can you give us an example of the influence of New Brighton as a geographical location in evolution of your sound?
What I like about New Brighton is the mix of history, industry and natural surroundings. It is a strangely natural yet unnatural setting and I think I've always thought of my music this way; one foot in the urban, tech-centric world and another in the natural, pastoral world. As you might be able to tell from my field recordings of the park (on bandcamp), it is also a sonically rich environment with lots of interesting industrial sounds as well as the common, north-west natural sounds of water, birds, etc.
More and more I've been associating your latest releases with ambient dub. How do you feel about this particular classification and genrefication in general?
I have no issues with it. I'm heavily influenced by dub and often classic dub is my first choice for listening.
I noticed that there's a track titled "Second Narrows" on the album. What is the connection between it and your 2004 release, First Narrows?
The connection is the Second Narrows bridge which runs along side New Brighton park… it's full name is Ironworkers Memorial Second Narrows Crossing, named after the ironworkers who lost their lives during the collapse of the bridge while under construction in the late 50's. The Lion's Gate Bridge a.k.a, First Narrows is the other main bridge between Vancouver and North Vancouver. So I was playing with a continued theme on the bridges there.
Care to share what your recording setup looks like?
Well, my main composing set up is embarrassingly simple; a laptop connected to some speakers with a midi controller. When I'm adding live players, the set up changes. Back when I worked at a game developer, we had a nice, small recording studio I used to use for tracking live instruments. Because this record only see Jason's Rhodes and Shane's guitar, I simply recorded them direct to the computer. Software-wise, I mostly use Live and Max for Live.
How do you decide on the label on which a particular release will show up? For example, how did Coast/ Range/ Arc made it to Glacial Movements, and Sketches From New Bright is back on Kranky?
Coast/Range/Arc was almost like a commission. Alessandro, who runs Glacial, contacted me and asked me to create something for the label that matched their mission. Seeing as I was interested in doing more straight drone works, this seemed like a good fit. Sketches just seemed like a good fit for kranky who, as you know, I've worked with for some time and tend to be my home base.
What can we expect from your upcoming live performance at Decibel? How different is it going to be from your studio album?
It's looking like Decibel will see me repeat the set I did for Substrata fest in the summer. For that, I worked with Seattle pianist Kelly Wyse. I arranged some of my older works for piano and also performed my WistRec "book report" piece based on Malcolm Lowry's Lunar Caustic. It was really enjoyable working with Kelly on the piano. He is a very accomplished player. I look forward to doing that again.
So what's next?
Mostly playing some shows… getting set for a couple shows down the west coast including Decibel and in the early stages of a UK/EU tour for 2013. I'm also starting some new collaborative projects which I hope to shed some light on in the near future.
Be sure to read HC's review of Sketches From New Brighton