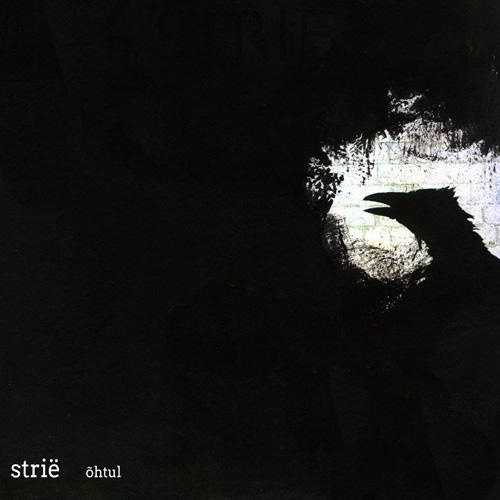 It's been almost a year since I checked in with one of my favorite labels, Time Released Sound. Since my introduction of the label, and subsequent selection thereof for Headphone Commute's Best New Labels of 2011, the founder of the this independent California-based label, Colin Herric, has been busy curating and crafting hand-made packages for the discerning listener.  In particular, there was a set of releases in the Chocolate Boxes series, featuring six albums (on two mini discs each) by Taskerlands, David Newlyn, Sonmi451, Rezo Glonti, Sinnerplakken, and a collaboration between Pleq and Spheruleus. The complete package of the above mentioned releases sold out rather quickly, but the albums are still available as digipak CDs, or single hand-made deluxe chocolate boxes, pressed on a 5″ disc in a picture sleeve.
But today I wanted to tell you about a beautiful album from Strië, a "mysterious and public shy European sound sculptress", Iden Reinhart. The sophomore full length release, Õhtul, is a collection of eight modern classical marvels, each slowly looping and evolving into preciously fragile little gems. The combination of mild ambient drones, gentle piano notes, whispering strings, and quiet humble voice, lullaby the listener into mysterious world of Strië, where moonlight shoos the night away, cradles the notes, and sprinkles them across the sky with the warm summer breeze.
"Much has been made in the past of [Reinhart's] elusive character… it has been said for instance, that she fled the spotlight in European classical music circles to retire to a life of creative seclusion in the countryside… country in particular currently undetermined! This is after living her youth as a child prodigy of some import… Like a soundtrack to the elusive lifestyle she has chosen, with its feelings of the forests and historically deep histories of Eastern Europe, Õhtul draws us into its profound depths with much drama and grandeur."
As of this writing, the deluxe edition of the release has already been sold out (the digipak edition is still available). If you were lucky enough to snatch this limited edition of 100, yours would have come in a stamped double envelope with three banded color prints containing mysterious quotes and a small jigsaw puzzle of Reinhart herself. If you're wondering why I'm bothering to tell you about this particular sold-out package, it's because I wanted to convey the amount of time, work, and personal attention to detail that goes into each and every one TRS release. And it looks like all of the future albums put out by the label receive the same special treatment, so I urge you to check out the shop directly, to see if you can own a piece of this musical memory for yourself.
Reinhart's 2010 debut, Sléptis, which was released on Norway's Soundscaping Records, explored the themes of "Simulated Sleep", "Fragments Of The Past", and "Infected Realism". These ambient meditations are further examined on Õhtul, which at times takes even darker [and almost nightmarish] turn, as the listener undergoes the five stages of sleep, approaching "Rapid Eye Movement", at times "False Awakening" and even more dangerously, "Lost In Between". This journey is a pleasure to take on in the confident guidance of Reinhart, who seems to traverse the dreamworld and awakened state with ease, blending elements of Arvo Pärt, Gareth Davis, Olan Mill, Marcus Fjellström, Greg Haines, and Kreng. Highly recommended!