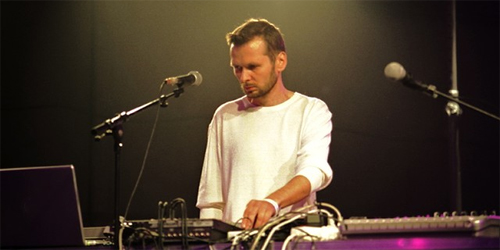 It's good to see you back on Raster-Noton with a full-length album! What have you been up to since your 2006 Robot EP?
Sorry it to so long for redsuperstructure! I needed the right "situation" for producing it. From 2006 to now I worked on many things. I did stage design for two operas here in Berlin. Did a big sound installation in Caracas Venezuela, a record with To Rococo Rot. I started my collaboration with the Italian Harpist Beatrice Martini, founded a new Band project called Knuckleduster with the Canadian percussionist Debashis Sinha. Went on a little world tour for the Tenori On presantation. Started another Band Project, Whitetree with my brother Ronald and Ludovico Einaudi. Been a member of the ensemble of Ludovico and we did over a hundred shows together. Can't say I was lazy. I´m looking forward to focus on a new raster noton release soon. Might be just an EP.
Is there a particular alien world that inhabits the sounds of redsuperstructure? Describe the particular aesthetic of sound that you tried to capture on the album.
No aliens involved in redsuperstructure : ) The sound world of the record as a simple and in this word grounded. Inspired more by everyday life than by imaginary spaces. I like to see my tracks as sculptures formed out of basic structures. For the moment I'm not too much in sound manipulation. Changes happening more do to cuts and layers rather than complex edits. The tracks I'm working on right now are "barebone versions" of redsuperstructure. But there is some funk flying in from somewhere. Might be a alien from a Sun Ra space ship.
Tell us a bit about your studio setup. What would a typical DSP junkie drool over?
I´m a musical nomad and have very small studio set up. I don't like to have much gear and and different set ups in various places / studios.
Software I use:
Metasynth – Still a very good tool to create sound. But I'll use it to 99 % only the effects. Which are very simple but you can do a lot with them. Ableton Live – of course : ) it's been a live tool over the years but i´m using it for production more and more often. Logic Audio – I follow this software since the early days of a Atari computer in the 80´s. I´ll just feel home in it.
Plug ins:
Logic Audio Sculpture – love it for percussion sounds. Destroy FX Transverb – good for "arhythmical rhythms". Stereo Shuffle / GRM tools – good for pad sounds to make them not so static. Also good to use before a reverb.  PPG Wave V2 – still a great software synth if you don´t belive the marketing who says its very good for eighties octave bass.
Hardware:
Metric Halo sound card – good preamps an clear sound. Motu ultralight mk3 – awful sound but very reliable. I use it for live only. Clavia Micro Modular – fantastic instrument. A bit weak in the mix. I sold mine and regret it the day after! Waldorf Pulse I – if you like a clear, strong , analog bass with not too much character, this synthesizer is for you. Mics, mics, mics! I´ll use a lot of mic but own not many. I love to record percussion sounds with different mics at the same time. dynamic, condenser, contact mics and mix them together. APC 40 USB controller – just got it. It seems very useful if you change the midi preferences. Yamaha Tenori On – I like this, too early died dinosaur of the evolution of musical instruments, unit. It's a great, easy to use, matrix sequencer and a fine performance tool. In the past I triggered my Micro Modular with the Tenori On with great results.
I definitely hear a bit of Alva Noto, a touch of Mika Vainio and a dash of Byetone in the influences of this particular release. What artists, music or events inspired this work?
For me it was a great adventure to dive into the raster noton sound ocean. The most inspiration out of they catalogue Frühi found in SND. I love the emotional minimalism and they insistence. They like a little donkey staying on they own. Path no matter what happens left or right. In general I keep my eyes wide open when I walk around. Take many pictures , etc. For redsuperstructure I made drawings of the tracks and simple models out of every day objects and clay to find a good balance. Within the composition. Somehow I need some sort of visualization to find my path. The music they play in Spain in super markets was an inspiration too. Very strange techno played thru a bass-less sound system. Some tracks of the industrial band Espledor Geometrico been inspiring too.
Talk a little a bout the current state of electronic music in Germany…
Its all a mess! But in a good way. There are so many projects. Its hard to keep up. There is a big electro acoustic scene in Berlin. So many new little venues. After the big hype for German electronic music around 2000 it's getting back to normal. A good development. Thru all the new ways of distribution, people are able to share their stuff. Like around the globe. I found some good projects like Fchen Früh. A young lady witch makes crazy an beautiful tracks.
Read Headphone Commute review of Redsuperstructure