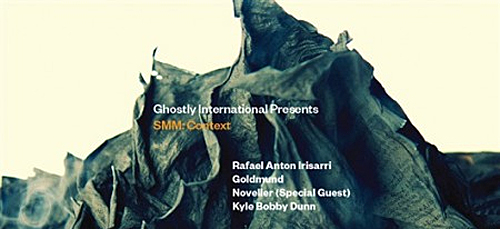 On Sunday, April 24th, New York's Le Poisson Rouge hosted a showcase of Ghostly International artists, celebrating another installment in the label's mysterious experimental, ambient, and modern classical series, SMM: Context. This was my very first visit to the famous and eclectic NYC venue, and I came away impressed and delighted from the overall experience.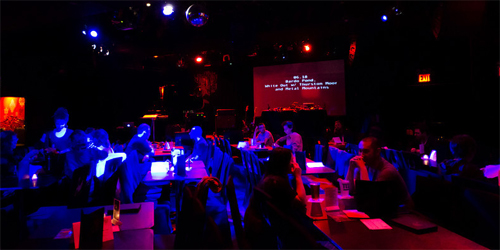 First of all, I must have walked by this space a hundred times in the past – located right on Bleecker St., the "multimedia art cabaret" often had an intimidating bouncer and a long line outside the door – forcing me to mistake it for a posh club. And although the venue does occasionally host more dance oriented nights (I have since attended a few  dubstep shows), the atmosphere was very cozy, intimate and mature. It's no wonder, that Le Poisson Rouge's tagline is "serving art and alcohol". Dare I agree, the two go well together. On the day of the show, the dance floor was transformed into a seating area, allowing the attendees to sit closer to the stage. The lobby hosted a merchandise table, selling the SMM: Context CDs and Vinyl, as well as individual releases from the performing artists, who mingled with the crowd. And wait… was that Ryuichi Sakamoto talking to Jeff Owens (Ghostly's label manager)? Yep, it was indeed…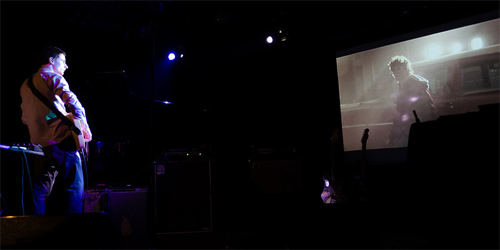 The night kicked off with a performance by Kyle Bobby Dunn – a Brooklyn based composer with releases on many labels, including Moodgadget, Low Point, and Standard Form. Dunn's ambient guitar drones spread through every crevice of the space, filling the holes, cracks, and nooks, missing only the squeaky entrance door,which was in need of massive lubrication. The minimal shoegazing swells drenched every cell of my body with dynamics, frequencies and vibrations, leaving me thirsty for more of his sounds to be experienced at slightly lower volumes. Here's a track from Dunn's 2011 release on Desire Path Recordings, Ways of Meaning LP to set the mood as you keep reading this review.
Kyle Bobby Dunn – Statuit

Dunn was followed by Sarah Lipstate, aka Noveller, billed as a special guest (because she didn't contribute a track to Ghostly's SMM: Context release), adding a special touch to the evening's already excellent lineup. Lipstate's experimental guitar loops, with bowed and fingered strings, reminded me of a morph between Aidan Baker, Mountains and Grouper (minus the vocals). The built up distortions soared and crashed across organic waves of sound, dampened only by the venue's acoustically treated walls.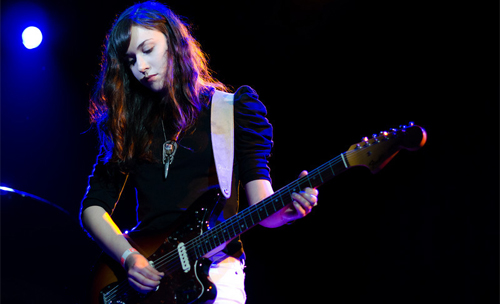 The night, subdued with alcohol and music, slipped on a comfy blanket, and settled down for a nod. By the time Keith Kenniff (aka Goldmund and Helios) took the stage, I was sufficiently buzzed, and opted to experience his music with my eyes closed. Goldmund's set consisted of delicate solo piano pieces, reverberating through the space with natural amplification. I sat close to the stage, only a few feet away from the instrument, and the entire experience gave me the sense of a private affair, fading the rest of the crowd, the glass-clanking bar, and the squeaky door in the background, beyond my peripheral line of perception. Time slowly dissolved, confusing senses and tenses. Hearing here and now was the moment as it still remains. Here was Goldmund… playing for me…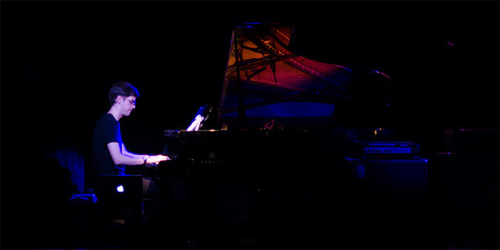 Somehow, as if in danger of running late, Rafael Anton Irisarri slipped onto the stage. But instead of preparing for a belated sound-check, he began to play along. At this moment, it was unclear whether this was a piece by Irisarri with Kenniff at the piano, the other way around, or simply ambient swells of sound wrapping musicians in a sonic union. Whatever this spontaneous (or pre-planned) performance cloaked beneath, quickly became irrelevant, and only music mattered. Soon after, as the Sunday night approached late hours, I began to drift with the drones. In my hazy state of mind, I failed to notice Kenniff leaving the stage. Somewhere behind me, Ryuichi Sakamoto also had his eyes closed, inadvertently making Irisarri nervous during his performance (this Rafael admitted to me after the show) – after all, it was Sakamoto in the audience. And here was Irisarri… playing for him…
Rafael Anton Irisarri + Goldmund – Gnossienne No. 1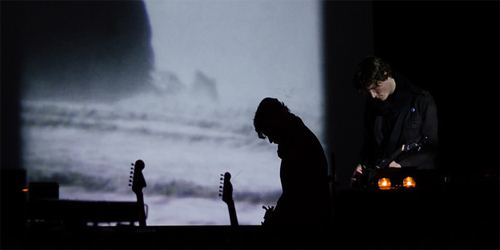 The limited edition of the release came with a sampling of source material used in creating the album packaging and the cover art. A sample of the material appeared on the tables with the following notecard, which I will use to sign off this review:
"The ashes you hold in your hand are the source material for Michael Cina's cover art for SMM: Context. In taking possession of these remains, you complete a circle, a process: a book was purchased, incinerated, photographed, and re-contextualized to represent an album of music. The book's original purpose–that is, information–is erased, and the remaining fragments have become a piece of artwork, open to interpretation and the whims of context. We hope, in experiencing SMM: Context and its accompanying packaging, you also grasp a little something about the postmodern breakdown of right and wrong, the slowly disintegrating border between fact and fiction. Black and white have faded and only shades of grey remain. It may not seem so, but this is a hopeful message: in the disintegration of boundaries, the truth emerges. In destruction, construction."