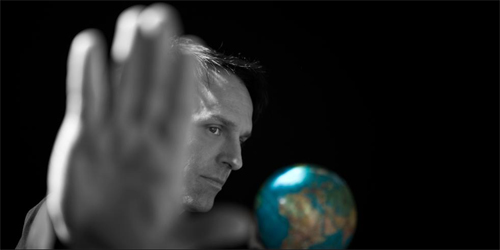 Describe the process of capturing, processing and recording your multi-layered textures.
Most of the time it's about "following a sound". A sound that's already there and leads you somewhere. It can be a piano-chord, a sample from a record or a crashed transient. Well, for me, composing is always like searching for something that's already there. The rest is a mixture of fantasy, hard work and luck. Still, there is no typical way i'm working, apart from working everyday!
What is your live setup like, and how much of your performance is based on pure improvisation?
It depends on the performance we (Live with Stefanie Sixt – Visuals) play. Performing stuff from LAVA is based on a MacBook plus guitar driven sounds. Basically i'm using two different delays, two fuzzboxes, a looper and some filters to process my guitar sound. The loops and soundscapes i'm creating live are the initial sound running through the whole song. So i have to deal with them till the end of it. For me that's kind of an improvisation in a structured way.
Talk about incorporating ventilators, electric shavers, and tooth brushes into your recordings. Where are some of the field recordings from?
I'm not that much interested in playing guitar in a usual way. I use it as a sound- and noise-generator. And an electric shaver, for example, positioned over a pick-up, can make a lot of noise. That's fun. But you have to have a clue and there must be a kind of following up, otherwise it's pointless and has already been done like a thousand times before. I have also experimented with field recordings on LAVA but they are completely knocked down. But I fell in love with field recordings and i will integrate them more obviously in my upcoming work.
I've already mentioned Tim Hecker and Fennesz as some of your influences, and you're also a fan of Tangerine Dream and Klaus Schulze. Who are some of your less-known inspirations?
At the moment i listen a lot to guys like Claus van Bebber, Janek Schaefer or Philip Jeck. I like their approach on sound-art. But for the last months I've been influenced by a germane guy called Ottmar Jenner. He wrote a book about the crossing from live to death, which inspired me for a 49 minute long piece. We will hopefully release it next year.
What was the overall reaction to your debut, Lava, and now that it's out there, what are you working on next?
I'm very pleased with the feedback on LAVA. The critics were all in all very good. The album even appeared on some "Best of 2010" polls, which is great. At the moment i'm working a lot on new music and that's what i like the most. It's a bit early but we have some nice ideas for forthcoming releases. Regarding live shows, there is a big focus on the performance of the piece i mentioned above. I hope we can manage to present it first in a huge gas-tank here in Germany.
Check out Headphone Commute review of Lava in our Hidden Shoal Special