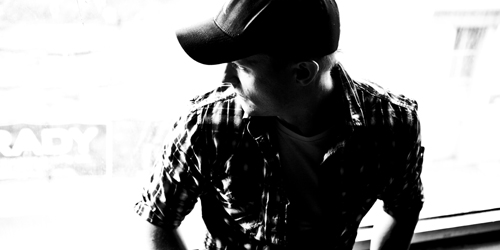 What have been the greatest musical influences on your music?
For as long as I can remember I've been really easily distracted. My attention span is average at the best of times but music was always different. When I was growing up my folks had a huge collection of vinyl and discs that I'd disappear into and I guess because of that I've developed a fairly eclectic taste. I've never really given a shit who wrote the music or where it came from as long as it made me feel something. As a kid I remember listening to tracks over and over in an old pair of headphones for that reason alone.
I think the biggest shift for me was in my teens when I started to listen to bands like ministry. I was a die-hard metal fan so when I heard the mix of samples, synths and textures I was gone. I'd started playing guitar a few years earlier but from that point on I wanted to be able to do it all. My drumming sucked so I bought a drum machine / sampler and over time taught myself to play piano. As a guitarist I've gone downhill but spreading myself thinly over multiple instruments was the only way I could do what I wanted to do. These days I listen to everything from Godspeed to Leonard Cohen. There's so much good stuff out there, it's just a matter of filtering your way through it.
You seem to be a one man shop, doing all the writing, playing, and production yourself. Did anyone join you on Broadcasts in Colour? I hear a cello on "In" and a different voice on "Until Morning Comes." Is that all you? How many different instruments were employed to create the cinematic sweep of Broadcasts in Colour?
Boy is Fiction is just me. I've toyed with the idea of bringing in other musicians but it's such a personal project and so much of it comes from what I've seen and done. There are definitely people I'd love to work with and I wouldn't rule it out – but it's hard to do when you're in your own little world. In saying that I've spent some pretty late and messy nights with the people close to me picking their brains. It's a great way to sound out ideas but ultimately I'm stubborn and I tend to run with my heart.
To date the strings have been digital but that's definitely something I'd look at given the chance. Having started as a guitarist I still get a lot of textures from electrics, my keys are synth based and percussion is a mix of digital and acoustic. Over the years I've recorded a few kits and I still use them a lot when I'm after an open or live kit sound. The glitchy and broken beats come from a special place after a lot of hard liquor and shit talking.
Is your work drawn from your own life, or are they externally influenced?
Absolutely my own life, but music is a funny thing. I'm never really sure how a track will make someone feel so I just lay it all down emotionally. Why not? Once a piece is out there, people will interpret differently and I guess that's the beauty of music. Obviously adding vocals makes it easier to tell a story or whatever but I think if they're minimal enough the focus remains on the track as a whole. Everyone has moments and experiences they'll never forget. I have memories that I wish I could relive over and over, just as I have memories I wish I could outrun.
Do you think you'll ever tour, and is that something you even desire to do?
It's a nice idea and I think most artists would love to be up on stage doing what they do successfully. I've never really been into the spotlight though and playing live at this point in time would be a big call. I guess if I could find a way to make it interesting for an audience then it could happen. Maybe visuals and a few crew to help with some live instruments. To be honest it makes me nervous just thinking about it.
Your songs are evocative, but I keep returning to "Feeling Lazy", which could be a hit. "Until Morning Comes" was your first single off the album. Any chance some of the other songs might get released as singles?
'Feeling lazy' has been a surprise. It was my first real foray into vocals and the subject matter was pretty close to my heart so I had my doubts about releasing it at all – but I'm flattered that people like it. The response has definitely given me more confidence but at the same time it's reminded me that what you say on a record is probably going to hang around. I think in the future it'd be nice to do a single in correlation with a video and that's definitely where I'd like to bring in collaborators. I come from a visual art background and over the years I've met some amazing photographers and motion designers which I'll probably hassle down the road. Regarding 'Until Morning Comes', Sun Sea Sky were really proactive in releasing it as a single and we all agreed it'd be a nice way to introduce a different direction for the project.
Your compositions are an immersive experience, drawing the listener deep into the emotional heart of your songs. Is this intentional, or an organic process?
I'm into music that makes me think, dream, sad, happy, whatever.. as long as it has a heart. I don't think I'm unique as a person I just document everything as I go – and I think if you're honest people can relate to that. I've had some pretty wild times so when I sit back and reflect I've got a million things flying around my head. I guess to answer your question though I generally start with a core idea and everything else builds organically from there. I can sink pretty deep into a track so when I get on a roll I can lose hours/days getting it all out. I might have been looking at some old photography or had a discussion that's dragged up a heap of memories and that's often when I'm at my best. It comes easily if I'm in the right frame of mind and I love hearing other people interpretations of a particular track. I'm probably a little too fascinated with the past though.
Can you reveal any plans for upcoming projects?
I've been working on some compilation tracks and remixes for different artists & labels which had been a nice way to ease back into writing and recording after a long break. Just recently I was lucky enough to write a cover version of the Lights Out Asia's 'Oh! Toronto' for n5MD's 10 years anniversary compilation. I've been listening to the label and band for years so obviously I jumped at the opportunity. Re-writing someone's work as opposed to remixing it was daunting to say the least but given Lights Out Asia's music is so emotive I felt at home. On the remix front I've just finished a track for Anklebiter on Tympanik Audio which was cool. I tend to stray a bit when I'm remixing so once the idea is down I spend half my time reining it in to get some semblance of the original track. I'm always a little nervous sending a remix back for the first time – I mean you basically butcher someone's hard work… so finding a balance is tricky but rewarding when it works.
Once I can clear the slate a little I'll continue work on another record. I've got so many tracks in progress and I'm itching to hit them with a clear head. It's all early days but so far everything is where I want it to be.
Interview prepared by Elizabeth Klisiewicz for Headphone Commute.
Check out Headphone Commute's review of Broadcasts In Colour