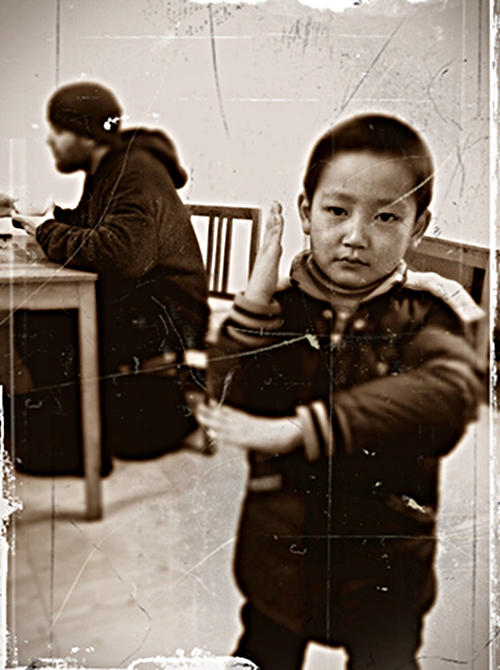 Read interview with bvdub (part one)
Your music conveys more than words. Yet some of the titles of your tracks frame the concept behind the message. Silly question – how do you come up with these titles, and how much of the meaning to they intend to relay?
All of the titles specifically frame the concept – and this couldn't be more intentional. In fact, when I sit down to make a track, I have absolutely no idea what it's going to sound like. I just know the emotion I need to get out of my head – and so I sit down and write the title. Then the music follows, and not to sound cheesy (which means I'm going to), but it really happens as if I'm watching from the sidelines. Like I said before, I'm completely on autopilot, in fact much of the time when I track is done I couldn't even tell you how I made it.
Every track I've ever made has been done in this way, and continues to be. In fact, every album I've ever made contains the tracks in the original order they were made. From the first note you hear to the last, it's the exact order I made the songs – because they're all part of an emotional continuum that is extremely specific, and tell a very specific story. Sometimes they are about a very specific event or memory, sometimes more about a general idea that is borne from those events, but no matter what, they are always deliberate and carefully chosen – I always believe in choosing words carefully – now, whether other people end up getting those meanings, or even a fraction of them, that's anyone's guess. But that's the beauty of it: maybe they end up completely getting what I wanted them to, or maybe it takes on a life of its own, and means something different – because even if it ends up meaning something different, I guarantee at least some of the original meaning is in there, and is now interwoven, even if in an infinitesimal way, into the story of that person's life. Call me crazy, but I think that's what music's all about.

In my earlier off line conversation with you, you mentioned that you have some students. Can you tell us more about that?
I do indeed. Currently about 210 of them. I'm an English professor at a university in Shaoxing (China), and words can't describe how much I love it. Even though some of my students can really try my patience, they're like family to me, like my own kids, and I'm like a mother lion (or whatever male equivalent there is); though I'm tough as hell on them and have a reputation far and wide for being pretty much the strictest teacher on the planet, there's nothing I wouldn't do for them, inside of the classroom or out, and when I'm in class I experience real and true happiness. Seeing my students progress and come alive, to see what I've taught them come to life and equally as important to learn from them every day as well, it's really something that never ceases to hit me straight in the heart, even after all these years.
The irony that teaching brings me such happiness doesn't escape me for one minute of the day – since that happiness comes from being around people, and I quite frankly hate people. With a vengeance. But my students, I love. Even the ones that make me crazy, and even, quite frankly, the ones that don't love me back. But that's what being a teacher is all about. It's about doing what's best for your students, even if it means you don't win any popularity contests. It may sound trite, but I look forward to it every day, and hardly a class goes by I don't realize I truly feel happy when I'm with my students – even if in the process I'm making them miserable. That's the great part about being a misanthrope, everything's all about you.

Tell us about your upcoming album, Tribes at the Temple of Silence, to be released on Home Normal. And is the track "These Walls Will Always Remember (for Dani)" indeed dedicated in memory of Danielle Baquet-Long?
It was an album conceptualized and completed at the kind invitation of Home Normal's head, Ian Hawgood, who is one of the only people left I can guarantee loves music for – well, the love, not for any political nonsense or genre that is the new hot seller of the week. He said "just make what you feel." That's it. And that's what I did. The result, for a large part, is a quite different from anything I've done before, though obviously there are still strong elements of my overall sound and theme. I think you can definitely tell it's me, but it's just me from a bit of a different perspective. Personally I think the best way to describe it would be "ambient house," as it's got very strong ambient influences of course, but also incorporates a lot of deep house elements from my past, though very quietly, in almost an ambient way in themselves. It's what I was feeling at that exact moment, which Ian was kind enough to let me freely express. Personally I love it more with each listen, and of course I can only hope others feel the same.
The track "These Walls Will Always Remember (for Dani) was indeed solely created for and dedicated to the memory of Danielle Baquet-Long. Over time I've had some interactions here and there with Will (other half of Celer, her husband, and one of the nicest dudes you could ever have the fortune of talking to), but I'd never actually spoken to Dani. Her sudden passing hit me quite hard, though, as I think it did many artists, as she had been such a force, albeit an often quiet one, and in my opinion a real unsung hero of ambient music, and so many elements of her heart and soul had reached out to so many people. It was just really sad. There's really no other way to put it.
Though I had never met her, I wanted to communicate my feelings toward her life and her work, and to thank her for all she had done in the best and only way I know how, and all I can do is hope that I did her memory proud in even a small way, and said the thanks we should all say.

Through my past conversations with you, I know that you have always had some interesting things to share. Leave us with one final thought…
Haha wow, no pressure there, yeah? First I'd like to thank you for the opportunity to ramble on as I have, and any reader with the patience to get all the way to this point. I deeply appreciate both.
I apologize as I'm going to disappoint on the "interesting" request, but the thing most on my mind as of late is something that relates to both the world of music, and really the world as a whole, and that is: next time you feel like criticizing the work, thought, or life of others, take a look at your own achievements. For every aspersion you want to cast on those of others, make sure you have one of your own that can have aspersions cast back.
Read also Headphone Commute's review of The Art Of Dying Alone