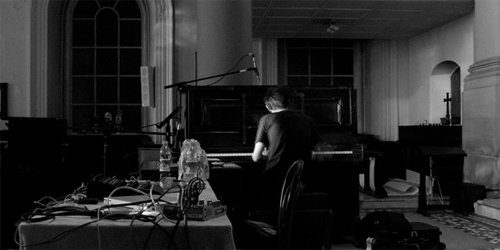 Where does the title of the album, "Like Green Grass Against A Blue Sky" come from?
i've been having the title for a few years now. i can't really remember exactly when but i saw a great photo somewhere of a field of green grass against a blue sky and yeah, there you go. nothing more exciting than that i'm afraid.
Tell us a bit about your label, Auetic… What does that name mean?
like most of the songs i make, auetic can mean anything you want. i like to leave most things open for interpretation.
How is the sound of Library Tapes different from the work you release under your real name and Murralin Lane?
most of the times it's not really the sound of the album that decides what moniker it should be released under. when making a library tapes album i make sure i have the last say in what goes on the album even if there's other people contributing to it. with my own name i make everything on my own and with other collaborative projects the one i work with have just as much right to make decisions about what makes it on to the album and stuff like that.
How did you became acquainted with Danny Norbury and what prompted yet another contribution of his to this album?
i know it was through myspace but i can't remember who actually made the add. i think it was me that wrote the first message saying i really liked his music and that i was looking for some strings for a few tracks on "sketches" or something like that.
So how did the whole saga with the lost money turn out? Did you raise enough to properly pay for the production?
i haven't raised the whole sum that was lost, but i did raise enough money to cover the production thanks to the generous donations that's been given. i even got a discount at the pressing plant… it's been great to see how kind people can be!
I always meant to ask this – where did the name Library Tapes come from?
when starting making music with per jardsell we first used a different name. i believe it was "between sea and water" or something similar. our fourth or fifth show togheter was at a library and afterwards we talked about bob dylan and the band's basment tapes which i think is a really great title, so we kind of stole the idea from them.
Check out our previous Two and a Half Questions with Library Tapes
Read Headphone Commute's Review of Like Green Grass Against A Blue Sky
myspace.com/librarytapes | librarytapes.bandcamp.com