This special installment of Sound Bytes features not just three, but five quick entries covering the very latest releases from one of the ground breaking, boundary pushing, genre bending labels, Hyperdub. This UK label is run and operated by Steve Goodman, aka Kode9. It is Hyperdub that introduced us to William Bevan – aka Burial – back in 2006 with his debut self-titled album, Burial. It is Hyperdub that broke all rules again with King Midas Sound and the critically acclaimed Waiting For You… The reviewed 12″s, released all in 2010, are not your typical dubstep wax. This is chiptune bleepy, breakstep grimey, syncopated goodness, oozing with bass and mind bending rhythms. Now hear this!
DVA – Natty / Ganja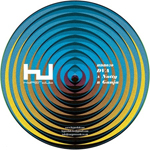 We begin our exploration of the latest releases from Hyberdub with DVA (aka Diverse Arts and Scratcha). As an x-member of Aftershock crew (alongside Terror Danja), the tracks are bass-driven, dubstep riddems with a housey flavah. Natty starts off with a 4/4 kick and falls right into a square toothed bass ride with low rumbling snare hammering out tribal rhythms. Ganja is my favorite track on this 12″ – employing Benga style sliding, octave walking, gangstah whistle, simple kick heavy pattern, and incredibly persistent melody, it's surely to become a winner for ringtone collectors. Check out DVA's previous releases, My Style / Africe and The Jelly Roll EP on his own, DVA Music. Did you know that the word 'ganja' is a Sanskrit word for "hemp"?
Terror Danjah – Acid / ProPlus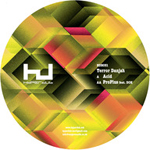 Old skool rave stabs are at the front-line of the appropriately titled track on A side, Acid. This is a first release for Terror Danjah on Hyperdub, previously appearing on UK's garage label, After Shock and even Planet Mu. For ProPlus, the "grime don" is joined by DOK (previous member of Aftershock), showcasing their classic sound of twisted synth notes landing somewhat sporadically across the syncopated drums, creating one of the most infectious deep grinding melodies. I love rolling down the street to this one, with the volume cranked up and the windows down! I only wish this track was about 5 minutes longer! You feel this?
Kyle Hall – Kaychunk / You Know What I Feel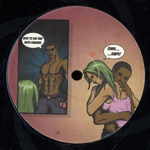 Here are two tracks from Kyle Hall, with his first appearance on Hyperdub (after a remix of Darkstar's Aidy's Girls Is A Computer). Hall is an 18-year old Detroit resident with a few releases on his own label, Wild Oats. Kaychunk offers more of that 8-bit bleepy mechanical wonkiness, with a Detroit influence of hip-hop, syncopated drums and even UK funky. On Side B, You Know What I Feel approaches 2 step territory, with a vocal controlled melody and a square wave bass line. Hollow kick, stumbles over a backdrop of synth pads, and a clicking rim shot slash claps combo. If you like the sound, also pick up Hall's 4-track Must See EP ou on Third Ear Recordings.
Ikonika – Idiot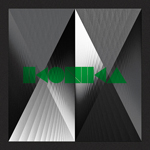 This arcade style bleepy molded, dubstep layered, beat stomped track hides an intricate melody shifted into 8-bit territory of toytronic chiptune. Pushing the boundaries once again, Hyperdub brings us the latest from a female producer, Sara Abdel-Hamid, going by the name of Ikonika. The flip side of this 12″ features a housey mix by Altered Natives (aka Danny Native), that transforms the sound into a four-to-the-floor beat. The main track, Idiot, is taken off of Ikonika's debut LP, Contact, Love, Want, Have, recently released on Hyperdub. If you dig this, see also Ikonika's 2009 EP, Smuck, released on Planet Mu.
LV & Quarta 330 / Dong – Hylo / Suzuran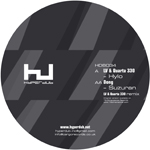 Here's another 12″ split with only two tracks. On the logo side is the track Hylo, written by LV & Quarta 330. A fast paced beat splatters after the gameboy intro, with a super lo-fi percussion and a sonar melody that challenges the higher frequencies of my studio monitors. On the AA side is a remix by the duo of Suzuran, originally produced by Dong, which splatters in your face off the first beat. This is an uncharted territory of Japanese style chiptunes meets electro pops meets vocoder meets syncopated drums and off-key bleeps. Pretty alien sounding, if you ask me.