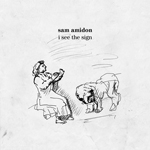 In 2007, I had the luxury of traveling to Cuba for a vacation. I arrived with no real plan other than to try and fit in as much as possible and in order to do that I needed a car. Fully expecting to ride the 1950s Chevy that is synonymous with Cuba, I of course ended up with a brand new, bright red, 2007 model Volkswagen. Now, what on earth has this to do with the excellent new record from Sam Amidon, I hear you cry? Well, whenever I reminisce over those journeys through broken roads and dense vegetation I'm always reminded of the track "Head Over Heels" which Sam so beautifully covered on his LP, But this Chicken Proved Falsehearted (Birdwar, 2007), which had been released at the time and was on repeat in the car stereo. It also seems appropriate to mention this brief insight into my Cuban adventure as, reflecting on this now, the image of a shiny new motorcar juxtaposed with the crumbling backdrop of Cuban villages does to some degree allude to the sound Sam has mastered so perfectly. His ability to mesh the old with new, to breathe freshness into trusted and forgotten folk tales is taken to new heights on this latest record, I See The Sign.
Staying true to the formula found in Sam's aforementioned 2007 LP and also in 2008's All Is Well (Bedroom Comunity), this new record largely comprises of old-time melodies and lyrics, with children's singing games common throughout. Where "All Is Well" built upon his sound, adding horns and string arrangements to bring a greater sense of depth to the instrumental constructions of his work, "I See The Sign" evolves this sound significantly.
Calling on a host of collaborators including multi-instrumentalist Shahzad Ismaily, the prolific composer Nico Muhly, and the charming support vocals of Beth Orton, on "I See The Sign", Sam groups this talent together and outputs a collection of songs bound together by a passion for musicianship. Whether it be the joyous harmonies between Sam and Beth, the spine tingling string, brass and woodwind arrangements that Nico lends to the tracks or Shahzads's expansive contributions there is a sense of total unison here between all contributors including of course producer Valgeir Sigurðsson. In fact, never has the name of a record label been so apt at summarizing the sense of togetherness that this album provides for it is a real feel of community that one experiences when listening to this Bedroom Community release!
Live version of Kedron accompanied by Sam's press up session…
So what of the songs themselves? I was initially taken back by "Way Go Lily" when I first heard it performed live in January. To hear it again in fully produced form is fantastic. This is one of the examples of the children's singing songs originally popularized by Georgia Sea Islands songstress Bessie Jones. For Sam's reimagining his delicate guitar strumming is supported some truly remarkable work by Nico Muhly on strings and horns, while Beth Orton's echoed harmonies are just delightful. Similarly on "Johanna The Row-di" Beth lends continued support to the vocals, with contributions here also from Shahzad Ismaily. It is worth mentioning that amongst all these joyful songs, there are still a host of melancholy numbers that lend themselves so well to the Sam Amidon sound. Songs like "Kedron" and "Rain and Snow" are poignant reminders that indeed not all is well. However the stand out track for me has to be "Relief." Covering a song by R. Kelly is risky not just in transferring it to a completely different genre, but there is also a danger of it appearing as a gimmick. Fortunately Sam and his pool of talented contributors successfully recreate this number so much so that one would have no idea of its source.
In summary it really is hard to fully convey the success of this album. Over the brief time I've had with it, I've wanted to grab the person nearest me and give them a massive hug. It's not only uplifting, but the songs here are ones that feel like they need to be shared. We live in an age where the retro craze seems to be an ongoing fad, one that doesn't want to leave. Whether it is fashion, films or music there is a consistent yearning for the repurposing of nostalgia. Fortunately, Sam Amidon's music is bigger and better than any retrospective reworkings. For this is contemporary music, providing an outlet for forgotten sounds and breathing oxygen into new creations.
– – – – – – – – – – – – – – – – – – – – – – – – – – – – – – – – – – – – – – – – – – – – – – – – – –
Review prepared by Josh Atkin, originally appearing on Fluid Radio.
See also Two and a Half Questions with Sam Amidon