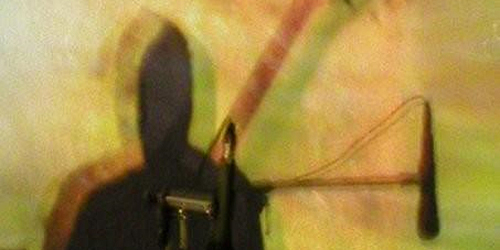 What was your inspiration behind the concept of the album?
the concept came to me one particular summers' eve; i was walking my dog and i had a lot of heavy shit on my mind. i stood there for a minute looking up to the sky as my dog was sniffing for rabbits in the park… i then peered the blue gaze of the moon staring back at me and thought, "every person in this world has looked up at you. you were here before me and my life, and you'll be here long after i'm gone. and after all this around me is gone."it made me feel so small; yet it put my place in the world in context. i was just a person; just like every other person in the world. with the same problems that all humans have. and all of a sudden i didn't feel so alone after all; it just seemed so comforting to me. so i thought i'd compose a short study about it; a monograph.
And how did you end up naming the tracks after Lunar maria?
well… just listen to them – each individual piece reflects a certain 'mood'… and the field recordings involved really denote those exact themes to great effect. or so i'd like to think. i won't go into too much detail about it, but if you listen to each track as you keep in mind the title; you'll hear it. can you hear it?
Marsh Of Epidemics is the only track on the album with a tougher rhythm and guitar riffs. Can you tell us about the reasons for this departure from the main ambient theme on the rest of the album?
i can't go into specifics, but i will say this: i work in mental health in new york and care for acute and chronic patients with serious mental illness. it's not the easiest job in the world, but the true benefit is that you see suffering subside and hope begin. then you see lives recover. there's nothing more fulfilling in life than to see suffering replaced with joy. i love my job. that said…'epidemics' is about coming out of the lowest depths of suffering a person can fall into. it's an aural representation of hurt, loss, anger, and frustration; preparing yourself for the seething and overcoming pain that you know is coming. it's about biting the bullet.
How do you prepare for field recordings?
in preparation for field recording, i anoint my body with oils, fast for 3 days and have no contact with the outside world… just kidding, heh. i just get into the zone and LISTEN. i started the field recordings for the lunar monograph sessions by compiling 'summer sounds'; recordings that my lady jennifer, (whom incidentally plays the organs on 'sea of tranquility'), could listen to in the winter months so that she could feel the warmth of summer that she so loves; hear the sounds of her beloved yearly garden any time she wishes. a gift. in trade for the recording, she's having my baby this coming july. the 23rd is our due date. a fair trade i'd say. so these recordings put melodies in my head. and i built on them with piano and guitar, (with a little moog synth, trumpet, etc). and it all just seemed to fall together from there.
What kind of equipment do you use to capture the sounds?
for most of the discs' field recordings i used a zoom h2 handy recorder, (cheap, portable, and great sounds at 44.1), but for the storm on 'sea of rains', i used a sennheiser mic into my motu ultralite into my macbook running ableton live 8. for me, the gear isn't important though. it's those moments in sound where everything just falls together. an aural version of having a great day, if you will.
Who and what are your inspirations for writing this music?
loaded question/short answer – … so i got a text message last summer. there was a photo of a guy with tubes in his nose, his eyes all black and blue, his face bloated. i didn't recognize him. the message stated that the music on my first disc 'nephology' 'was truly beautiful' and helped get him through his chemo-therapy treatments. i looked at the photo and realized that it was a really cool cat i met a year before at a show i played in nyc. his name is justin. we'd corresponded, but i had no idea he was even sick. and he's a great guy, he actually made a video of the track 'corona' from 'nephology' and posted it on youtube. and he's completely recovered now. complete remission. and sure …i think music should be fun. that's what it's all about right? but i want the music that i put out as 'beta cloud' to reflect what i believe in; healing.
How did you end up working with Aidan Baker?
aidan… we initially hooked up in 06′ because we were both playing a show in nyc and pooled a ride together. i drove us across ny state in a snow storm, (and i'm a horrible driver!), and surprisingly got us there alive. he couldn't wait to get the hell out of that car, haha! so we hooked up after that for more shows of his solo stuff and nadja shows as well. we did one particular show where he played flute on my set, (we're both 'schooled' musicians or what have you), and i played analog synth. he saved my ass. i think the bill was nadja, ocean, bloody panda, beta cloud. it was really fun. and really loud. REALLY LOUD. a while later, i asked him to do a collab disc and he agreed, but insisted on playing flute. i was all about it and we did 'aidan baker and beta cloud; an open letter to franz kafka'. he did the mix on that one and the textures that were produced as a result were truly gorgeous. love that disc. and music aside, i consider aidan and leah great friends. warm and kind, and talented in other forms as well; literature and craft. when i was a kid, my dad used to say, "surround yourself with good people and you'll never have to lock your doors". i'm thinking that old sicilian man had a point.
See also Headphone Commute review of Lunar Monograph