Release Notes
Label: Time Released Sound
Release: Stadsbilder
Date: August 6th, 2021
Video By: Ryan Powell
I was debating on whether I should share some of my slight irritations on the following topic and decided to stay true to my views, so here it is – I'm getting a little tired of the albums that were "composed during the lockdown" and often reflect on the artist's particular mood of isolation, fear, and dread. Admittedly, in the first year, it was a suitable soundtrack for our everyday being and perfectly followed a repetitive arc. But as the days dragged on, and the weeks merged into months and then finally years, this theme became yet another monotonous blur in an already smudged timeline, and it started to pull, dragging down and in. And so I had to withdraw… I needed that "something else" – something other than this… And with this slightly rejected introduction, I want to say that I have found that "something" in the latest collaboration between Jakob Lindhagen and Dag Rosenqvist, which they called Stadsbilder!
At last, here's a soundtrack for the stories of cities, sometimes collapsing to be built anew, cities reflecting the lives of its people, constantly changing and breathing with life. Even as humans retreated and sheltered, cities took on a new feel of their own. What is the future of cities when we will be gone? This beautiful concept is captured in a video created by Ryan Powell produced for the first single off this album, titled "Gasljus" (which means "gaslight" in Swedish). Here's a glimpse of the future of London if we keep on marching the same ugly road. "Dust and ash role in, filling the streets of the former city with the memory of distant fires. The land has retreated, and on the banks of an ever-looming Thames, a heron hunts and London's last glass spires disappear into the silt." The stage now is set.
The album traverses these visions in a beautiful, tension-filled, cinematic score. Those familiar with works by Lindhagen [see Headphone Commute's review of Paces from 2017], and the many sonic towers of Rosenqvist [almost too many to list, but definitely check out elephant and Vowels], as well as his collaboration with Aaron Martin as From The Mouth Of The Sun, will without a doubt appreciate the landscape painted by these two composers. Expect nothing less than slow-building dynamics, soul-aching piano, and heart-wrenching tones. Thick smudges of textures blend with the layers of organic and electronic, weaving in plucked and bowed instruments, heavenly cello (played by Sebastian Selke of CEEYS) and vintage analogue synthesizers. All this, and more, can be daydreamed within.
[The project] reflects on both the historical and current state of cities, and how there are multitudes of layers where, over time, wood gives way to concrete, and where gravel roads give way to the pavement. Of course, the ghosts and the memories of these places will always remain, and all that has come to pass will be with us still…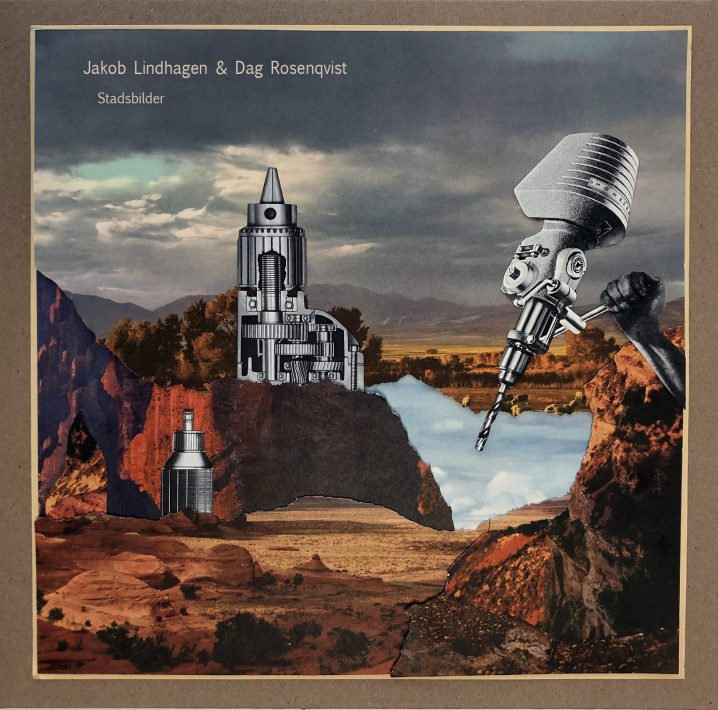 Stadsbilder is released on California-based Time Released Sound on Friday, August 6th, available in two vinyl editions. As usual with this highly collector-sought out imprint, there will be a super-limited version of 180g vinyl, "each with handmade collages constructed from original vintage views of the American southwest, antique interior design prints and 100-year-old industrial engravings and other paper ephemera mounted on the front of heavyweight recycled kraft board record jacket." A standard vinyl version and digital edition will be available on all of your favourite platforms. I recommend that you grab this one fast!